Aisha Buhari donates Borehole to FCT Community, calls on Nigerians to avoid water-borne diseases by drinking only clean water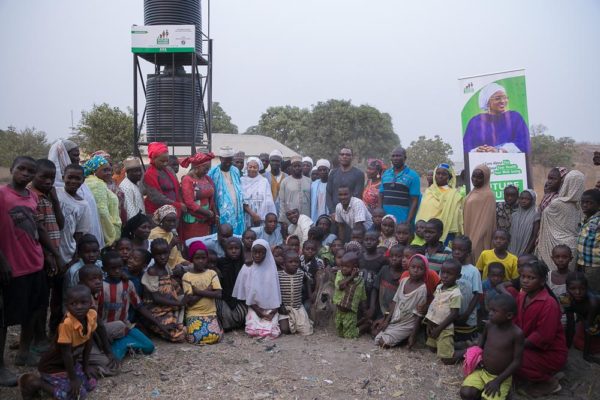 Wife of the President, Aisha Buhari has called on Nigerians to ensure that they use clean and safe drinking water in order to avoid water-borne diseases.
She made the call while commissioning a borehole donated by her project – Future Assured – to Gofinda community near the FCT. In her speech Aisha Buhari asked communities to take charge of their health by promoting filtering in areas where clean water is a huge challenge.
Aisha Buhari, who was represented by the former Deputy Governor of Plateau State Pauline Tallen urged organizations and philanthropic individuals to replicate her gesture in other communities as that is the surest way of improving the health of communities. She also called on Gofinda community to protect the borehole from vandalism.
The head of the community Tukura Ismail appreciated the donation and commended her philanthropic gestures in poor and distant communities across Nigeria especially in the area of health promotion and said his community will make the best use of the new borehole.
The youth leader of the community Tukura Al Mustapha, speaking at the event, said before construction of the borehole they had to walk long distances daily to fetch water from a stagnant lake, which exposed them to water borne diseases, he further assured Aisha Buhari that the borehole would be well protected.
Also speaking, Abdullahi Madaki, the Councillor representing Jiwa ward at the council, promised to complement Aisha Buhari's efforts by ensuring that healthcare facilities were also provided for the community.
This brings to four, the total number of boreholes so far donated by Future Assured.
Until Aisha Buhari's gesture, the Gofinda Village was faced with dearth of healthcare facilities, good roads, and potable water.
The village is approximately 25 kilometres away from the Abuja City Centre.
See photos from the commissioning below: