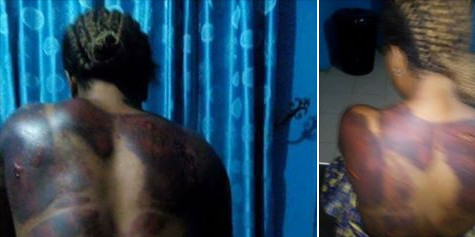 The Nigerian Army on Thursday said that it has set up a Board of Inquiry to investigate the brutalisation of a woman in the Ikorodu area of Lagos State.
PUNCH reports that the assault was carried out by a group of soldiers, attached to the 174 Battalion, Ikorodu, Lagos State. The brutalisation was supervised by one Major S.U. Obongha.
The Army, in a statement signed by Lt. Col. Olaolu Daudu, the Acting Deputy Director, Army Public Relations, 81 Division, said the erring soldiers have been detained.
The statement titled: "Alleged Case of Brutalisation by Soldiers," read in part:
1. The attention of Headquarters 81 Division Nigerian Army has been drawn to the social media and Newspapers online reports on "Alleged brutalization of a female by soldiers". The incident occurred in Odoguyan, Ikorodu area of Lagos state involving soldiers of 174 Battalion on Sunday 12 March 2017
2. The alleged incident is highly regrettable, even as the Division under the Nigerian Army has zero tolerance for inhuman treatment. Discipline remains the bedrock of the Nigerian Military Profession. It is quite disheartening when such incidences occur even though isolated will not be treated with any laxity.

Consequently, a Board of Inquiry has been constituted by the Commander 9 Brigade, Brigadier General Elias Attu to investigate the circumstances that led to the incident, determine the level of the soldiers involvement, submit its findings and recommend appropriate disciplinary measures which will be communicated. The female has been taken to hospital where she is responding to treatment while 6 soldiers are being detained in regards to the incident.
The victim, identified as Ruth Orji was said to have protested after the soldiers slapped her brother. This led to the soldiers beating her up. She said they seized her phone and took her to their barracks.
Ruth, who has been in a military hospital in Ikorodu since the incident on Sunday, told PUNCH that was being transferred to another hospital in Ikeja, the state capital.
"I don't really have strength to talk much now. I am being taken to another hospital in Ikeja. The incident happened on Sunday. We went for a birthday party in a hotel in Ikorodu. As we were coming out of the hotel around 8.30pm, some soldiers arrived in a vehicle and started beating up people, including my brother. I begged them. They bundled me inside their vehicle and took me to their barracks, where they beat me up," she said.
A rights group, Joint Legal Action Aids (JLAA), has also filed a lawsuit against the Nigerian Army at the Federal High Court in Lagos, demanding N250m compensation for the victim.
The General Counsel for JLAA, Kingsley Ughe, made this known in a statement on Facebook:
"JLAA earlier today (Wednesday), through its General Counsel, filed an action at the Federal High Court ,Ikoyi, Lagos to enforce Ruth Orji's fundamental human rights and 250M compensation as damages," Ughe said.
Photo Credit: Facebook – JLAA Global