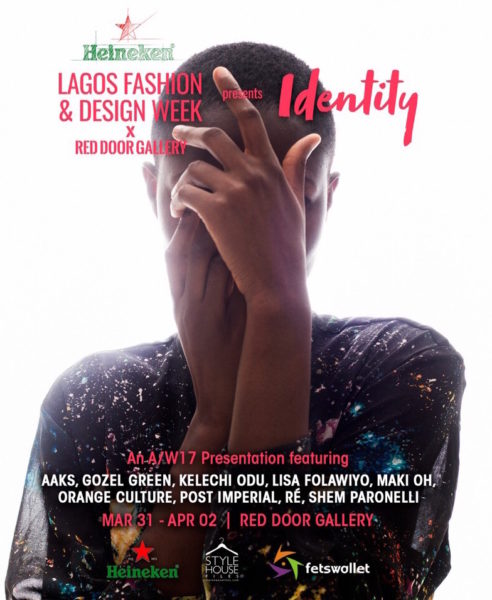 Good news for the Nigerian fashion industry & style enthusiasts with this inaugural A/W line-up in the calendar. This move not only brings #HeinekenLFDW in line with the global fashion calendar, but also affords the designers featured, more opportunities to maximise media and available distribution prospects. More pertinently, it speaks to the many designers based in Africa who are already creating collections for both traditional fashion seasons of Spring/Summer and Autumn/Winter and are seeking a global audience and customer base for their brands. For the presentation, #HeinekenLFDW is collaborating with Red Door Gallery to create new discourses between Fashion and Art​.
Entitled 'Identity' , the presentation will feature designers; AAKS, Gozel Green, Kelechi Odu, Lisa Folawiyo, Maki Oh, Orange Culture, Post Imperial, Ré and Shem Paronelli. Collectively, they represent a snapshot of the verve, innovation and creative ambitions seen across the Nigerian Fashion Industry.
Speaking about the forthcoming event #HeinekenLFDW Executive Director & Founder, Omoyemi Akerele said: "The team at #HeinekenLFDW and our partners, Red Door Gallery and FETS Wallet are super excited! From the outset our aim has been to create visually dynamic events and commercially profitable opportunities for designers in Nigeria and across Africa. Expanding to reflect the bi-annual fashion calendar, but in a deliberately organic manner via this Autumn/Winter presentation season at Red Door is really exciting."
We cannot wait! Mark your calendars as the presentation will run from 30th March – 2nd April 2017. 
__________________________________________________________________________
BellaNaija.com is an official partner of the HeinekenLFDW Autumn/Winter Presentation