Today's #BNFroFriday interview features Arit Okpo. Arit is a media entrepreneur and "Jill of plenty trades" as she describes herself. She is a content producer, presenter, event host, writer and does voice overs.
She also mentioned she is in a committed relationship with food saying;
"Food makes me happy. Food is the key to peace and prosperity. I fall asleep at night planning what I'm going to eat the next day. Food is my love language."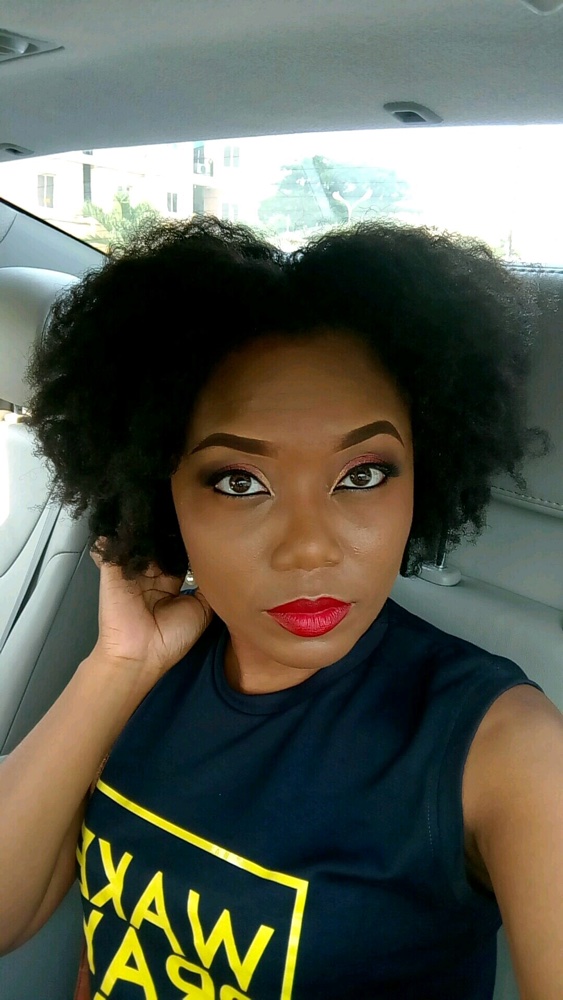 BellaNaija: Tell us about your hair
Arit Okpo: I think I'm 4A in front and maybe 4B at the back. The curls aren't really tight. The hair basically just does as it likes and I leave it like that – we have an understanding.
I had permed hair for most of my life – I permed it in 1998, and I went back to my curls in September of 2014. I've never coloured my hair, although for a while I wanted to dye it blue.
BN: You once had relaxed hair, why did you decide to go natural?
AO: I had just started working in TV and after about 2 years of a healthy hair journey, I had lush long hair. The stylist was in hair heaven and was doing different styles upandan on my hair- styles involving lots of heat. I lost a third of my hair in 3 months.
In addition, the natural hair movement had just taken off and the pressure was unimaginable. All I could see was my bad edges, bad tips, my bald spot…I wasn't happy. I would torture myself day after day with all the YouTube videos of naturalistas doing wonderful things with their hair.
After a year of thinking about it, I just decided to go for it.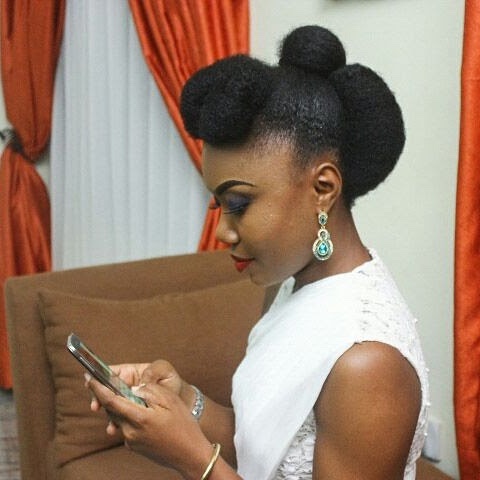 BN: How did you make the change?
AO: I transitioned for about 8 months. I cut off most of my perm and had this cute head of curls. That was so much fun actually because I have never really had short hair in my life.
When I cut off the perm, my family threatened to disown me for spoiling the family name but then my mother had been natural for like 2 years before that, so they really couldn't get too upset.
I can't even pretend it was easy. I HATED my natural hair for the first year! I couldn't relate to the way it changed my face or the way it felt. Plus I couldn't handle it, I couldn't care for it. I spent many nights reminding myself that if it was a relationship, I would have broken it up tay tay!
We're in a much better place now; I love it a lot more. On its good days it's like a cloud; soft and fluffy. On its bad days… Well, let's not go there.
BN: Are you tempted to go back to relaxed?
AO: Haaaay! For the first year, I wanted to relax it every single week. I couldn't deal! I decided that at the end of the first year, I would relax it. When I got to the first year I extended the relaxer deadline by 6 months…and then another 6 months. We're still here sha.
What I might do in the future though, is loc it. I think locs rock. Plus the hair can like to be tangling anyhow so we might as well encourage it.
BN: Ever hidden your natural hair?
AO: I have an exceptional stylist; her name is Game of Fros and I call her the hair whisperer. She does me amazing updos and protective styles and so I rarely hide my hair. I have used crotchet extensions and done box braids a couple of times, but my default setting is my own hair.
BN: How long have you kept your natural hair?
AO: I have had the curls now for 2 years and 5 months and I have only trimmed maybe about 3 times in that period. The last time I did it myself.
Had been asking both Game of Fros and my salon Yellow Sisi to trim the hair cos I felt the ends were getting too thin. They kept refusing, so one day I just got scissors and cut the tips myself. That thing is very addictive.
BN: How does climate where you live affect your hair?
AO: I don't really know o. Honestly, I never notice these things. My hair operates by its own rules, plus I've lived in Nigeria all my life, so I don't really take note of humidity versus the dry season or any of that.
BN: Do you have any other hair problems?
AO: I tended to an itchy scalp for a while but we eventually figured out it was caused by an essential oil or something in my hair products. Once I changed my products, it was fine.
I have to say that I am very blessed. My hair doesn't ask for a lot; it is very, very low maintenance. Too many products stress it out, so a simple product regimen is all I really need for the hair to flourish.
BN: How do you deal with the negative effect of climate and the hair problems you face as a natural?
AO: You people don't understand. My hair is basically my tenant. It lives on my head and does its own thing and I leave it alone.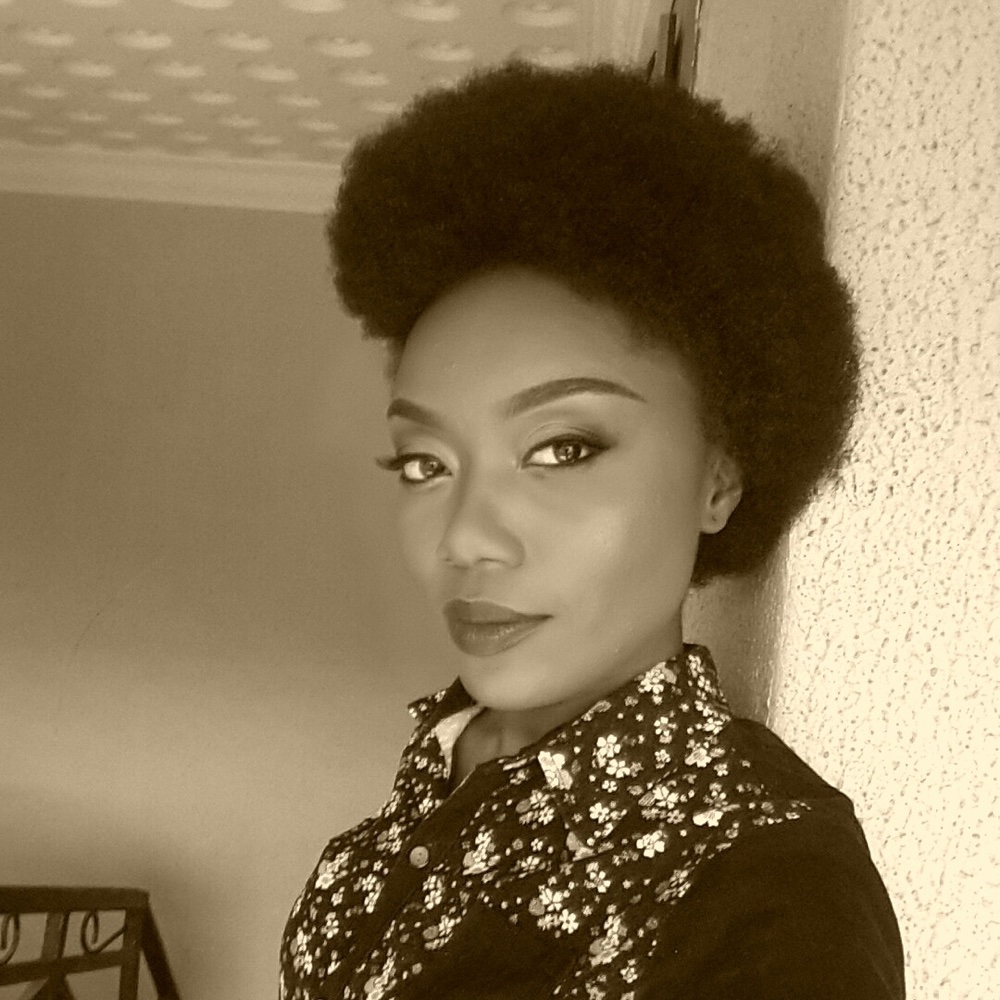 BN: What's your stance on natural vs chemical products?
AO: Mehn, I don't care. Look for what works for you and be happy. I tend to natural products but that's more about my general life philosophy than anything else and because they work for me.
Lots of the generally accepted natural hair products; Olive Oil, Coconut Oil, Shea Butter etc are not my friends. I had to experiment and find out what worked so, please… If chemical gives you what you want, go for it. If natural is more your speed, same!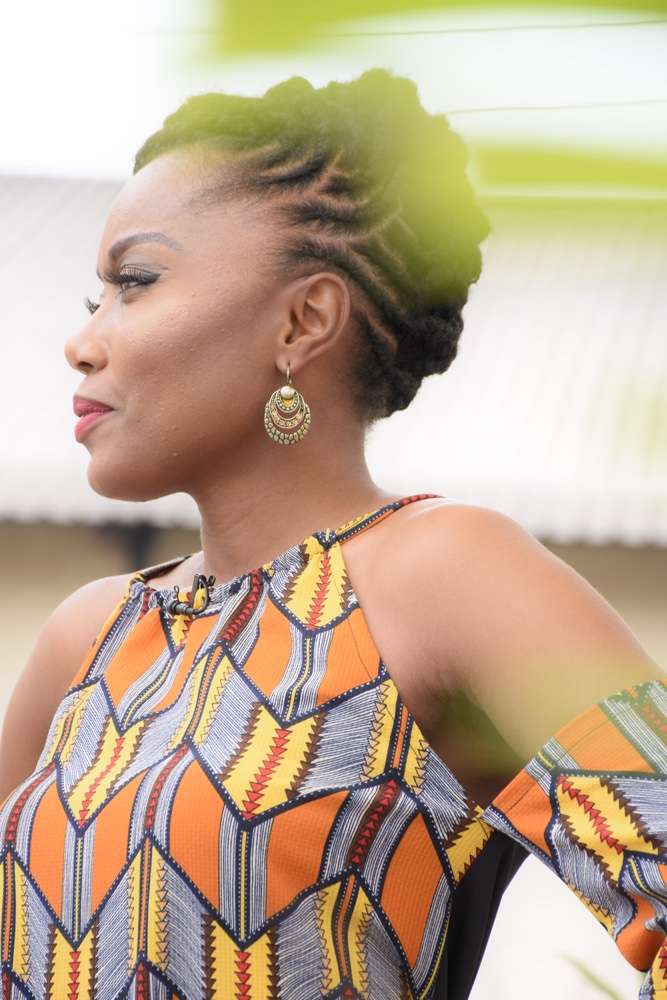 BN: What's your daily, weekly and/or monthly hair routine?
AO: First, I am not called to the DIY life. I have tried washing my hair myself, it doesn't work. All that hands up to wash and condition and still plait the hair, mbok, no.
One time I decided to do a clay wash at home. After 40 days and 40 nights of suffering, there were deposits of clay left in my hair. We now spent more hours trying to get rid of those with a towel and warm water.
Every 2 to 3 weeks, I go to Yellow Sisi salon for a wash and DC (deep condition) then Game of Fros comes over and styles. Every 2 months or so, I do a clay wash.
We wash with Natural Nigerian Black Soap and then to DC, Natural Nigerian Deep Conditioner, or a mix of Hair Mayonnaise and Namaste Organics Peppermint and Rosemary Deep Conditioner. They leave my hair feeling really soft and moisturized.
My hair doesn't like heavy kinds of butter or oils plus I hate the feel of oily hair, so once it is conditioned and styled, I leave it. I spray every 2 days with diluted Namaste Organics Aloe Water Hair Growth Elixir. I have been using it for as long as I have had my curls and it gives my hair all the moisture it needs. Once a week I'll use Shea Moisture Restorative Conditioner with Kelp and Argan.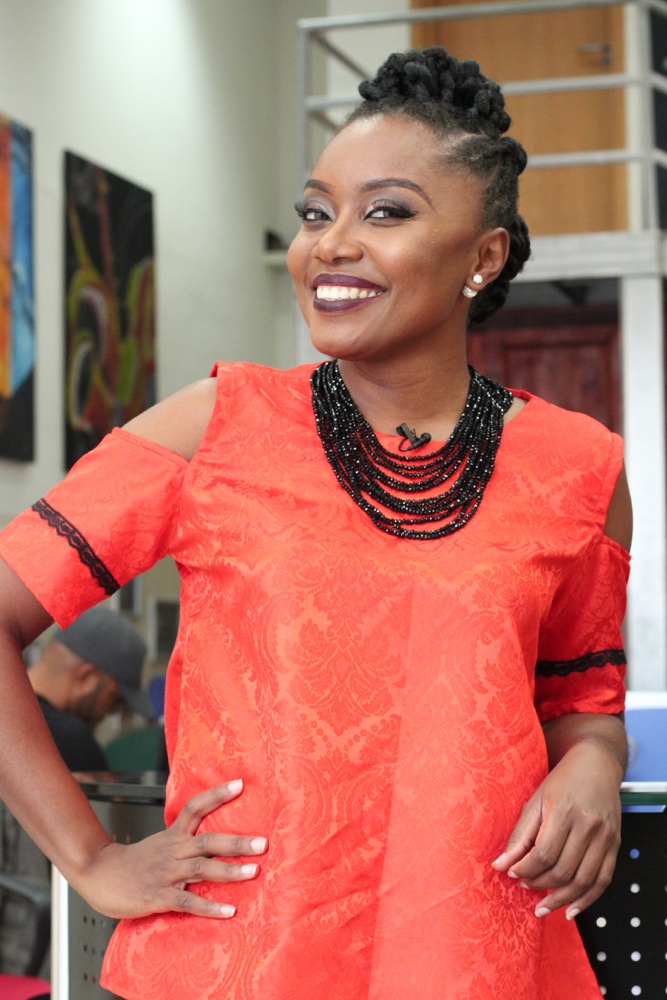 BN: What advice would you give to people thinking of going natural?
AO: Don't stress yourself too much about it. Think of it as an adventure and a time of learning about your hair. Don't use anyone's hair as a yardstick for how yours should/could look because you might be disappointed (the absolute truth).
If you had problems with your permed hair, know that the situation won't change when you go curly, unless you change how you engage with your hair
Learn what your hair likes and what it needs. Find a salon and routine that is compatible with your lifestyle and personal identity – this is very important.
The most important thing is that you enjoy your hair, so if you go natural and you don't like it, give yourself permission to go back to what makes you feel good.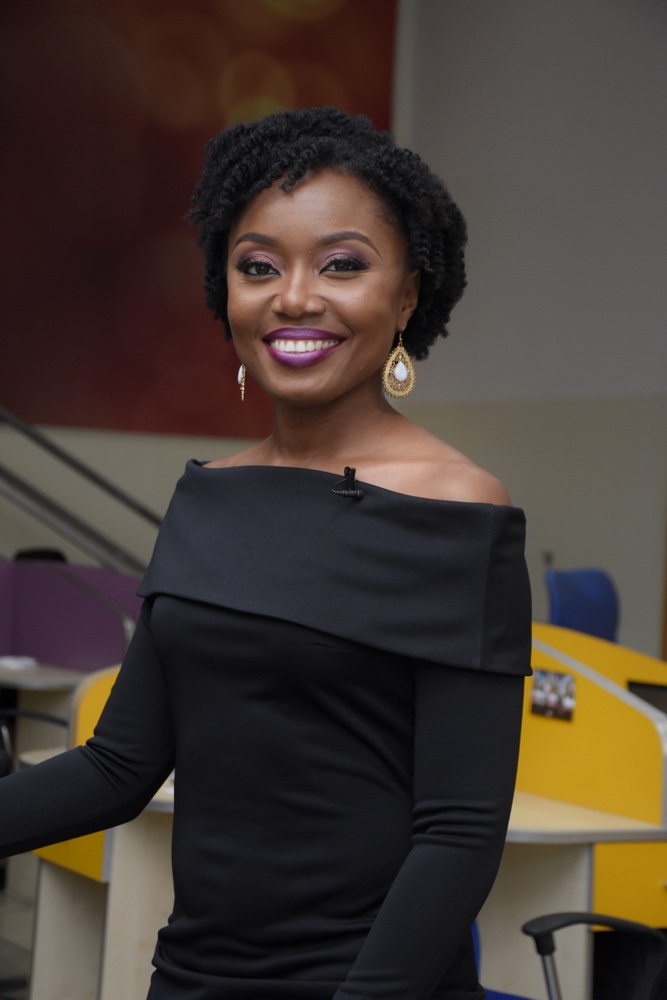 BN: What do you like best about your hair and being natural?
AO: My hair is very full and quite frankly it's beautiful. I love that about it. When I decide to leave it out, I ALWAYS get comments and people wanting to touch it. I am one of those people who have no problem with people touching my hair. Just ask first.
I love the fact that people ask me about it because my personal philosophy is healthy hair – whether it's permed or curly. I share with people how I, the laziest person ever, enjoy and care for my hair and I love sharing that it is not as daunting as it might seem
BN: What are your favourite styles to rock and why?
AO: My favourite style is whatever Game of Fros decides to do; I rarely style my hair myself because the hair nor dey hear word. When I absolutely have to handle it myself, I plait it at night and fluff it out in the morning.
At some point, I guess I will have to learn to at least twist it myself or do an updo, but that day has not yet come.
BN: Do you have any hair crushes?
AO: I love Eki's hair and I love Coveralls and Lipsticks hair but the hair I love most is my own. That's right, I am my own hair crush… Vain much I know, but true.
BN: Are you particular about sleek edges? If so what do you use to get the look?
AO: I don't really care about sleek edges. Curly hair by its identity cannot be sleek. If I have to make my hair look neater, I will use some Eco Styler Gel but to be honest I don't care.
What I do care about is that my edges are flourishing. When I had permed hair, I decided to braid for a year straight. One of the effects of that was a bald spot at my left temple. Brothers and Sisters, the bald spot has grown back, after 5 years of waiting. Hallalu!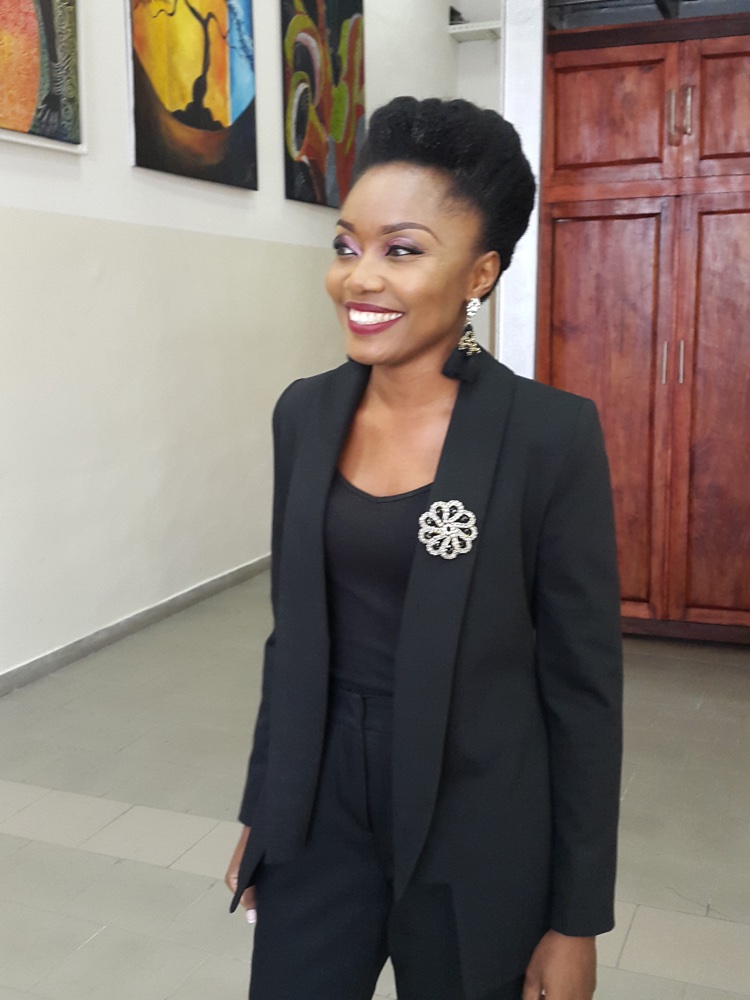 BN: What hair accessories can you NOT live without?
AO: I would have to say hair pins, but I have a love-hate relationship with them. If I don't pin right, the pins start stabbing my brain and I start pulling them out in the middle of the road. If you ever see a woman frantically searching for and pulling a pin out of her hair and then glaring balefully at it, it's me.
BN: If you were stuck on an island, what 3 hair products would you take with you?
AO: My Namaste Organics Aloe Water Hair Growth Elixir, my Shea Moisture Daily Leave In and my hair mayonnaise.
BN: What's your remedy for a bad hair day?
AO: I put my hairnet back on and pretend it's not there!
See more lovely photos of Arit & her mane
Thank you for sharing Arit!
…
Your hair doesn't have to be extra long… If you'd like to be featured, send an email to [email protected] and let's make it happen!
Remember, if you want healthy hair, be ready to do healthy things.