Join Polo Enthusiasts & Lovers of the Game at the Lagos Polo Club for The President's Cup Tournament | March 24th – 26th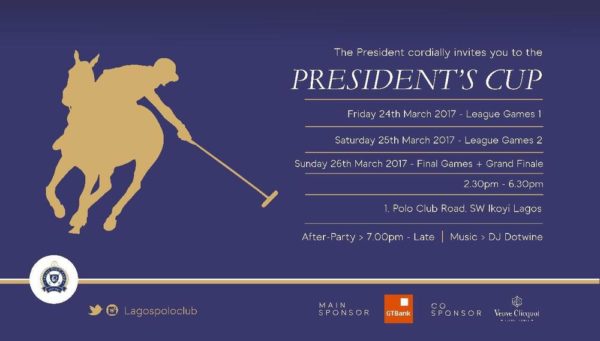 The President of the Lagos Polo Club invites you to the President's Cup this weekend!
The Lagos Polo Club will be the spot for polo enthusiasts and lovers of the game as the best players come together to compete for the prestigious President's Cup.
Date: Friday, March 24th – Sunday, March 26th, 2017.
Time: 2.30 pm – 6.30 pm (Afterparty: 7.00 pm till late).
Venue: 1, Polo Club Road, SW Ikoyi, Lagos.
The tournament played in honour of the President is regarded as one of the biggest tournaments of the year on the annual calendar of the Lagos Polo Club.
The outdoor soiree is set to be an afternoon of skilled sportsmanship, polo-inspired fashion and entertainment!
The event is sponsored by GTBank and Veuve Clicquot.
—————————————————————————————————————-
Sponsored Content