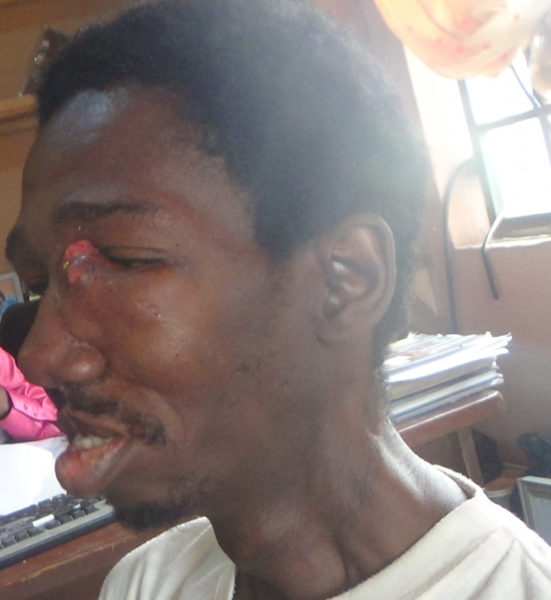 If you've ever had a health-related issue in Nigeria, then you will probably understand that it is extremely difficult to fund your treatment and navigate the healthcare system.
In view of this, BellaNaija launched the BN Community Centre. This online platform will feature "calls for help" as submitted to us. This includes information, photos and account numbers.
***
Mobolaji Adam Adeyemi is a graduate of Crop Protection and Environmental Biology, University of Ibadan and served in Delta state during his National Youth Service Corp. He's drive has always been to raise true value-based leaders- this he has continued to carry out through various platforms of interaction with students and young professionals. He is 37years and has put up a winning fight against cancer since he was 32 years.
Brief Health History
2011/2012:
1. Developed a growth in the upper hard palate of the mouth that extended to the left side of the neck.
2013: (Lagos State University Teaching Hospital, Lagos,Nigeria)
1. Diagnosis and histopathology report showed Mucoepidermoid Carcinoma
2. In the process of the surgery done on May 3rd to remove cancerous cells, total maxillectomy was done with neck dissection, leaving him with no upper jaw and dentition.
3. Radiotherapy and Chemotherapy (one shot per week) was given for about six weeks.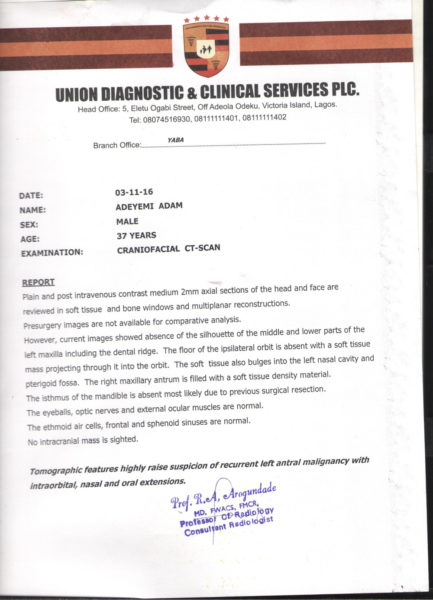 2014: (Criticare Hospital, Nagpur, India)
1. Reconstruction of the hard palate of the mouth through fibula and skin grafting from the left leg done in India June 24, 2014. This was possible via donations from friends and the public.
2016: UCH,Ibadan,Oyo State,Nigeria.
While seeking best option for dental restorative procedure, a growth was seen on the left eye, biopsy showed another cancerous growth Squamous cell carcinoma. This automatically halted any further dental restorative procedure.
Since facilities are currently unavailable in the country, medical professionals advise proper treatment overseas where modern facilities are available and accessible, most preferred are cancer treating hospitals in the United States.
Meanwhile, cost estimates from John Hopkins Hospital in June 2015 showed $125 000.00 which excludes all other expenses.
We therefore seek financial support considering the high cost of medical care in the United States.
Kindly find attached details of estimate of expenditure. Also attached are previous and present pictures for your perusal.
Please visit this donation link to give your support.
***
We, at BellaNaija, encourage you to give if you can. However, please ensure you perform independent verification prior to donating any funds.