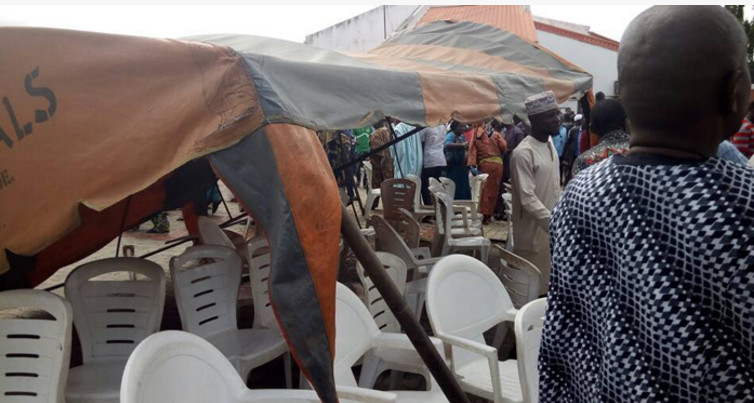 Supporters of late Senator Isiaka Adeleke (APC-Osun) on Monday collapsed the canopy where Governors Ibikunle Amosun (Ogun), Rotimi Akeredolu (Ondo), and Olagunsoye Oyinlola, and younger brother of the deceased Deji Adeleke during Adeleke's burial ceremony.
The burial ceremony was postponed till today (Monday) after Deji requested that an autopsy be carried out on the deceased.
Adeleke died on Sunday morning at Biket Hospital, Osogbo.
The burial was scheduled for 10AM on Monday.
PUNCH reports that they carried out the action to chase out Idiat Babalola, a commissioner nominee of Governor Rauf Aregbesola of Osun State.
The youths alleged that Adeleke was poisoned by some All Progressives Congress (APC) leaders.
The youths claimed that Babalola was being touted to become the running mate of APC's gubernatorial candidate in Osun state in 2018.
Adeleke was in the race to become governor of Osun state in 2014 under the platform of the People's Democratic Party (PDP).
Problem started when Babalola was sighted by the mourners who demanded that she should be sent out. Despite pleas from family members of the deceased, the youths insisted and started shouting and raining curses on her.
After destroying the canopy, Amosun and his security aides escorted Babalola outside the house as the youths threw sticks and mango fruits at her.
Giving a picture of the developments leading to the demise of the late flamboyant politician, one of  the domestic staff told NAN that  Adeleke had attended a meeting till around 2AM on Sunday before he went to bed.
The staff, who spoke on condition of anonymity, said Adeleke also attended burial and wedding ceremonies in Guta and Iwo on Saturday.
The source further explained that early in the morning on Sunday, Adeleke complained of leg pain and his private doctor was called in to attend to him.
According to the staff, the doctor gave him an injection and he left, only to be called back after the senator complained   of stomach ache.
"He was later rushed to Biket Hospital where he was finally confirmed dead,''  the source said.
The news of the death had resulted  in violent protests by  youths  in Ede, with many of them barricading  the ever busy Osogbo-Ibadan road and setting  bonfires which   disrupted  the free flow of traffic.
It took the combined efforts of both the regular and mobile police force to disperse the irate  youths.
The Police Commissioner in the state, Fimihan Adeoye, who said normalcy had been restored in the area, urged  the youths to refrain from violence.
President Buhari, Governor Aregbesola, Ooni of Ife, Bola Tinubu, Bukola Saraki, Osun state APC & PDP, and other political and traditional leaders have sent their condolence messages to the family.
Photo Credit: PUNCH