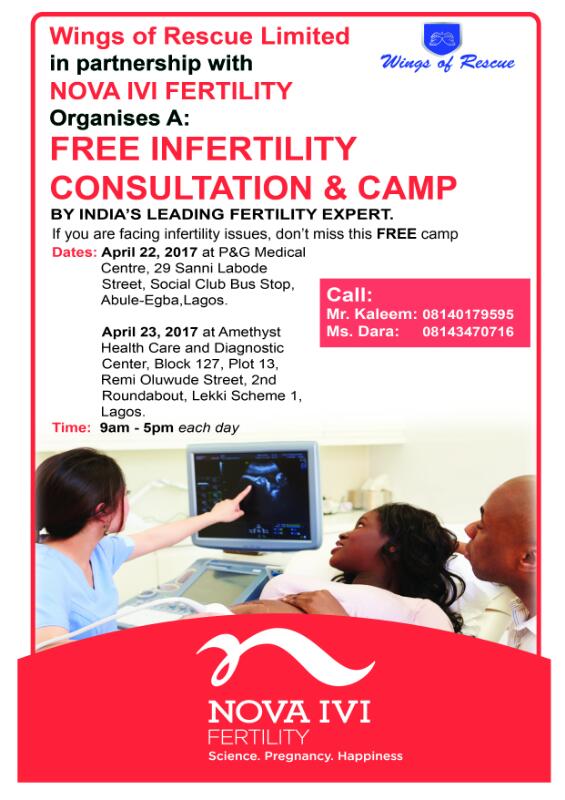 Infertility can be Reversed
Infertility is a growing problem in Nigeria. It is the inability to conceive or produce offspring despite having regular unprotected sex. It occurs when a poor reproductive system, impairs the ability of the body to perform necessary functions of reproduction.
Infertility affects nearly 25 percent of couples in Nigeria and experts claim that 40 to 45 percent of all consultations in gynecological clinics are infertility-related.
There are two types of infertility:
Primary infertility: where a woman who has never conceived a child in the past has difficulty conceiving and;
Secondary infertility: where a mother who has had one or more pregnancies in the past, is having difficulty conceiving again.
What causes infertility?
There are many causes of infertility, and fertility problems can affect either both men and women. Common causes of infertility in women include lack of regular ovulation (the monthly release of an egg), blockage of the fallopian tubes, age and endometriosis. In men, the most common cause is poor quality semen.
What treatment options are available?
Infertility can be treated with therapies such as medication or surgery. The most common types of fertility treatment available include:
Medical treatment for lack of regular ovulation
Surgical procedures, such as treatment for endometriosis
Assisted conception, which may be intrauterine insemination (IUI) or in-vitro fertilisation (IVF)
Wings of Rescue Limited is willing to bring smiles to the faces of as many families experiencing difficulty with childbearing by partnering with the no.1 fertility chains of hospitals in India, NOVA IVI Fertility.
We are bringing to Nigeria, a fertility expert trained in Germany and Spain. She is of Indian origin.
She would be in Nigeria on the 22nd-23rd for free consultation on fertility.
Date: Saturday, April 22nd, 2017
Time: 9.00 am – 5.00 pm
Venue: P&G Medical Centre, 29, Sanni Labode Street, Social Club Bus – Stop, Abule- Egba, Lagos.
Date: Sunday, April 23rd, 2017
Time: 9.00 am – 5.00 pm
Venue:  Amethyst Healthcare and Diagnonistic Center, Block 127, Plot 13, Remi Oluwude Street, 2nd Roundabout, Lekki Scheme 1, Lagos.
For further enquiries, call Kaleem on 08140179595 or  Dara on 08143470716.
———————————————————————————————————————–
Sponsored Content