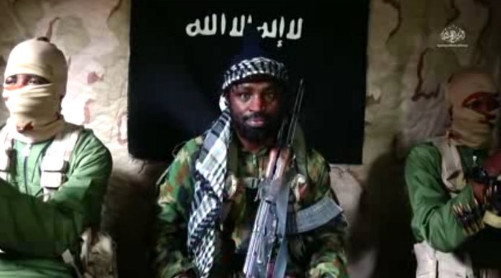 Factional leader of Boko Haram sect Abubakar Shekau has released a video to dispel new making the rounds that he was injured in an air strike by Nigerian forces.
The video was sent to a journalist who then published on YouTube.
AFP quoted as sources as saying that "Shekau was wounded in the bombings and is believed to be receiving treatment near the Nigerian border with Cameroon around Kolofata. His deputy, Abba Mustapha, alias Malam Abba, was killed in the attack along with another key lieutenant, Abubakar Gashua, alias Abu Aisha."
The report said two Nigerian Air Force (NAF) jets bombarded fighters who had gathered for prayers in Balla village, some 40 kilometres (25 miles) from Damboa, on the edge of the Sambisa Forest, last Friday.
In the video, two men with covered faces sat beside Shekau against a camouflage backdrop which as had a banner with an Arabic inscription.
Shekau said in the video titled: Sermon to the lying disbelievers of Nigeria.
"As I speak, today is Thursday 7th Sha'aban (May 4th) around Zuhr prayer. You claimed your jets struck at our gathering while we were praying, killed some of us and injured me near Damboa. I don't even know the town you mentioned.

Gather all the photojournalists, the camera men and pressmen you have, let them assess this video to determine if I was wounded.

But we are not worried. We are making this video to dispel your propaganda. Deceitful people end in shame.

Earlier you claimed I was in Sambisa, now you said I was near Damboa road. You will never know my location. Allah kept out of sight because I believe in him and doing his biddings.

Be patient, once my time on earth ends, I will die. Nothing will happen to me.

To Buhari, Buratai and lawmakers you are shouldering a burden beyond your capacity. Your imagination (on our capacity) is more incredible than the tale of a hawk that lifts an elephant.

So I'm alive. But if God wills that you will kill me, it is not surprising because many prophets of Allah were killed by infidels. I will be happy to die in the cause of Allah.

Shekau is alive, Shekau is alive. I have not started killing in the name of religion yet. I will start in future," he said.
Watch the video below: