Give Infertility a Total Knockout! Do not miss this Natural Fertility Boot Camp Meeting | Saturday, June 10th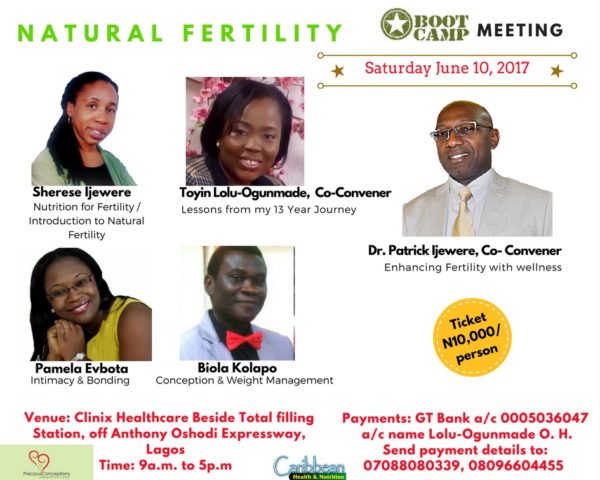 It's Boot Camp Time again!
Precious Conceptions and Caribbean Health are happy to announce that our much-awaited event – The Natural Fertility Boot Camp Meeting is just some days away.
Date: Saturday, June 10th, 2017.
Time: 9.00 am – 5.00 pm
Venue: Clinix Healthcare, Beside Total Filling Station, Off Anthony Oshodi Expressway, Lagos.
This event is designed for couples who are:
Trying to conceive
Looking at other options apart from IVF
Planning to delay conception safely
Struggling with PCOS/PCOD,
Facing  male infertility challenges
Struggling with intimacy & bonding whilst trying to conceive
Having gynea challenges
Overwhelmed and in need of direction whilst on the road to parenthood.
Infertility fights hard and dirty. It does not spare punches. But you can give it a total knock out.
We get you fit to fight… and walk with you to victory
See flier for more registration details.
See you at the Camp!
————————————————————————————————————————-
Sponsored Content