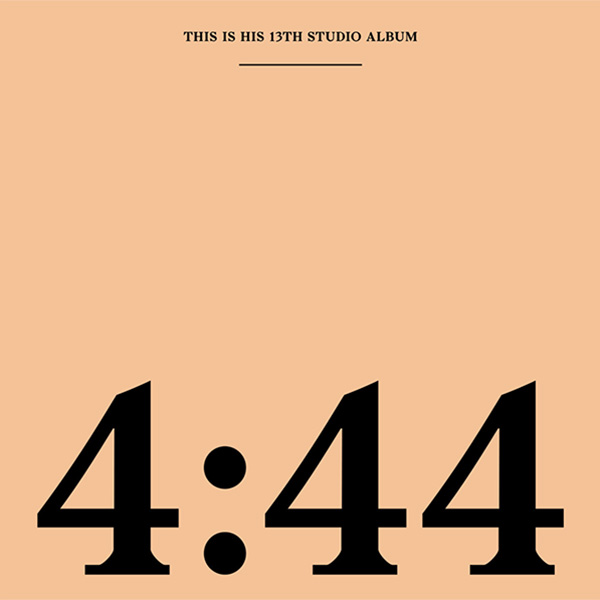 JAY-Z dropped his much anticipated 13th studio album today. The album titled "4:44" has become an instant hit especially with a lot of talking points. In the album, the rapper makes references to Beyonce's last album "Lemonade" where she hinted at him cheating on her with "Becky with the good hair".
The album which arrives after a 4-year hiatus from the rapper also includes a diss to Kanye West and addresses the incident in the elevator with Solange Knowles, Beyonce's sister.
Here are the highlights in no particular order:
The incident with Solange:
On the track "Kill JAY-Z", he speaks to himself rapping about letting go of his ego and admitting his faults. He admits he was provokes Solange to anger which led to their altercation in an elevator in 2014 after the Met Gala. He raps:
Let go your ego over your right shoulder
Your left is sayin', "Finish your breakfast!"
You egged Solange on
Knowin' all along, all you had to say you was wrong
Referencing Eric Benet:
Singer Eric Benet split with his ex-wife Halle Berry in 2003 amidst allegations of infidelity and JAY-Z name-drops him on the "Kill JAY-Z" track. He blames himself for behaving like Eric at the same time reminding himself to never go that way again:
You almost went Eric Benét
Let the baddest girl in the world get away
I don't even know what else to say
Nigga, never go Eric Benét !
Benet has however replied via his Twitter page:
Hey yo #Jayz! Just so ya know, I got the baddest girl in the world as my wife….like right now! ✌?

— Eric Benét (@ebenet) June 30, 2017
Kanye West diss:
JAY-Z calls out his frenemy Kanye West on "Kill JAY-Z". The two have been best friends for a long while before certain undisclosed issues came between them. JAY-Z raps about getting hurt by Kanye:
I know people backstab you, I felt bad too
But this 'fuck everybody' attitude ain't natural
But you ain't a Saint, this ain't KumbaYe
But you got hurt because you did cool by 'Ye
You gave him 20 million without blinkin'
He gave you 20 minutes on stage, fuck was he thinkin'?
"Fuck wrong with everybody?" is what you sayin'
But if everybody's crazy, you're the one that's insane
Admitting his mother is a lesbian:
In the track "Smile", he raps about bad memories giving way to good times. The track which also end with a spoken word performance by his mom Gloria Carter has JAY-Z rapping about his mother being a lesbian:
Push through the pain so we can see new life
So all the ladies havin' babies, see a sacrifice
Mama had four kids, but she's a lesbian
Had to pretend so long that she's a thespian
Had to hide in the closet, so she medicate
Society shame and the pain was too much to take
Cried tears of joy when you fell in love
Don't matter to me if it's a him or her
I just wanna see you smile through all the hate
Marie Antoinette, baby, let 'em eat cake
Speaking on allegations of infidelity:
Last year, the Bey Hive was agog with allegation of infidelity leveled against JAY-Z after Beyonce had hinted in her song "Sorry" off her "Lemonade" album that he had cheated on her with "Becky with the good hair".  On the first verse, he raps about his infidelity and Beyonce's miscarriages:
Look, I apologize, often womanize
Took for my child to be born
See through a woman's eyes
Took for these natural twins to believe in miracles
Took me too long for this song
I don't deserve you
I harass you out in Paris
"Please come back to Rome", you make it home
We talked for hours when you were on tour
"Please pick up the phone, pick up the phone"
Said: "Don't embarrass me," instead of "Be mine"
That was my proposal for us to go steady
That was your 21st birthday, you mature faster than me
I wasn't ready, so I apologize
I've seen the innocence leave your eyes
I still mourn this death, I apologize for all the stillborns
'Cause I wasn't present, your body wouldn't accept it
I apologize to all the women whom I
Toyed with you emotions because I was emotionless
I apologize 'cause at your best you are love
And because I fall short of what I say I'm all about
Your eyes leave with the soul that your body once housed
And you stare blankly into space
Thinkin' of all the time you wasted in on all this basic shit
So I apologize
He also expresses concern at what his children would feel if they knew:
And if my children knew, I don't even know what I would do
If they ain't look at me the same
I would prob'ly die with all the shame
"You did what with who?"
What good is a ménage à trois when you have a soulmate?
"You risked that for Blue?"
If I wasn't a superhero in your face
My heart breaks for the day I had to explain my mistakes
And the mask goes away and Santa Claus is fake
And you go online and see
For Blue's tooth, the tooth fairy didn't pay
Finally, on "Family Feud", talks about how the importance of family as he raps, "Nobody wins when the family feuds", with Beyonce lending her vocals to the track signalling that all is well with the couple.