JAY-Z's 13th Studio Album "4:44" is Here!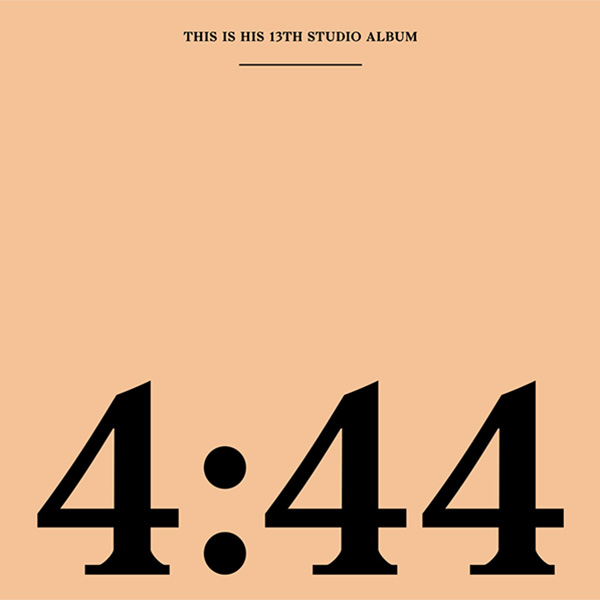 4 years after the release of "Magna Carta Holy Grail", JAY-Z returns with his 13th studio album, "4:44". The much anticipated album includes 10 tracks and features Damian Marley, Frank Ocean and his mother, Gloria Carter. However, Beyonce's vocals can be heard on "Family Fued" as well as his daughter Blue Ivy on "Legacy"
The album premiered exclusively on Tidal Friday morning and from the lyrics, JAY-Z seems to be apologizing for cheating on Beyonce. He says on "4:44":
And if my children knew, I don't even know what I would do / If they ain't look at me the same, I would prolly die with all the shame / You did what with who? What good is a ménage à trois when you have a soulmate, you risked that for Blue?
He also references the popular verse on Beyonce's "Lemonade" album on his "Family Feud" track as Beyonce ends the track with her vocals signalling all is forgiven. He says:
I'll (expletive) up a good thing if you let me / Let me alone, Becky! / A man who don't take care of his family can't be rich / I watched Godfather, I missed that whole (expletive)
Read his description of all the tracks on the album:
"Kill JAY-Z"
"The first song is called 'Kill JAY-Z' and obviously, it's not to be taken literal. It's really about the ego. It's about killing off the ego, so we can have this conversation in a place of vulnerability and honesty."
"The Story of OJ"
"'The Story of OJ' is really a song about we as a culture, having a plan, how we're gonna push this forward. We all make money, and then we all lose money, as artists especially. But how, when you have some type of success, to transform that into something bigger."
"Smile"
"'Smile' is just what it is. There are gonna be bad times, and those bad times can do two things: they can get you in a place where you're stuck in a rut, or it can make your future that much better because you've experienced these things."
"Caught The Eye"
"'Caught The Eye' is a song that's dealing with just being aware of your surroundings. There's a line in it, and it says, 'Your body language is all remedial, how could you see the difference between you and I?' Just being so sharp about your surroundings."
"4:44″
"'4:44′ is a song that I wrote, and it's the crux of the album, just right in the middle of the album. And I woke up, literally, at 4:44 in the morning, 4:44 AM, to write this song. So it became the title of the album and everything. It's the title track because it's such a powerful song, and I just believe one of the best songs I've ever written."
"Family Feud"
"'Family Feud' is about separation within the culture. Like, new rappers fighting with old rappers, saying all these things. So, the line is, 'Nobody wins when the family feuds.'"
"Bam"
"The song 'Bam' with Damian Marley it's just jammin', it's just like the song. But it's secretly Shawn Carter saying, 'Man, you need a bit of ego.' It was because of me and the things that I've done, this is JAY-Z saying you needed a bit of ego for us to arrive at this point."
"Moonlight"
"The hook is 'We stuck in La La Land/Even if we win, we gonna lose.' It's like a subtle nod to La La Land winning the Oscar, and then having to give it to Moonlight. It's really a commentary on the culture and where we're going."
"Marcy Me"
"'Marcy Me' is a nostalgic walk through Marcy, and it's about that hopefulness, that feeling of 'Man, can I really do this? Can I really be one of the biggest artists in the world?' You have these dreams, 'Can I be one of the biggest basketball players?' We have these dreams."
"Legacy"
"The song is just about what it is, it's like a verbal will. Just a song about speaking to my daughter. She starts the song off, and she says 'Daddy, what's a will?'"
Get the album below: