Ghanaian-American Bozoma Saint John is making major boss moves and we're loving it.
Bozoma, who was at the top of Billboard's list of 100 most powerful Women in Music in 2016, has left Apple Music to join Uber as its Chief Brand Officer.
The announcement was made via her social media pages on Tuesday.
"'You got a fast car, I want a ticket to anywhere; maybe we make a deal, maybe together we can get somewhere' – Tracy Chapman @uber #letsgo#seatatthetable," she wrote on Instagram.
Uber also announced it on Twitter. Quoting her tweet, the car-hailing service said: "Bozoma Saint John is hitting the road with us as our Chief Brand Officer and we couldn't be more excited. Welcome, @badassboz"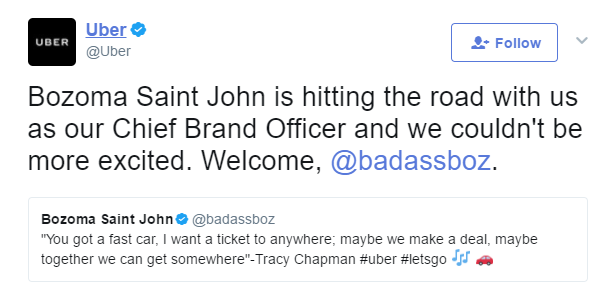 Speaking to Business Insider after the announcement, Bozoma said: "Quite frankly, what has happened in the past is nothing that I can control, but I do think there is a real opportunity for the future of Uber and what the vision is going to be. Having a real seat at the table to be able to do that is really important at this moment in time."
"(Uber has) grown so quickly in such a short amount of time — and leadership and others have been so focused on growing the business — that this very moment is about changing the image of Uber and crafting what that brand story is. That hasn't been done yet," she added.
Bozoma was the head of global consumer marketing for iTunes and Apple Music until her recent appointment.