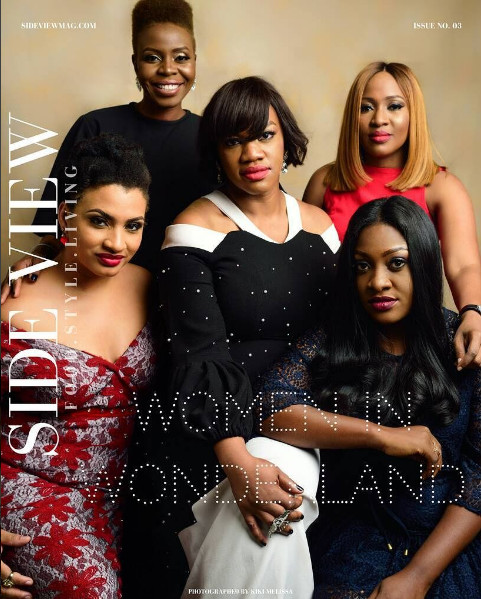 Meet the wonder women Tomilayo Omilayo Aluko, Dumebi Agbakoba, Faith Adepoju, Yetunde Ogunnubi and Wani Olatunde with amazing careers from all walks of life on the cover of the Side View Magazine.
Tomilayo (top right) is a brand communication connoisseur. She is the founder of The Boutique Brand Communication Company established in 2015.
Dumebi (middle) is the Publisher and Editor in Chief of Side View Magazine. She however, is transitioning as a private chef who is constantly experimenting with exciting new recipes and striving to deliver something that is not only technically brilliant, but tastes amazing, too.
Faith (top left) is the founder of Everything Digital, a radio presenter, TV Host/Producer and MC.
Yetunde (lower right) is the founder of YD Agency, which is focused on brand services, public relations, digital communication, events and creative print.
Wani (lower left) is a wedding and portrait photographer. She is known for her amazing and clean portraits.
The magazine posted the cover photo on Instagram and captioned "Celebrating women from all walks of life with amazing careers #wcw#sideviewmagazine #womeninwonderland#photographer #chef #marketing#communications #prgirl #branded#bbccompany #waniolatundephotography#women #fashion #food #style #living #naija#womenrock #creatives #blackgirlsrock#magazine"
Picture Credit: Instagram – Side View Magazine