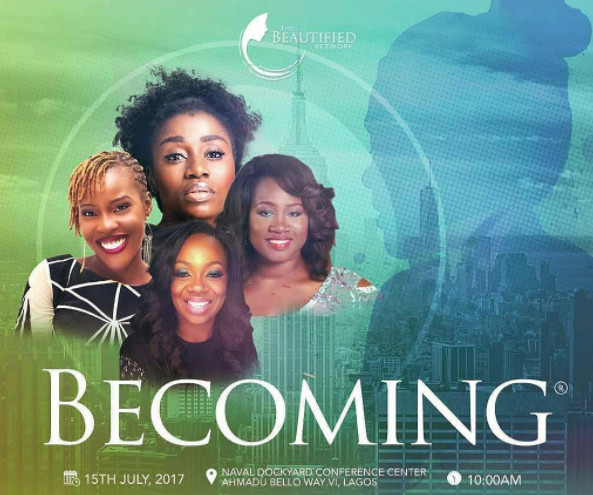 Yay! And the Winners are…
(1) t.t

I would really love to attend this conference,at 34,I still feel I haven't truly discovered myself;I want some outlining to my life and maybe attending will transform the inner me that I so much need help with.

(2) Nike Folagbade
A BellaNaija representative will contact you soon.
**
Hello BellaNaijarians!
You know BN loves you and wants you to succeed in all facets of your life right? Yes.
In that light, we'll be giving away to 5 tickets for 5 lucky female BNers to attend the third edition of The Beautified Network's Becoming Conference.
How to Win
Simply tell us why you want to attend this event and we'll pick at random.
About the Conference
The conference aims at empowering young women between the ages of 18 and 35 to discover purpose, live up to their full potential and contribute their quota to social change and the world at large.

The One-Day conference, which will be held on the 15th of July at Naval Dockyard Conference Center, Victoria Island, Lagos, will attract women from all walks of life gathered to engage on matters pertaining to the transformation of women as they listen to and learn from the stories of women who have gone ahead to "become".

Having reached over 1000 women through its events and over 50,000 via its social media platforms, the initiative has generated overwhelming feedback from women inspired by and through it.
Speakers for this third edition include TY Bello – Renowned Photographer and Singer; Tope Olagbegi – CEO, Sixth Sense Interiors; Ijeoma Ndukwe – CEO, Bubez Foods and Eno Jerry – Youth Pastor and Human Resource Consultant, CEO Jeno Management Solutions.
The Conference will also feature a girl-talk panel discussion titled "The Woman Breadwinner".
The panelists are young women who are all breaking barriers in their various fields. Francesca Uriri is the founder of Leading Ladies Africa. Nkem Onwudiwe is Founder of Her Network; Laju Iren is the founder of Have You Eaten Foundation, and Mercy Akamo is the Convener, TEDxGbagada.
**
Terms & Conditions
Interested participants MUST live in Lagos
Interested participants MUST be willing to share their experience on @bellanaijaonline and www.bellanaija.com
Other T&Cs apply!
NOTE:
The competition ends by 9PM WAT on Wednesday, July 12, 2017.