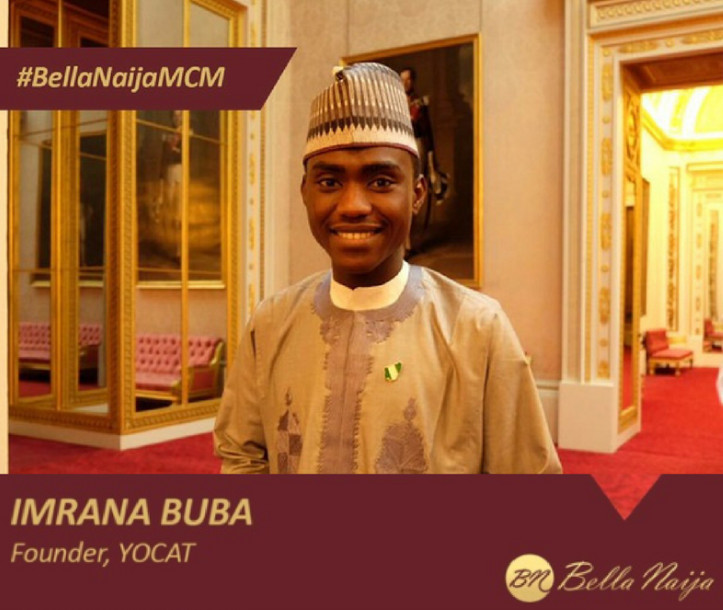 Since 2009, Boko Haram has been terrorising the north-eastern region of Nigeria with some attacks in other parts of the country including the United Nations building in the federal capital, Abuja.
Over 20,000 persons have been killed since they began their operation, and millions of others have been displaced from their homes.
Schools, homes, places of worship have been destroyed in the wake of their attacks. Children, unarguably, are the worst hit by the insurgency as there is no proper healthcare, food, shelter, and education.
Parents no longer send their children to school for their own safety, as schools (and children) are not shielded from their attacks. One of the missions of the insurgents is to  stamp out any form of Western education, and our #BellaNaijaMCM this week Imrana Alhaji Buba, is fighting back, albeit without arms
The First Class graduate (Political Science) of University of Maiduguri founded Youth Coalition Against Terrorism (YOCAT) in 2010, when he was just a freshman in the university.
YOCAT is a volunteer-based youth-led organization in northern Nigeria working to unite youth against violent extremism through counter-radicalization peace education programs in schools and villages.
It is a coalition of students, teachers, development workers, and most importantly, all dedicated young activists.
In 2014, Imrana started the "My TV My School Initiative" as a project of YOCAT to provide education to primary school students in Borno and Yobe states that could not attend schools due to insecurity.
Through the production and distribution of DVD plates (free of charge) with primary school subjects Imrana and his team are making sure primary school pupils in the region are not left behind education-wise.
YOCAT, in partnership with local organisations organises peace education and skills acquisition training for young people in north-eastern Nigeria.
Owing to these programs, many young people learnt how to reject violence, respect one another, and embrace the values of peace in their everyday living.
Imrana describes his work as being "centered on weakening the appeal of violent extremism in north-eastern Nigeria through counter-radicalization peace education programs in schools and villages."
Owing to his incredible work, Imrana was selected for the Generation Change fellowship of the United States Institute of Peace (USIP).
In 2016, he was selected as one of three Nigerians and 21 other young African changemakers in the Commonwealth for the Queen's Young Leaders Award, where he recievdan initiative led by her majesty, Queen Elizabeth II of England.
Imrana is a LEAPAfrica SIP Fellow (2016) and YALI West Africa Fellow and is a participant in the Mandela Washington Fellowship (2017) program.