The couple, Sylvia and Peter, described their love story as one that stood against all odds, and it doesn't get any better than that. Knowing you have a solid foundation when so many things could go wrong is an absolute blessing.
We absolutely love his love for her beautiful dark skin and BellaNaija Weddings wishes the couple a life of love that's sweeter with each passing day.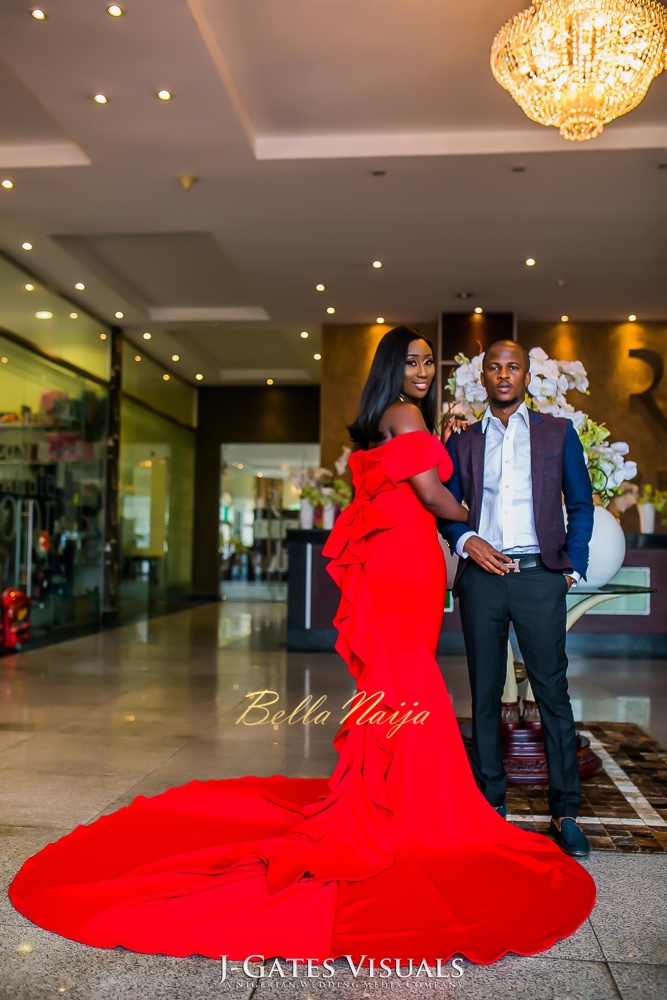 How We Met
By the Bride, Sylvia
Peter and I met on the streets of Lagos, somewhere within my Estate, Opebi, Lagos to be precise. I was taking a walk with my friend Favour when suddenly a car pulled over beside us. I was very hesitant to give out my number to the driver of the car who turned out to be Peter. When I saw that he wasn't about to give up, I succumbed just to get rid of him.
As expected, he called a couple of days later and we bonded almost immediately. Our first outing was an adventurous one for me, he invited me to go biking with him. I had never ridden on a power bike before so decided to give it a try, after all, a little fun won't hurt.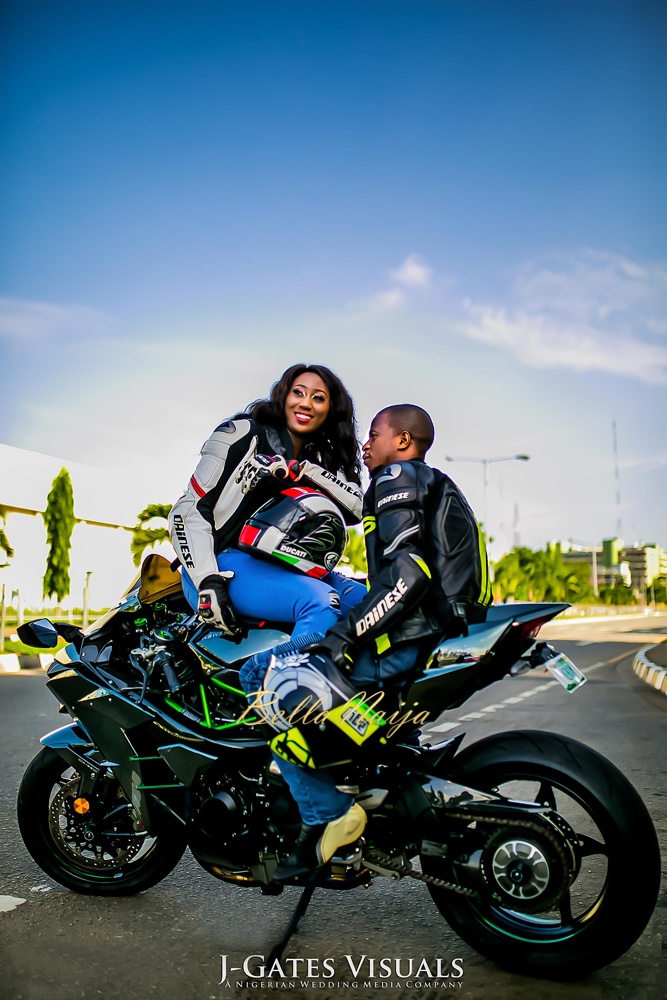 We went biking and although I screamed throughout the ride, I had so much fun and I enjoyed his company a lot. We were both seeing other people at the time, so I didn't think he'd be interested in me.
Fast forward to a few months later, our various relationships ended but his ended first. This obviously made us closer, he started offering to drop me off at school in faraway Ota, Ogun State, and then coupled with the occasional surprise visits both at home and at school.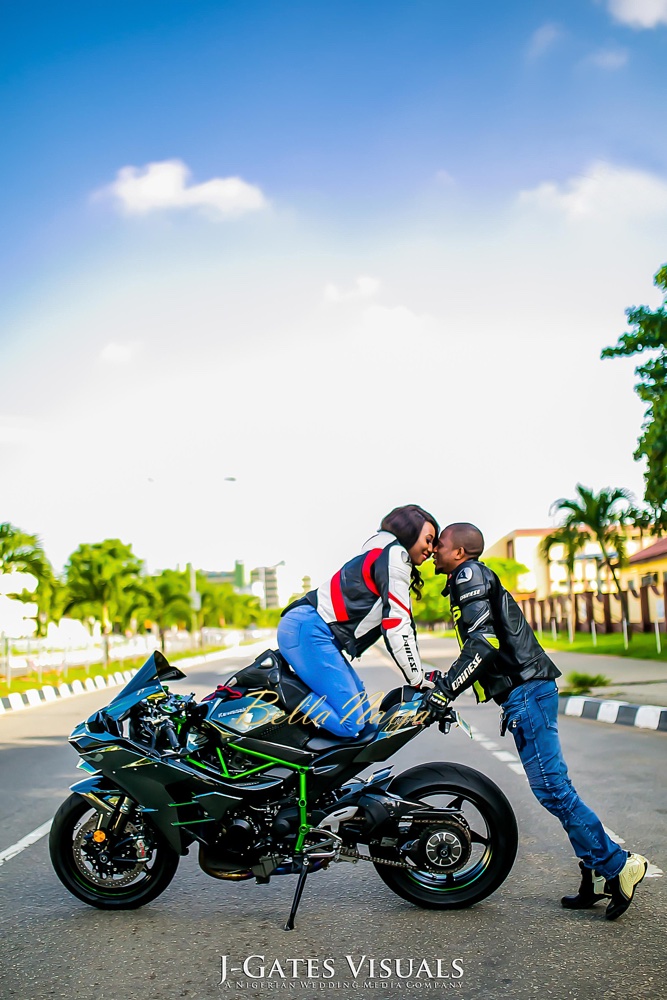 On the 14th of February 2012, I wasn't expectant because my previous relationship had just ended and Peter and I weren't officially a couple then. I, however, got a surprise from himI it was a very lovely wrist watch, I'll never forget. We had a long conversation that night, at that point I realised I was sprung (haha), it was at that moment we decided to make it official.
Of course, there were definitely high and low moments during the course of our relationship, but thankfully we are both very positive people. Instead of thinking of what could go wrong, we thought of all the things that could go right. In 2014 I moved to Abuja for my NYSC, the distance made it tough on some days, but I was so into him and this made it impossible to stay away.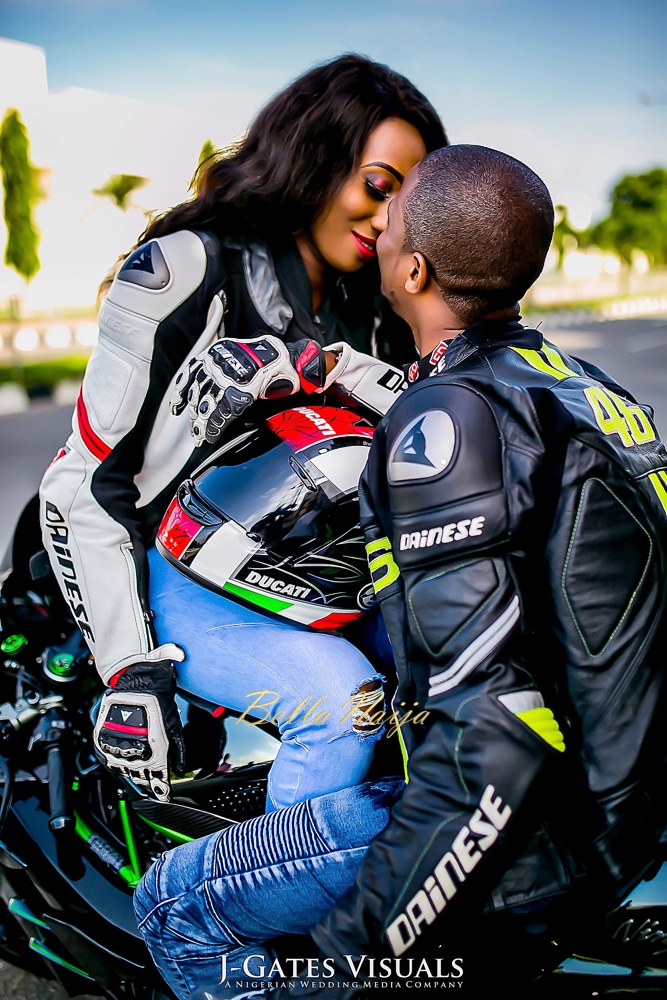 Peter is extremely funny, dramatic, very romantic and caring. There's just something about him, I can't place my hands on it. He ticked off all the boxes on my list of all I wanted in a man. He is very hardworking, family orientated, and of course, cupid had hit me hard so I couldn't imagine myself with someone else.
The Proposal
By the Bride, Sylvia
It was amazing! It's quite hard to surprise me, but mehn he got me big time, I honestly didn't see it coming. It was his birthday, 20th October 2016 and we planned to have an intimate dinner. I was scheduled to fly in on the morning of his birthday, but somehow I missed my flight. After so much back and forth, I was lucky to be put on another flight.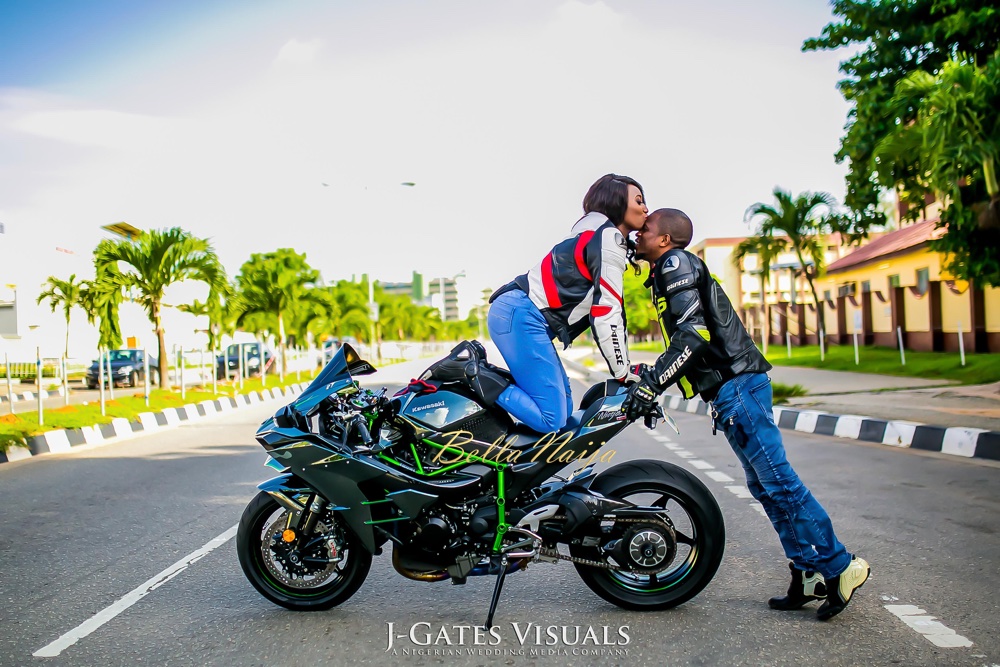 Prior to my arrival, my bestie had suggested we have a spa session when I got in, so I told her I was having dinner with Peter that night, I didn't know it was part of the plan to distract me from suspecting anything. On my arrival at the airport in Lagos, Peter called to say he couldn't make it, that he will meet me at home, so I took a cab home.
While I was riding home, I called my gal friends, with the intention of trying to organise a mini turn up for my baby after the dinner but all my gals had plans that evening, they didn't seem interested. I got home the house was empty like no one was expecting me, I ran into my cousin on her way out, she said she was going to a friends party. There was no clue at all.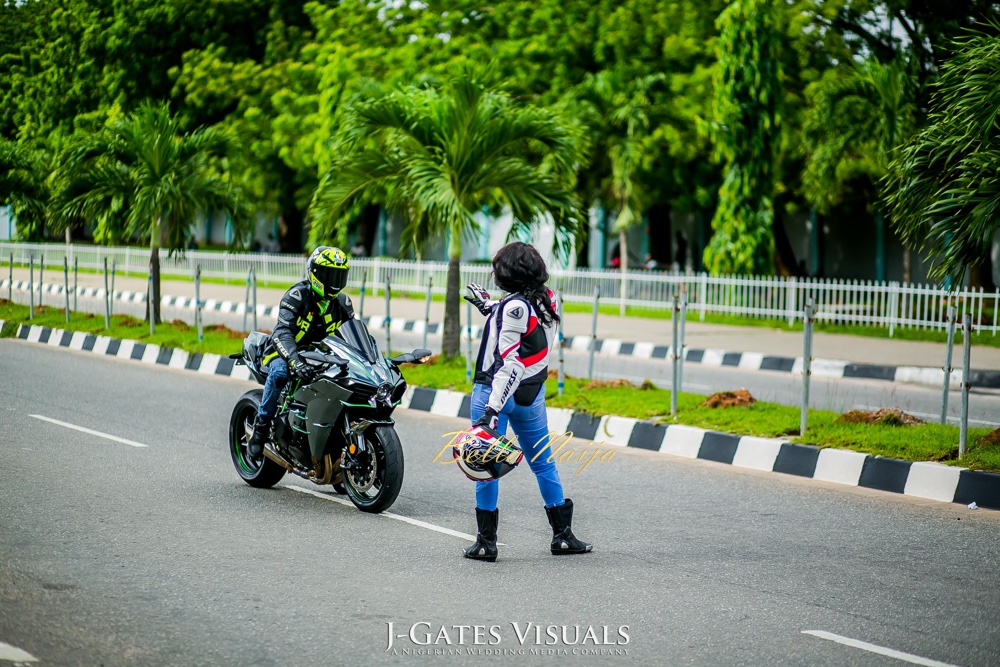 Later that night, Peter came and we headed for Radisson Blu Hotel in Victoria Island where he already made reservations. I noticed Peter was really uneasy. I was wondering why he even had a change of clothes after the button of his shirt came off but I still didn't get the hint.
We finally got in and got a perfect spot by the waterside then I gave him the gift I got him. We were lovey-dovey for a while until I started to complain that I was hungry, but he insisted we had drinks first.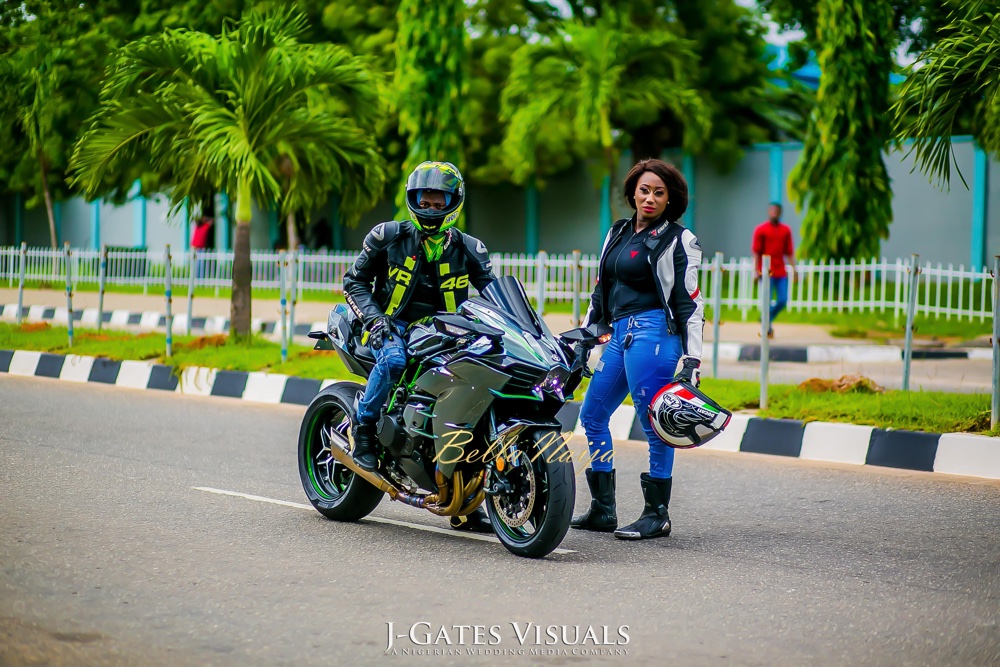 He excused himself after a while to use the restroom, as soon as Peter left, a white guy walked up to me and tried to initiate a conversation. I got very agitated to be honest because I didn't want Peter to meet him there. I tried to discard of him but he didn't budge, then the worst happened, Peter walked in on us! I said a quick prayer in my head.
Peter got angry and asked that we left immediately, I got up to leave and next thing, I saw Peter get down on one knee, I honestly didn't hear anything he said, the only thing I heard was "Please will you marry me?" I asked what took him so long as I stretched out my finger to receive the ring (hahaha).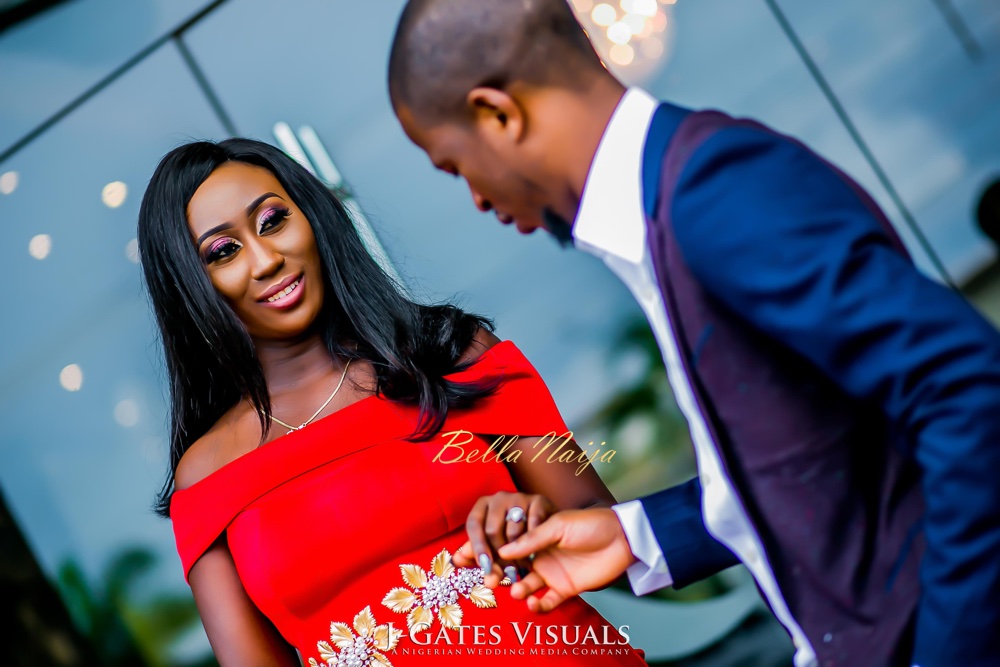 I turned around and saw everyone I would have loved to see, my siblings, his siblings, my family friends, my close friends, his close friends, the ring was everything I imagined it to be. I used to think proposals were over hyped but trust me, when mine happened I was over the moon.
We finally had dinner and I couldn't even eat. After the proposal, I felt peace, I felt the wait was worth it, and the cycle I created in my head for myself was finally complete.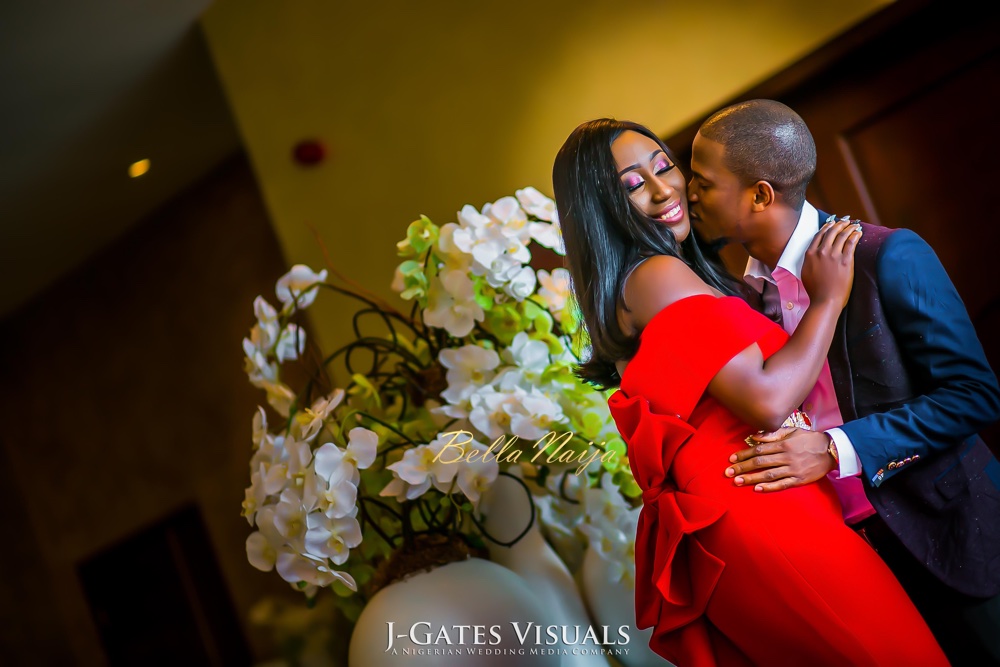 How We Met
By the Groom, Peter
I was taking a drive somewhere around Opebi, and I stopped to say hi to her. After plenty drama, I finally got her friend's number because she (Sylvia) claimed she forgot her phone at home and later I got Sylvia's number from her. We were in different relationships but mine was already hitting the rocks, despite this, I had no intentions of dating Sylvia.
We were basically just shoulders for each other to cry on, it just happened before we knew it. Everything happened so fast, it happened in the moment and we went with the flow. Talking to each other felt so right. We were dating without even knowing it… haha. We became official in February 2012.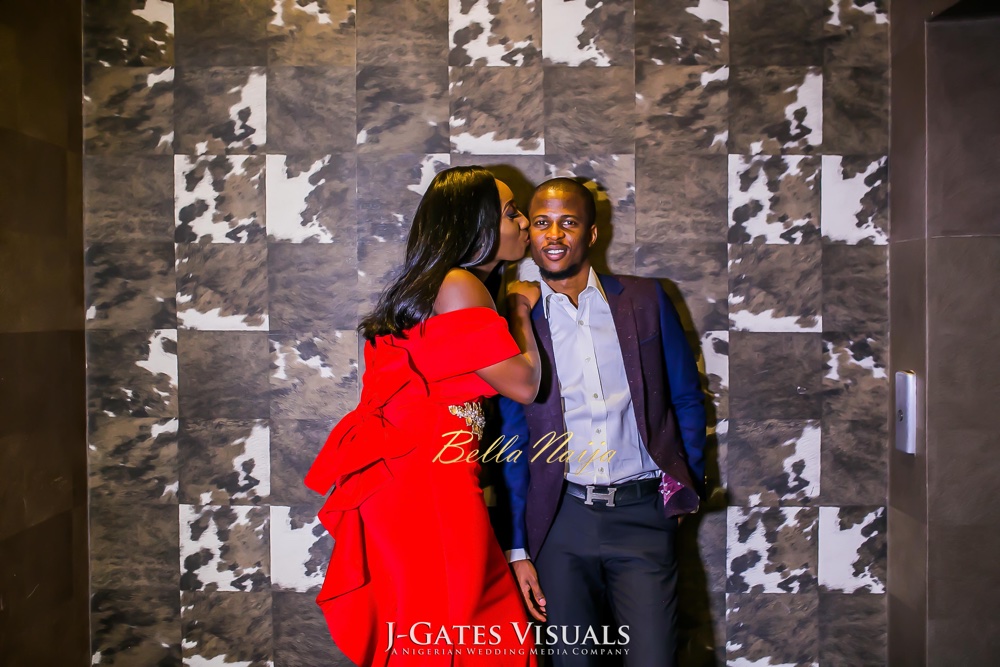 After she was done with school in Ota, the distance I considered short was longer as she was posted to Abuja for NYSC. After NYSC she got a job almost immediately in Abuja, it was officially a long distance relationship and it wasn't easy for both of us, I knew I had to be at the top of my game to keep my woman, I made sure I made out time to visit her at least twice in a month.
I love her so much and I was so convinced that Sylvia was the one, she was everything I expected my dream woman to be, homely, supportive, fun, smart, intelligent, black beauty. I often say to her "The day you bleach your skin is the day we break up" Lol! My God, I love her skin tone.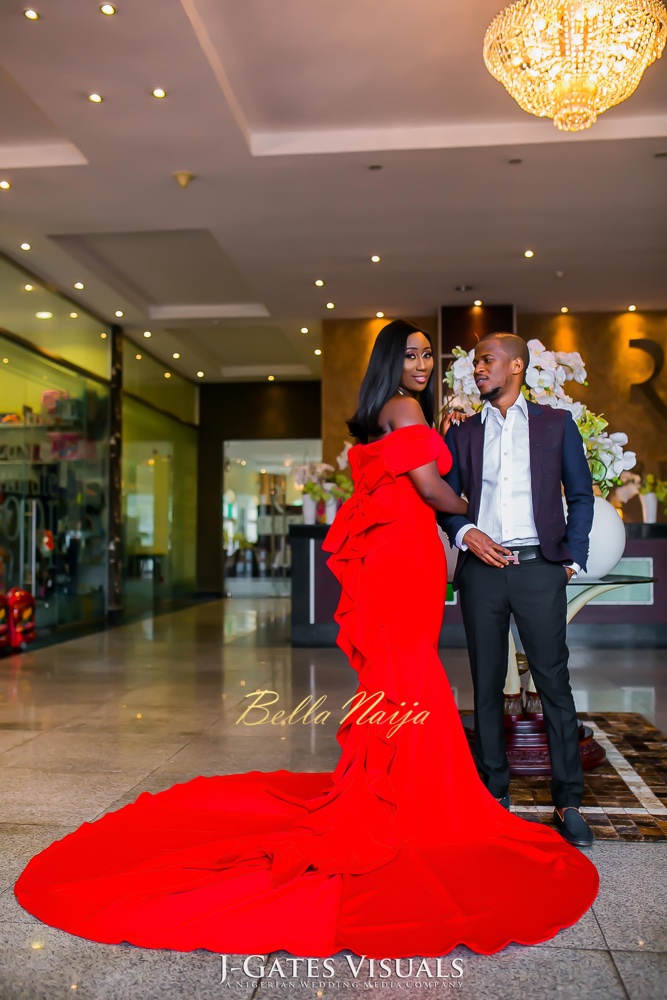 During the course of our relationship I had serious business/financial issues, things weren't just going on well for me. At a point, I felt I was being selfish to her. Come on we've been dating for 5yrs, she was ready and I was ready too, but couldn't make the move just yet, as things weren't going on well. I taught to myself that the best thing to do was to break up with her so she could be free to be with someone else, as I did not see myself ready for marriage anytime soon and I didn't want to waste any more of her time.
My mum loves Sylvia so much that I couldn't bring myself to tell her that I wanted to end the relationship. Whilst I was going through that low moment, Sylvia was so supportive, she encouraged me in every way she could, she never for once made me feel less capable, I spoke to a few of my guys and they encourage me to hold on and stay positive.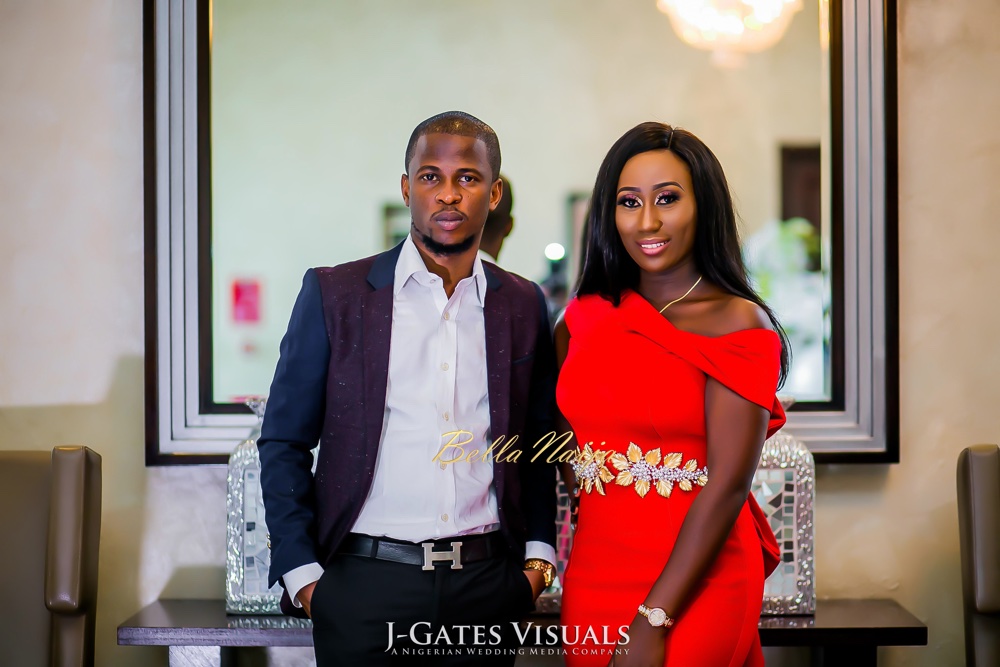 I went ahead to discuss my decision with her and she assured me that she believed so much in me, so she was going to give me one year to get myself together. I didn't think the one-year ultimatum was feasible at the time. I told God that when I had certain things in life I will get married, this was between me and God and he was really faithful. Things started falling into place one by one and at that time I knew it was time, one year after, we are getting married.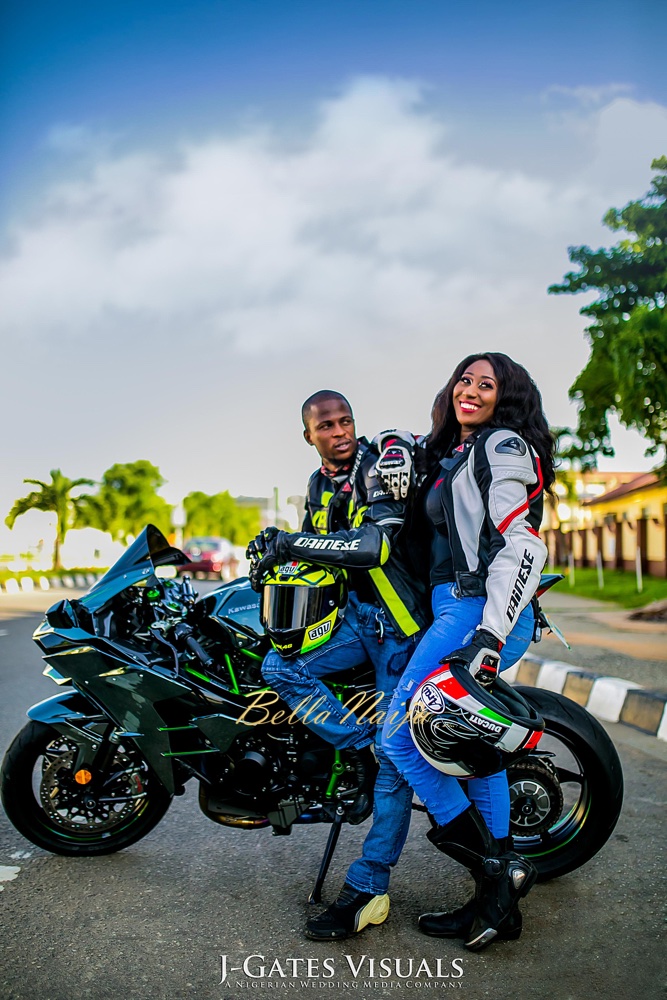 As I stated earlier her complexion attracted me to her. She's dark skinned and beautiful, and I love the fact that she's proud of it in a generation where every girl wants to be light skinned. Sylvia stood by me through it all, when I was broke she was there. When I had plenty she was there, she's very real, she has made me a better person. Her selflessness and kind heart are wow-worthy and everyone who knows her can attest to that. I see her as my guy! I can be myself around Sylvia and she hasn't tried to change me.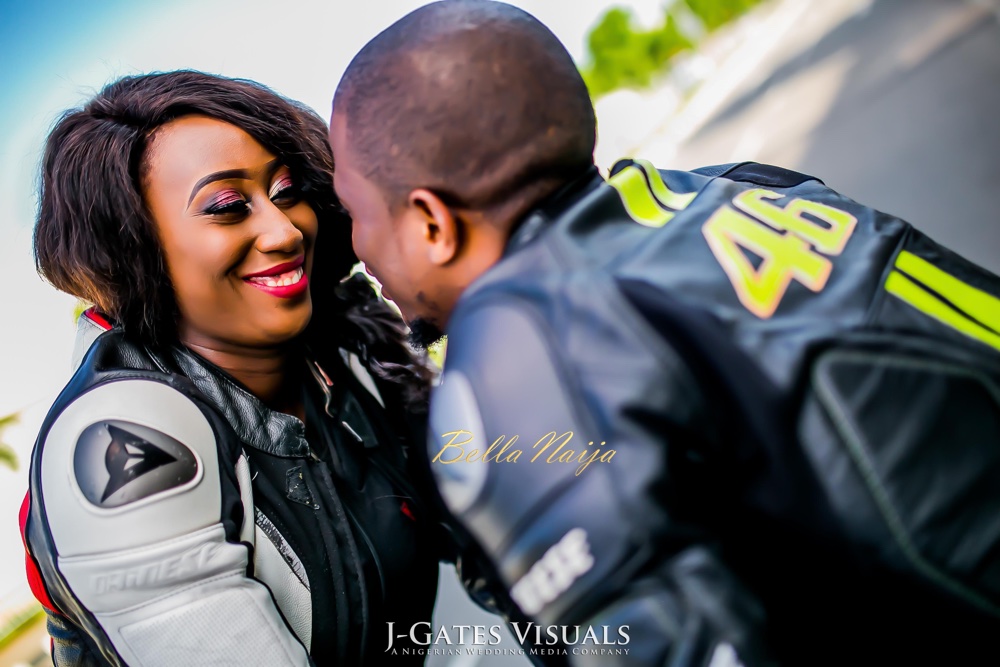 The Proposal
By the Groom, Peter
The moment I made up my mind to propose, I called Tolu, her best friend and told her about my decision. We decided we were going to go ring hunting together but before that, I'd take permission from her family first.
The first person I spoke to was her eldest sister, I got her approval almost immediately. I spoke to her eldest brother next, it took him about 4 days to digest it, but he finally gave his approval. Then I spoke to her other siblings and got their blessings too.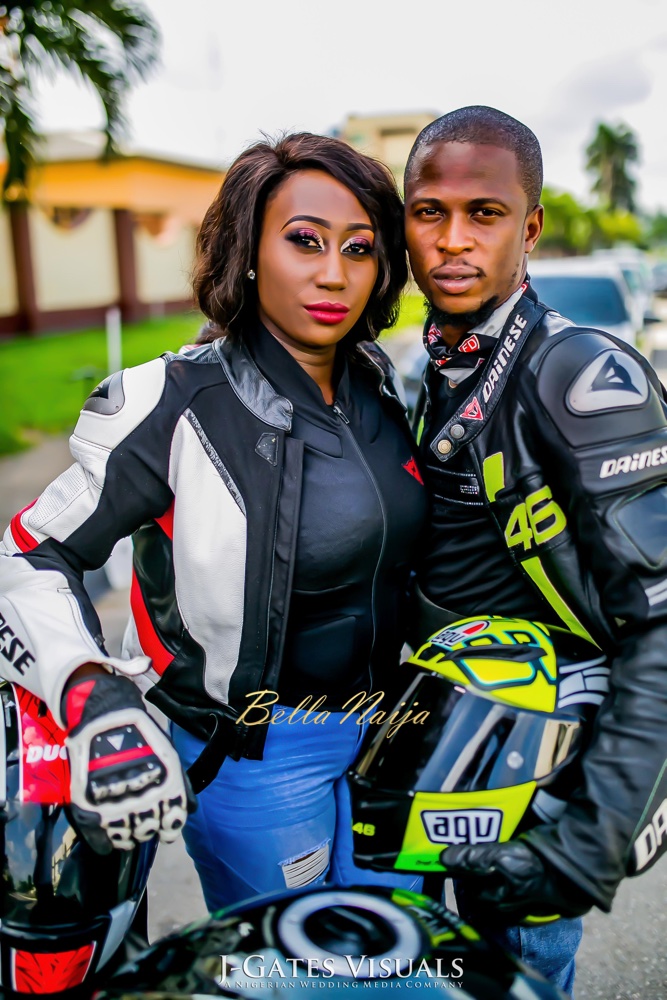 I proceeded to see her mum who insisted I told her dad first. It wasn't an easy task at all oh, hahaha. The question and answer segment made me feel like I was in a courtroom, but thankfully he also gave his blessings in the end.
The proposal plans finally kicked off, our friends were very much involved and made sure it was big. The ring hunting process wasn't easy but with Tolu's help, we were able to get the perfect ring.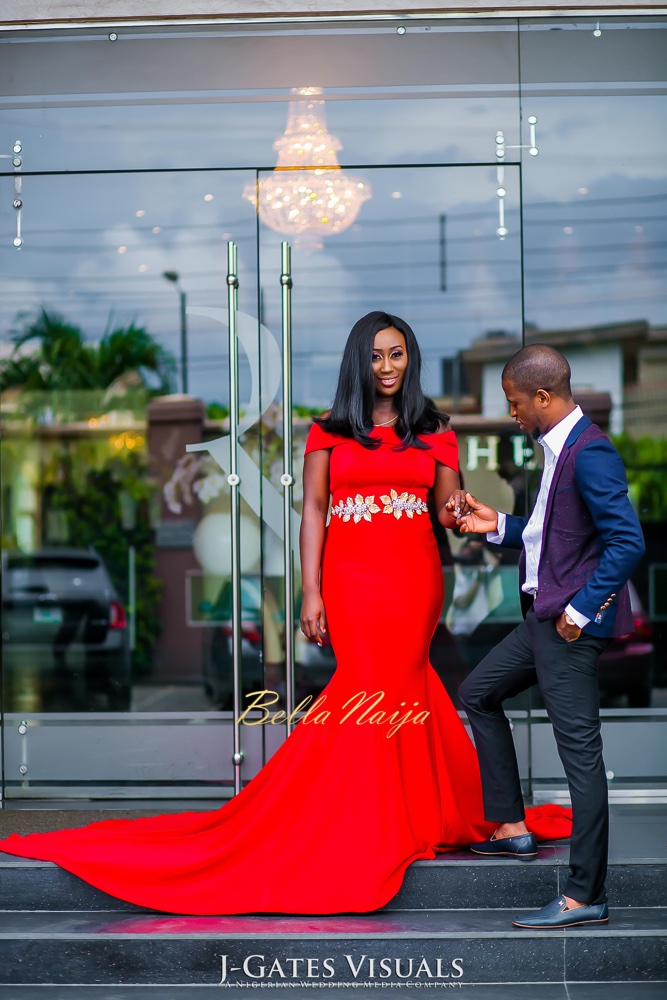 The D-day came and I was very nervous, a lot of things started to go wrong, Sylvia missed her flight to Lagos, hitches here and there, but we had the last laugh as Sylvia was fortunate enough to be put on another flight. My friend Sunny made and executed last minute plans, and I was able to surprise my baby as I always wanted.
After the proposal I felt great, I was so relaxed and fulfilled, no regrets at all. I can't wait for her to be my wife officially, it's gonna be the best day of my life.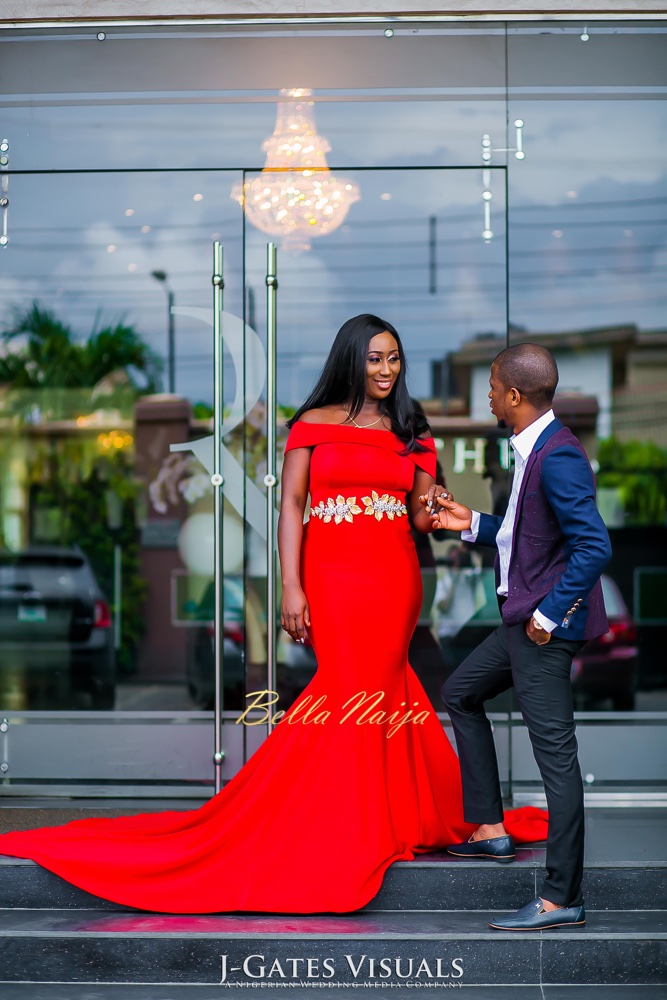 Love Notes
Bride to the Groom
Looking back to 6years ago, from a walk on the streets and now we here on a walk to forever, who ever thought that innocent walk would lead me to an amazing man like you. My "PAPI" I will continue to treasure every moment spent with you, 6years of being together has groomed me to the wife you saw in me. We both know those years weren't all rosy, but I'm convinced if we got through them then, we can conquer anything with GOD on our side. Looking forward to our big day in August! Cheers!!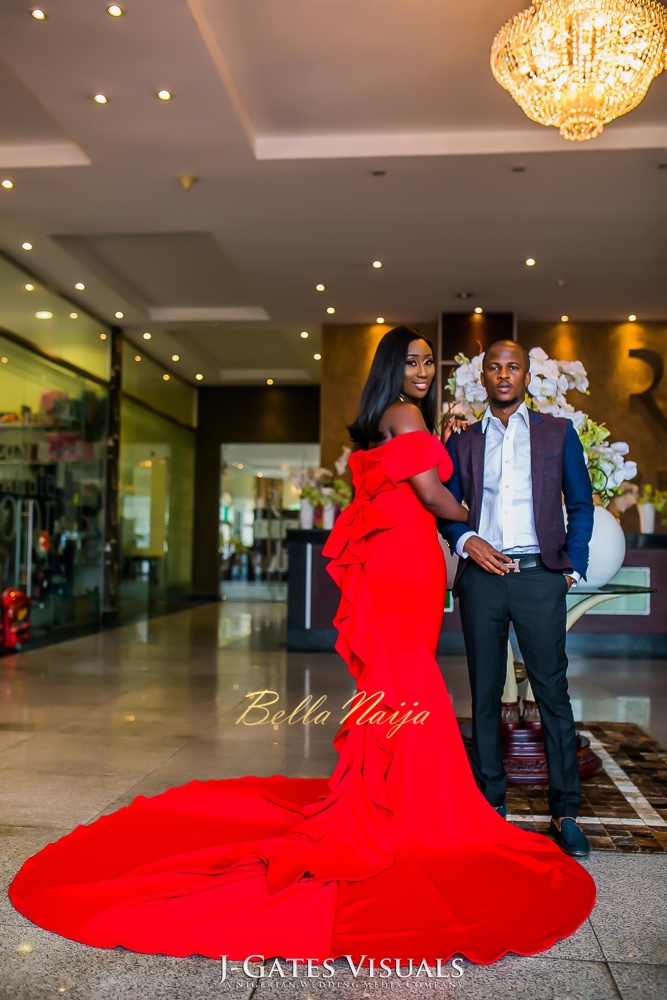 Groom to the Bride
Today I feel really blessed having the most amazing wife-to-be on the planet, that an ordinary man like me could hope for. Sometimes I feel you are too good for me. You are strong, gorgeous, brilliant, and have the purest of hearts. You know how Eve bit the apple and Adam followed suit, that's how it will be with you and I. Accomplices forever, infatuated for good… Yea, Bonnie and Clyde lol. You bring me nothing but joy and believe it, Sylvia, that every syllable that comes out of my mouth does not contain a drop of lie. You deserve all the happiness in this world, and am ready, so so ready to give it to you, need no other conviction! Love you, baby!
Watch the Couple's 'Save the Date' Video
Credits
Bride: @missgassy
Groom: @iampopcee
Bride's Dress: @msmakor
Makeup: @blendedbyadetoun
Hair: @beauvhair
Stylist: @Ruvero_designs
Photography: @jgatesvisuals
Videography: @ladimilanfilms
Planner: @rusachee_events
#popsyl17 #momentforlife17