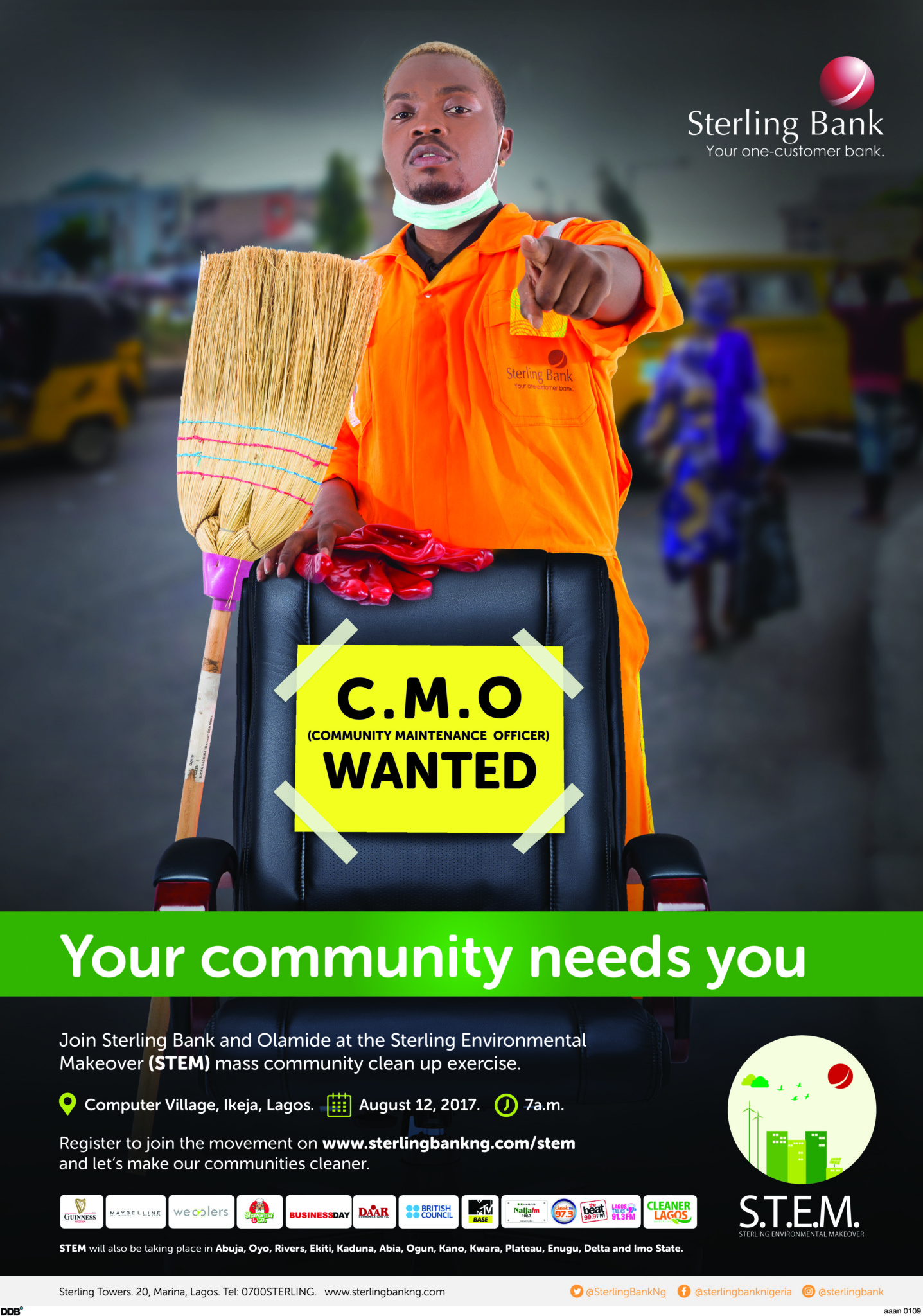 Olamide in an orange jump suit! Only Sterling Bank can make him do that! On Saturday, August 12th, 2017, join Sterling Bank and legendary music star Olamide in the Sterling Environmental Makeover (STEM) cleaning exercise at 7:00 am in Computer Village Lagos and eight other locations, Abuja, Oyo, Rivers, Ogun, Kano, Kwara, Plateau and Enugu. Click here for more details on the locations.
They are giving the environment a much-needed face lift by cleaning. Yes, cleaning! Guys, you will agree with me that there is no better time for this great initiative!
It doesn't just end with cleaning; Sterling Bank also promotes environmental consciousness by encouraging us to keep our environments clean. When you look around for street sweepers, you see how far Sterling Bank has gone with partnering with the Cleaner Lagos! Listen to what Olamide has to say on the roles we have to play here.
Haven't heard the song Olamide sang for STEM? We can't stop listening to it! Click here to download and thank us later!
Join the conversation on social media using #STEM2017 and you stand a chance to win a free makeover voucher courtesy of Maybelline and a free grooming vouchers for men courtesy of DealDey. The vouchers will be given at Computer village in Ikeja! Don't be left out!
The time for change is now! Join the movement and sign up for the STEM initiative to change how we think about throwing out our waste and become more aware of the negative impact it has on our environment – but have fun doing it!
Date: Saturday, August 12th, 2017.
See locations below:
Lagos
Time: 7.00 am
Rallying Point: Ikeja Club Awolowo Road, Ikeja.
Location: Computer Village, Ikeja, Lagos.
Oyo
Time: 7.00 am
Rallying Point: Opposite Sango Police Station
Location: Sango Market Ibadan, Oyo State
Kwara
Time: 7.00 am
Rallying Point: Oja-Oba along Emir's Road in Ilorin West LGA
Location: Oja Oba along Emir's Road & Center Igboro, off Balogun Fulani Road
Abuja
Time: 7.00 am
Rallying Point: Kashim Ibrahim Way Branch at Wuse 2
Location: Wuse Market, Wuse Zone 5 Abuja.
Kano
Time: 7.00 am
Rallying Point: MM Way, Kano Branch
Location: MM Way, Kano
Ogun
Time: 7.00 am
Rallying Point: Ake Palace open ground, Ake Abeokuta
Location: Adatan
Enugu
Time: 7.00 am
Rallying Point: 23 Okpara. Avenue Enugu
Location: Artisan Market, Enugu
Plateau
Time: 7.00 am
Rallying Point: Onigbinde Supermarket Bukuru
Location: Kugea market, Bukuru
Rivers
Time: 7.00 am
Rallying Point: Rumuibekwe branch (Plot 6/7 Rumuibekwe Estate, opposite Shell R.A)
Location: 1st & 2nd Artillery, PH/Aba road
—————————————————————————————————————————-
Sponsored Content