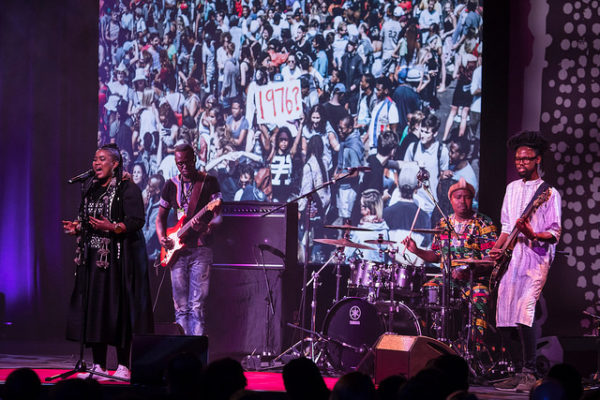 Session 5 at TEDGlobal 2017 kicked off with a beautiful performance from self-styled "wild woman" Thandiswa Mazwai and her band.
The speakers and performers in this session are repatterning culture, identity, language" in Africa with their various works.
Natsai Audrey Chieza argues that the system of dependence on fossil fuels with began in the last century is coming to an end not just because the world is running out of fuel which she describes as  "arguably the most valuable material system we've ever known," but because it has caused severe damage on the planet and our economies.
She wants Africa to turn attention away from fossil fuels to biological elements that can perform similar tasks, and are renewable and recyclable.
She shows how naturally occurring bacteria can be used to dye textiles at industrial scale which will replace oil-based dyes, calling on Africa to take the opportunity to build a new industry from scratch which will also help to save our environment.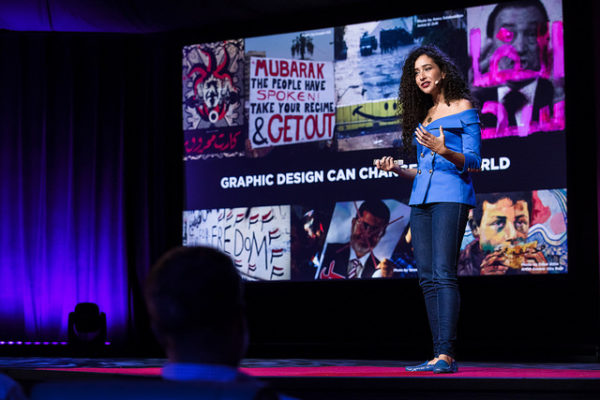 Ghada Wali discovered Arabic and Middle Eastern texts relating to terrorism, fear and ISIS and vowed not to leave her culture, nor the Arabic script, to disappear.
Armed with graphic design skills, Ghada created an appealing mashup of colourful Lego and the Arabic script: a game that teaches people Arabic by assembling Lego blocks.
"My eureka moment was to find a bilingual solution for Arabic education, because effective communication and education is the road to more tolerant communities."
Her work has helped to bring down two dictators in her home country Egypt.
Her solution now has a mobile app and very soon, a book. "This book is the final product that I would like to eventually publish and translate into all the other languages in the world so that Arabic teaching and learning becomes easy, fun, and accessible globally," she says.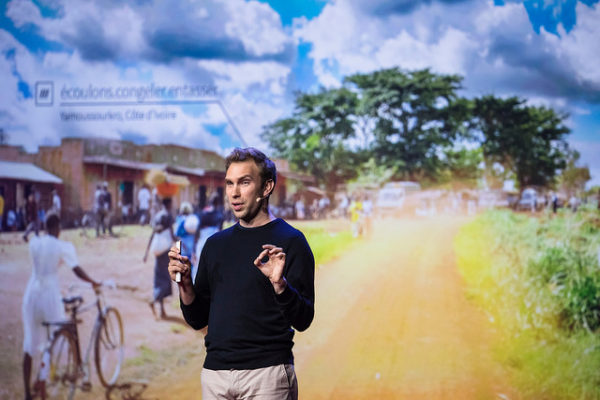 Chris Sheldrick, and a mathematician friend are working to help the estimated billions of people in the world who live without an address, get more findable.
"If you look online at a map of a township in South Africa or a remote village in Nigeria, you'll see a few roads, surrounded by a lot of empty space. But if you switch to satellite view, you'll see vast swathes of houses, businesses and people there, spread across hundreds of unmapped streets," Chris said.
Chris and his friend realised that the whole world could be divided into 3-metre squares which is 57 trillion squares and each square can have a unique name when you put three random words together. (A dictionary of 40,000 words gives you 64 trillion combinations.)
Chris' solution is working in Mongolia, in UN disaster zones, even in a Caribbean pizza delivery service. This year, Nigeria, Djibouti and Cote D'Ivoire are giving it a go.
Ike Ude is using evocative images to rebuff Africa's portrayal in bad light. On his recent portrait series Nollywood Portraits: Radical Beauty, Ike said: "Nollywood is Africa's vivid mirror par excellence," he enthuses. "It is the very first time that you have a school of Africans truly in possession of such cultural agency and in charge of telling African stories, for their Africans, without any foreign or colonial intervention."
Although social media is helping to spread Africa's stories from Africa, Ike says he'll continue to keep beautifying Africa and the world, one portrait at a time.
Sethembile Mzesane got tired of the numerous masculine and racist symbols around Cape Town and decided to act.
"I could not see myself represented, I could not see the women who raised me, the ones who influenced me and the ones who have made South Africa what it is today. I decided to do something about it."
Sethembile became a living sculpture, standing for hours on end in public spaces embodying different symbols in protest of injustice.
One time, she stood barechested in a place called Freedom Square to protest the treatment of women at a local bus depot. Another time, she became Chapungu, the soapstone bird that was looted from Great Zimbabwe, and stood triumphant while the cranes took down the statue of John Cecil Rhodes, Chapungu's plunderer.
"With my work I've gotten regular people to talk about the society they live within. Through my performances I have made people reflect about the past and the current democracy they are part of," she says.
Photo Credit: Ryan Lash/Bret Hartman/TED
Curated from TED Blog