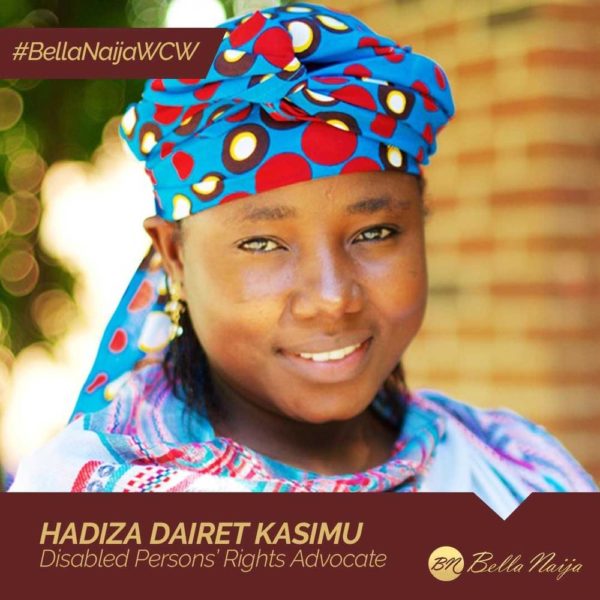 Hadiza Dairet Kasimu was not born deaf; she was hearing properly up until her final year in primary school in Nigeria. She fell sick on the day of an exam, and by the end of that week, Hadiza lost the ability to hear.
Things changed when this happened; Hadiza went through so many challenges but never gave up. She dropped out of school and for 6 years, Hadiza she was at home.
A family member who was a university heard her story and made sure she went back to school. He bought her the form and she began schooling. Her mother believed in her future, and funded her education till she graduated from the university.
Today, he is an advocate for the powerful voices of persons with disabilities – particularly those who are deaf – clamouring for inclusion in the society
She has four years' experience in various fields in community development and leadership, particularly advocating for the rights of persons with disabilities in Nigeria, especially women and girls with disabilities.
Hadiza is the state chairperson of the Deaf Women's Association of Nigeria, state coordinator of the Voice of Disabilities Initiative, and women's coordinator for the Joint National Association of Persons with Disabilities, Nasarawa State Chapter.
She volunteers counseling women and girls in her local community on upright living, gender equity, and financial independence, and engages them in skills acquisition training, marriage counseling, breaking barriers, and securing employment opportunities, as well as encouraging women and persons with disabilities to participate in politics.
She holds a certificate course in Business Education.
In 2016, she was selected as part of 100 young Nigerians to participate in the Mandela Washington Fellowship for Young African Leaders.
Watch her talk about her project below: