"Bodak Yellow" rapper Cardi B has on her Twitter claimed that a New York policeman put her in a choke hold.
The rapper tweeted on Wednesday evening: "I can't believe this cop put me on a choke hole just now shit is crazy these NY cops don't know how to do they job F*** 12."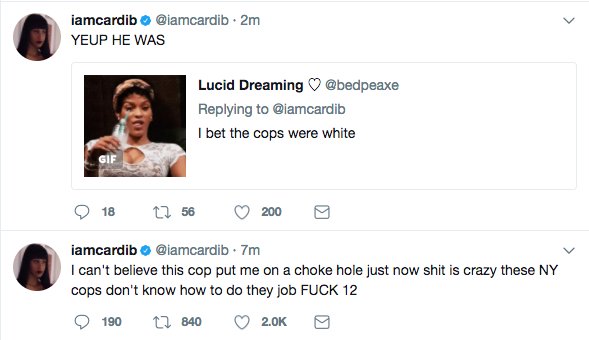 TMZ sources say the incident happened around 6 PM near Columbus Circle.
Cardi B was riding in her new Bentley SUV when she was hit by another driver.
While she wasn't the one driving, she and her cousin got out of the car and started arguing with the driver of the other car.
The policeman, who she says was white, got involved and reportedly put his hand on her, pinning her against the Bentley.
After everyone calmed down, the cop let her go, then left the scene.
It was moments later the rapper tweeted that she was put in a choke hold, a tweet she later deleted.
The rapper's boyfriend Offset of trap group Migos confirmed the news to TMZ, saying he at first thought it was a joke, but found it to be true.