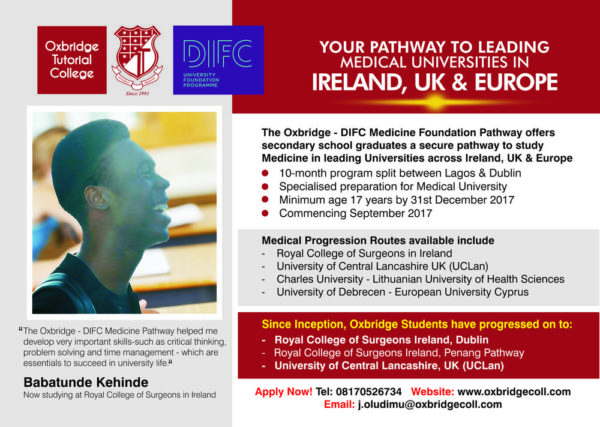 Thinking of pursuing a career in Medicine?  Look no further.
Oxbridge Tutorial College in partnership with the Dublin International Foundation College offers a flexible and seamless route to obtaining a medical degree.
This medical foundation programme runs through a period of ten months, with the first semester (September –December) at Oxbridge, while the second and third semester (January –June) are completed at Dublin International Foundation College (DIFC) in Ireland.
Upon completion of the programme, students get the opportunity to progress onto a range of universities in Europe. They include;
Royal College of Surgeons in Ireland, Dublin, Malaysia and Bahrain Campus
University of Debrecen, Hungary
UCLan-University of Central Lancashire, UK
Charles University, Czech Republic
Lithuanian University of Health Science
European University, Cyprus
We have successfully prepared students through this pathway, and are motivated to replicate our success story with you.
Admission into the medical Foundation Programme is closing very soon. To avoid disappointment, hurry and speak with our admissions team on 08170526734 or send an email to [email protected]
—————————————————————————————————————————Sponsored Content