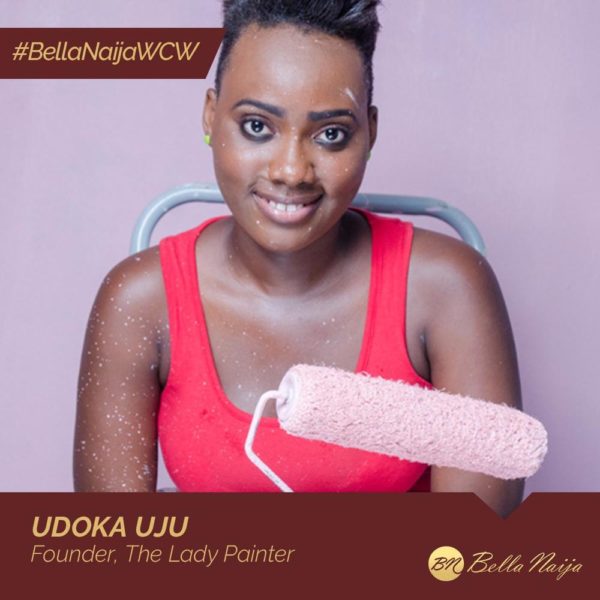 In a field dominated by men, our #BellaNaijaWCW this week Udoka Uju is thriving and making her brand – The Lady Painter – known.
Udoka is not just a painter, but a creative wall designer who brings people's work and home spaces to life.
The brand describes itself as a group of professional painters who offer creative and innovative style in their painting concept and solutions.
"We just love painting and maintaining walls that is why we have maintained our long list of satisfied clients solely based on referrals," the brand said on its website.
Udoka left her bank job in 2016 to start her business and fast forward to today, she's become a sought-after painter, having done jobs for Diamond Bank, Sterling Bank, Sterling Bank, RCCG, Gamsole, among others.
Udoka is already giving back to the society and we can't be more proud of her.
In 2016, she launched the Grab-A-Brush, Colour-A-Life initiative which "involves beautifying a poorly kept public school, motherless home, street, park etc with focus on our rural communities in any state in Nigeria by cleaning and painting with beautiful colours and patterns."
The initiative is aimed as using colours "to positively influence the psychology, emotion, productivity, communication and learning of a child and a community at large by creating a comfortable and engaging environment."
The initiative also educates teachers on basic health, safety and environmental knowledge, while donating fire fighting equipment to the schools and the communities.
Today, we celebrate her for putting her 'A' game in her job and giving back to the society.