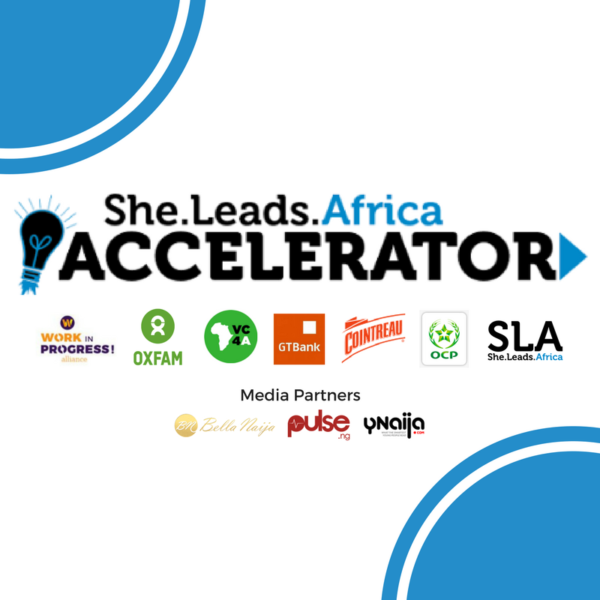 She Leads Africa (SLA) has partnered with Work in Progress! Alliance (VC4Africa and Oxfam), OCP, Guaranty Trust Bank, Cointreau and Intel Corp for a 3-month Accelerator Program designed to identify, support and fund the next generation of Nigeria's brightest Entrepreneurs. SLA announced that nineteen early-stage businesses have been accepted into the 2017 SLA Accelerator Programme. This year, the program will hold in 3 Nigerian states – Lagos, Abuja and Kaduna. Accelerator Participants will spend the next three months working on their business strategy and growth while networking with investors and potential partners.
She Leads Africa received applications from over 200 Start-ups from across Nigeria this year. The selected Entrepreneurs were evaluated based on their traction in the market, management team and vision to grow and scale across Africa. The entrepreneurs will have the opportunity to pitch their businesses at an Investor Demo Day in November and compete for N2 million Investment from She Leads Africa along with other business support services.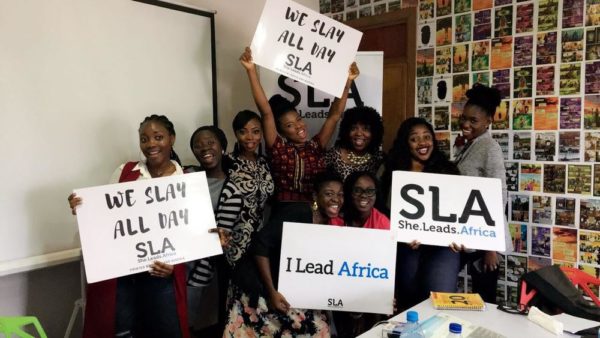 In the Intel Technology Cohort (hosted at Café Neo, Lagos) the selected businesses include;
Greymate Care – an online platform that connects the elderly and vulnerable adults to a highly trained and insured caregiver thus, communications company helping SMEs use the right digital & ICT strategies to drive their products/services and improve work processes using the web and mobile solutions.
Dexterity Logics Ltd– a Software Development Agency that provides online solutions to businesses and an e-learning platform to software developers.
Eventplanner.ng – an online platform that connects event-related Vendors such as photographers, makeup artists, caterers, MCs and DJs to Users in need of their services. In future, Eventplanner.ng also plans to provide users with online tools that will help them better plan events.
In the Cointreau Creatives Cohort (hosted at Seedspace, Lagos) the selected businesses are:
Taeillo – designs and creates premium urban African furniture.
Netima Happy Feet – creating stylish and flexible casual flat footwear.
MMG Creations World – handcrafting quality Jewelry that maintains the essence of both traditional and modern designs.
Red Button – a Nigerian Fashion Label set to redefine corporate wear fashion for the African Woman, with the use of African prints and materials to make stylish, unique corporate wear.
Auditions.Ng – a job listing site for the creative and entertainment industry.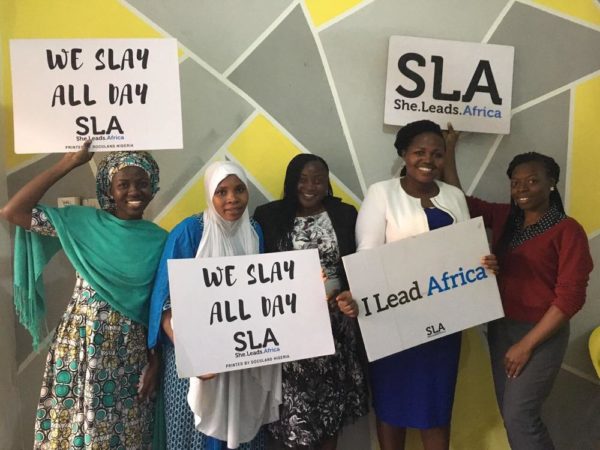 In the GTB Retail & E-Commerce Cohort (hosted at AIIVON Hub, Abuja) the selected businesses are:
Food-i-Like – a food ordering and delivery company.
Mahauty Health Solutions – produces healthy baby foods devoid of artificial additives.
Perception Consult Ltd – produces furniture for individual clients and organizations using durable yet affordable materials and offers interior design and accessorizing services.
Smile-On Limited – providing a variety of healthy baby foods.
CEA Consultancy And Translation Services– Partners with international organizations and businesses to build business communities across borders and ensure mutual understanding, increased productivity and growth.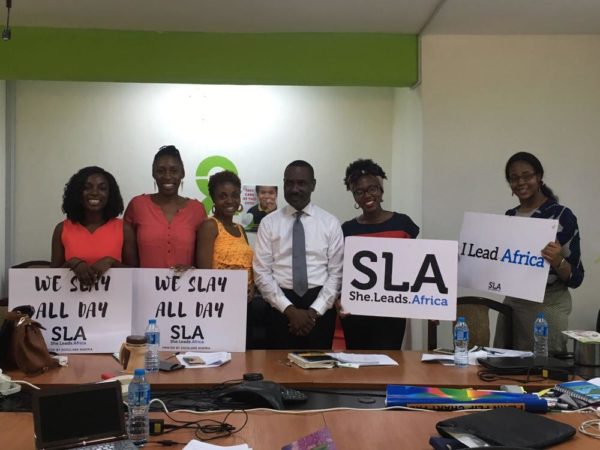 In the OCP Agribusiness Cohort (hosted at CoLab, Kaduna) the selected businesses are:
Dahrah Global Limited – an agricultural company that farms and trades commodities.
Meenam Blends – an organic spices production business focused on the production, processing, and packaging of healthy spices, garlic, ginger, and onion.
Farm For Gold Venture – a business involved in the farming and processing of ginger.
Apples & Berries Fruits Paradise – a fresh juice & salad bar that prepares and sells naturally healthy and fresh smoothies, fruit/vegetable salads and juices.
Showplace Nigeria Limited– locally produces and packages quality instant ginger root drink.
SLA Accelerator Programme 2017 is in partnership with the Work in Progress! Alliance, OCP, Guaranty Trust Bank, Cointreau, and Intel.
The Work in Progress! Alliance is focused on unlocking the economic potential of young women and men in Egypt, Nigeria and Somalia. The project aims to enable them to generate sustainable and living incomes – by finding regular employment or starting enterprises. Alliance partners include Oxfam, VC4Africa and Butterfly Works.
OCP is As the exclusive caretaker of the world's largest phosphate resources, OCP has always had a deeply rooted commitment to protecting global food security, through our role in sustainably increasing agricultural productivity. This core value is embodied in our entire OCP team, inspiring our vision and empowering our team to work, innovate and deliver a shared benefit for the world's population.
Guaranty Trust Bank is recognized as one of the most profitable and well-managed financial institutions in Africa for providing quality service, ethics, professionalism, integrity, innovation and internationally accepted corporate governance standards.
Cointreau is an internationally recognized and consumed brand of triple sec alcohol that has been established for over 160 years. Behind the name of Cointreau lies far more than a simple liqueur…Cointreau is a family, a history, a specific expertise, a unique relationship with nature, and the meticulous work of Master Distillers.
Intel (NASDAQ: INTC) expands the boundaries of technology to make the most amazing experiences possible. We also lead in environmental sustainability, supply chain responsibility, diversity and inclusion, and social impact. Through the Intel® She Will Connect program, Intel works to empower girls and women through technology, connecting them to opportunities and inspiring them to become future innovators. Information about Intel can be found at newsroom.intel.com and intel.com.
She Leads Africa has many programs aimed at supporting smart and ambitious Young African Women. Those interested in learning more about these opportunities can join at SheLeadsAfrica.org/join
_______________________________________________________________________
BellaNaija is a media partner for SLA