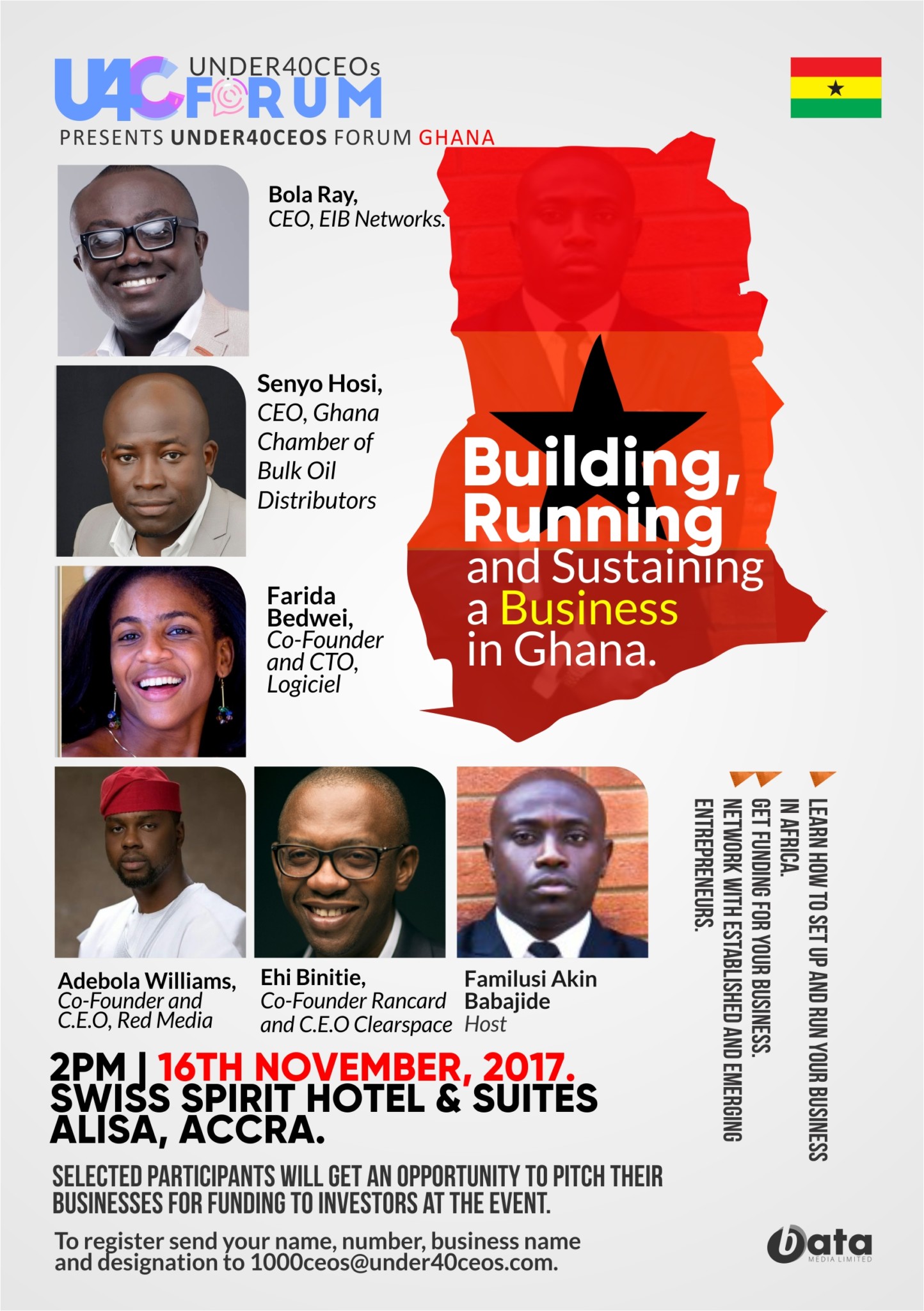 Under 40 CEOs Forum, a live interactive event is an extension of the mother brand Under 40 CEOs – a television show which shines the spotlight on inspiring young business leaders aged 40 and under from across the African continent – is set to hold this November, for the first time, in Ghana.
Under 40 CEOs Forum which has been described as the largest gathering of young African business leaders has been credited with providing opportunities for current and aspiring CEOs to meet, share ideas, and collaborate to create economic value across the continent.
The forum was launched after the television series – Under 40 CEOs – which recorded a successful 24 months on television across West and South Africa plus a successful launch on GHOne TV in Ghana.
Founder and convener of the forum Familusi Akin Babajide (Mr FAB) says, "There has been increased demand from emerging and aspiring young business leaders for offline engagements and the opportunity to have these ones interact directly with the established young business leaders. Hence, the Under 40 CEOs Forum."
With the diaspora edition of the forum scheduled for 2018 in London, United Kingdom and a well-attended and impactful session in Lagos, Nigeria, the Ghana forum holding in Accra is expected to be grand. The host of the show, Mr. FAB also said, "We are absolutely excited to be bringing the event to Ghana and know without a shadow of a doubt that it will go on to motivate young Ghanaians to get in the game of growing the country's economy with the right set of tools and information."
The event is free but requires registration. Interested participants can register for the event by sending their full name, company name, designation, telephone number and address to [email protected]
The Ghana Chamber of Bulk Oil Distributors and Africa World Airlines partners have come on board as partners for the event, joining other partners: Fix Consult, Swiss Spirit Hotel, GHOne TV, Ghana Web, Modern Ghana, Ameyaw Debrah, Live FM, Starr FM and BellaNaija.
See details below:
Theme: Building, Running and Sustaining a Business in Ghana
Speakers: Bola Ray, CEO, EIB Networks; Farida Bedwei, Founder/CTO, Logiciel; Senyo Hosi, CEO Ghana Chamber of Bulk Oil Distributors; Adebola Williams, Co-Founder, RED Group; Ehi Binitie, Co-founder, Rancard.
Date: Thursday, November 16th, 2017
Time: 2PM – 6PM
Venue: Swiss Spirit Hotel and Suites Alisa, Accra.
Host: Familusi Akin Babajide (Mr FAB)
---
BellaNaija is a Media Partner for Under 40 CEOs Forum.