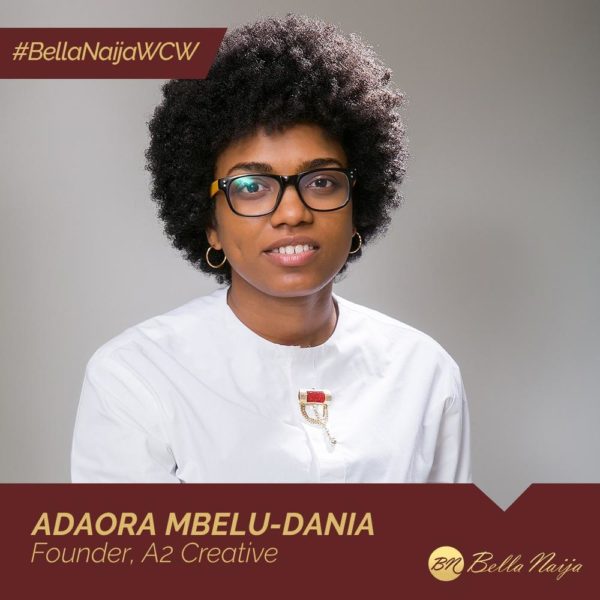 At age 9, Adaora Mbelu-Dania – our #BellaNaijaWCW this week – wrote her first book; when she was 16, she represented Nigeria at the Global Young Leaders Conference in Washington DC and New York, joining about 350 outstanding scholars from various countries to attend the program; at 19, she was working at CITI group in the United States, and by the time she was 29, she was already running a million dollar enterprise – A2 Creative.
A2 Creative is a business and brand management company that specializes in creative strategy, marketing, and brand development. We help brands connect to their target audience through innovative strategy and experiential marketing.
Adaora describes herself as one who has a passion for innovation and a belief in the power of creativity to achieve extraordinary business results.
She has worked as content director for the United Nations World Tourism Conference, Nigeria Centenary Awards, and International Conference On Peace & Security which had 28 world leaders in attendance.
Adaora was also project manager – business and production – for TV shows Nigerian Idol and Nigeria's Got Talent. She was also the Corporate Communications Manager for OSMI during the 2010 World Cup where she managed all communications on the broadcast rights for Nigeria.
She also led the ideation and brand development team that launched Guinness Africa Special into the Nigerian market. She was also involved in the planning and research for the launch of Ebony Life TV.
Adaora was the President of the African Students Association, and Vice President of the International Students union while studying Economics and Entrepreneurship at Northern Kentucky university.
Adaora operates a blog where she shares career and life insights as well as lessons learned in her entrepreneurial journey.
In 2011 she was named 'Promising Young Entrepreneur' in the MTV/MTN Meets Project; she was also named in the 'Top 30 Under 30' list by FAB Magazine. At the 2012 The Future Awards Africa, Adaora was nominated in the 'Entrepreneur of the Year' category. She was nominated again in the "Media Enterprise" Category at the same award show in 2016.
In 2017, Adaora was mentioned in Entrepreneur Magazine's "11 Africans that are changing the business landscape in Africa."
She is the founder of Socially Africa, a platform working to build a generation of leaders and problem solvers, that transcends entrepreneurship and professional success.
Socially Africa is involved in several projects including Art For A Cause, Girl Code Africa, Break Bread, Inform Educate Inspire, and Love Box.