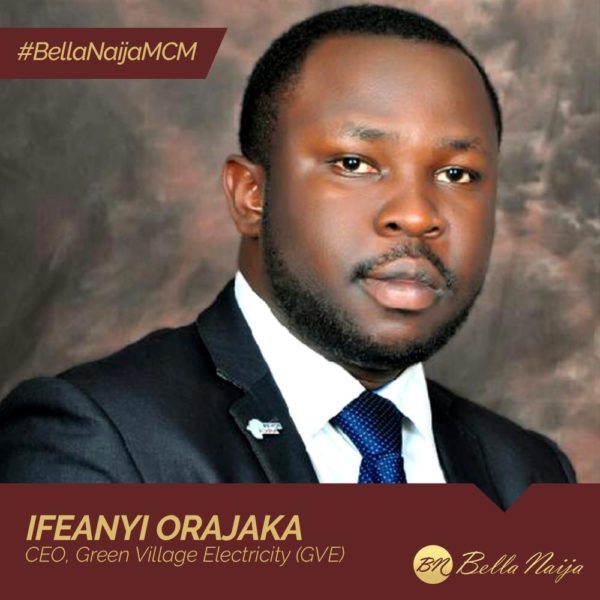 As the Digital Revolution continues to sweep through the world, it brings along with it the need for more energy. Putting into consideration the impact of global warming and climate change, the world has now moved on to the use of renewable energy.
The above details the problem of urban or suburban dwellers, but not the people in the rural areas; they have no electricity to begin with.
Our #BellaNaijaMCM Ifeanyi Orajaka is solving both problems and we sincerely applaud his efforts.
Ifeanyi is the founder of Green Village Electricity (GVE) Projects Limited, an innovative renewable energy solutions provider, serving both rural and urban households.
While studying for an Electrical/Electronics Engineering degree at the Federal University of Technology, Owerri (FUTO), Ifeanyi designed a renewable energy system as his final year project.
Circa 2009, Ifeanyi and his co-founders – Chuka P. Eze and Ikechukwu O. Onyekwelu – who were on an undergraduate internship program at an oil and gas company, went on facility inspection visits in remote communities in the Niger Delta region of Nigeria.
What they discovered – "abject energy poverty" – caused them to brainstorm on how to help. Starting initially as more of a "CSR" (corporate social responsibility) project, they soon decided that it could also be a business.
The same year, they entered into the Institute of Electrical/Electronics Engineers Presidents' Change the World Project Competition which was geared towards identifying students who proffer solutions to real world problems.
Their breakthrough eventually came when they won the United Nations Development Project and Bank of Industry Access to Energy Challenge as youth corps members in 2011.
They went on to carry out a feasibility study in partnership with Deloitte, thus recognising the potential in the industry. The decided to take on the industry, setting up GVE in 2012.
Since inception, GVE has attracted the collaboration of such renowned organizations as; US Power Africa Initiative, USADF, USAID, General Electric, IEEE, GIZ, DFID, Bank of Industry Nigeria, European Union Energy Initiative, Deloitte etc.
So far, GVE has carried out six pilot projects whose budgets have ranged from US$60,000 to US$220,000. The majority of these pilots (five) have focused on creating mini-grids to power productive uses of energy, such as small businesses and agro-processing.
GVE has impacted 2,000 households, created over 400 direct/indirect local jobs, transferred life-long technical skills to 260 locals, and created over N20m in wealth in the communities they operate in.
Ifeanyi says his company uses the locals in these communities for about 90% of their work and have saved over N30m for their rural clients. All the communities experienced a 40% reduction in energy-related expenditure, and the cumulative annual CO2 emissions have been reduced by 880.32 metric tonnes.
Ifeanyi is a recipient of several prestigious awards including the 2016 African Energy Leader of the year, 2016 The Future Awards Africa Prize in Business, and the 2013 USADF/USAID/GE Off-Grid Energy Access Challenge.
GVE has also won the:
IEEE Presidents' Change the World Project Challenge (2009)
Outstanding Humanitarian of the Institute of Electrical/ Electronics Engineers USA (2009)
UNDP/ BOI/ States Access to Renewable Energy Project, Nigeria (2011)
UNDP/ Bank of Industry –Nigeria, Access to Renewable Project Nigeria (2012)
GE Africa/ USADF, Power Africa Off-Grid Energy Access Challenge (2013)
Finalist; City Mart/ City of Lagos Off-Grid Power Solution Challenge (2014)
Finalist; West African Forum for Clean Energy Financing Business Plan Competition (2015)
Winner; Energy Leader of the Year (2016)
9th Africa Energy Awards, Johannesburg South Africa March (2016)
Finalist; Premier Project of the Year (2016)
9th Africa Energy Awards, Johannesburg South Africa March (2016)
We say well done to Ifeanyi and the entire GVE team. We are rooting for you!