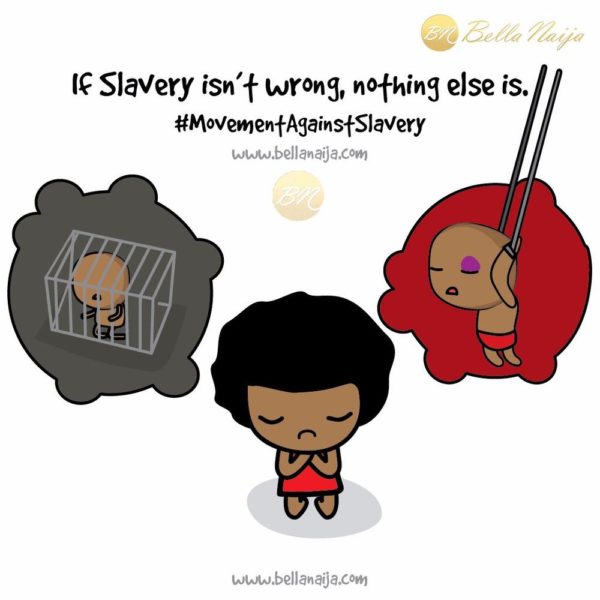 The issue of slave trade in Libya and many other North African states didn't begin today. It has been on for years (decades possibly). Many of us may have relatives (near or distant), or may have heard stories of people seeking to make their way to Europe through the Sahara Desert – Libya – Mediterranean Sea route in search of "greener pastures." Many die on their way, others are sold into slavery, few make their way to Europe to become commercial sex workers (more than 80% of women according to UN).
It is not news that black Africans are being sold by their Libyan counterparts, with Africans of other origins being involved, according to some social media comments.
BellaNaija has been raising awareness on the issue over the years – as it is something we are personally committed to eliminating – with reports on Nigerians returning from Libya as well as those narrating their ordeals.
We're happy the stories are gaining widespread attention following a CNN investigative report, however, attention is not enough. While calling for people to #PrayForLibya, #PrayForAfrica, #EndSlavery, or sending thoughts and prayers to victims may be good, offline action is what can cause the kind of change we seek, in this case stoppage of illegal migration and human auctioning/slave trade.
Slave trade is not entirely the problem, but the effect of a bigger problem – poverty, a result of lack of effective governance in many Sub-Saharan African states. Another problem is violence which is posing a formidable adversary to development of many African states – Boko Haram in Nigeria and West Africa, Al Shabaab in East Africa, ISIS and Al Qaeda in North Africa who claim alliance to other terrorist sects in the continent, and other militant groups destroying lives and property across the continent.
Africa must take the bull by the horn and not wait for people outside the continent to recognise and talk about our developmental challenges, then get excited because the whole world is aware about our ordeal. Hashtags are good as they help to spread the word, but offline actions are better. The big question now is, "What can we do?". Here are some answers:
1. Raise awareness, within your community and online, of the dangers of these journeys and the high uncertainty of protection of life, or even the "greener pastures".
2. Reach out to your political representatives to prompt them to take action. This is very important. We must consistently demand from our political leaders to supply the governance we have contracted them for.
3. Petitioning the United Nations as well as the African Union to act. Fitness expert and Author Amara Kanu wrote a petition to UN Peacekeeping on the issue. You can sign it here.
4. Support governmental organisation and non-profits that fight human trafficking. In Nigeria, National Agency for the Prohibition of Trafficking in Persons (NAPTIP) and the National Commission For Refugees, Migrants and Internally Displaced Persons (NCFRMI) are the major government organisation focused on this.
You can see how to support UN's International Organisation for Migration (IOM) in Libya here. You can also donate to Free the Slaves.
5. Like we said above, poverty is the main cause of this illegal migration and while each individual may not be able to stop it, all of us, in our own little way, can help to fight poverty in our society. Provide for the vulnerable and less privileged in your society, create jobs if you can, and demand from leaders to do the job you voted them to do.
6. Volunteer for and donate to the rehabilitation of deportees. Hundreds of Nigerians have been deported from Libya this year and more are still being deported. Sadly, these are the "lucky" ones. You may not have to donate money or other tangible resources, but your time and competence.
Singer Nikki Laoye is also working on a plan with NCFRMI via her Angel 4 Life Foundation to support returnees/deportees.
Let's join hands together to end this. Yes, we can.