The Great Return! The Rebranded & Vitamin Enriched Maltonic unveiled at the Lagos Trade Fair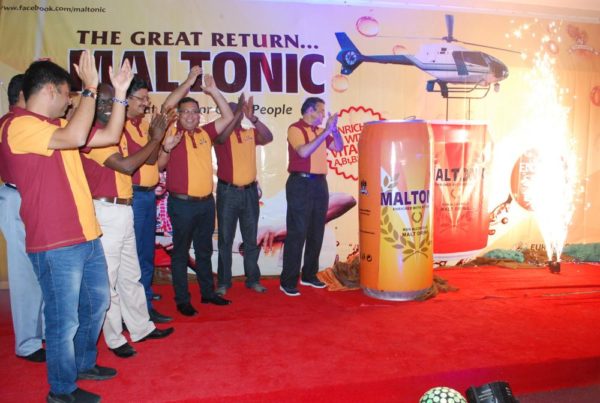 Maltonic, the iconic malt brand, first introduced in Nigeria in 1986 made a grand return on Saturday, November 4th, 2017. The rebranded and vitamin-enriched Maltonic was officially unveiled by its new owners, Euro Global Foods and Distilleries Limited at the Lagos Travel Inn in Lagos during the company's 2017 Partners Forum.
According to Manish Uniyal, Euro Global managing director; the relaunched Maltonic is combining the rich heritage and greatness of the past and the greatness of the future to provide a unique, distinctive malt brand that is 100% proudly Nigerian that can compete with any malt brand from any part of the world.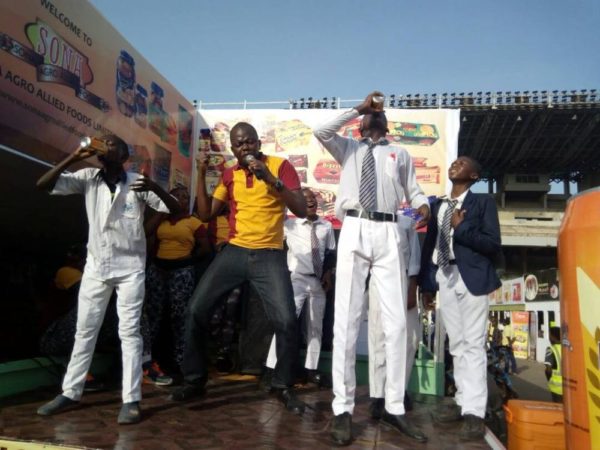 It would be recalled that Maltonic was the first Malt drink to introduce Vitamin C into malt drinks in Nigeria. It was such a great and novel innovation at that time that then Honourable Minister ( Olikoye Ramsome-Kuti) himself personally launched this iconic brand. Naturally, Maltonic was so much loved and very well received by consumers that it very soon became one of the leading malt brands in Nigeria. It also 'forced' other competing brands to commence the enrichment of their brands with vitamin C and later on with other vital vitamins.
Maltonic made its first entry under the stable of Sona Breweries Limited, a company which was bought over by Nigerian Breweries about five years ago. Euro Global Foods and Distilleries is a proud member of Sona Group of industries, to which the sold entity also belonged.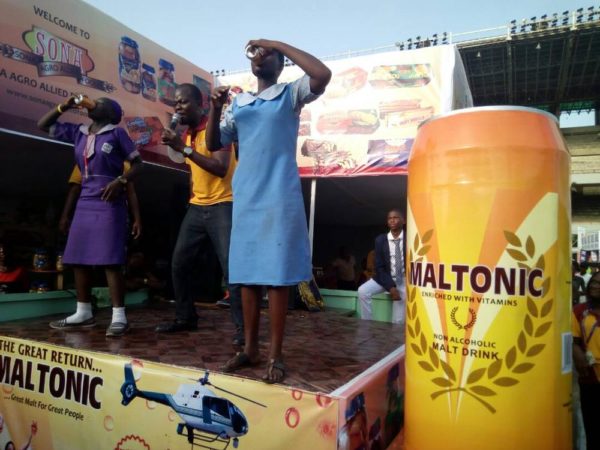 Ajai Musaddi, the Group Managing Director of Sona Group of Industries, told the excited guests at the launch that Maltonic is produced with 100% Nigerian Sorghum and raw materials in line with the Groups' a vowed mission to execute major backward integration programmes to generate employment for Nigerians and produce brands of excellent, world-class quality.
 Ashok Maghnani, the Group Chief Operating Officer of Sona Group of Industries, who represented the Chairman, A.K. Merchandani, noted that Sona Group's vision is to make Nigeria a major hub for the production of world-class goods that will meet the high quality standards of the developed economies. This is the reason Sona Group has invested heavily in the complete production value chain for major companies that provide the B2C and B2B needs of the Nigerian and African markets.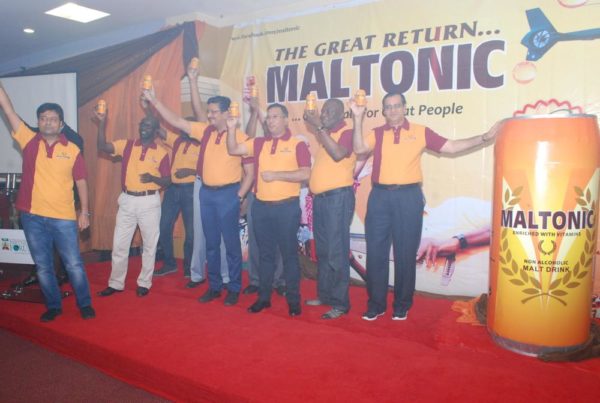 The event also witnessed distributors being appreciated and rewarded with certificates, plaques and cash. Andrew Onyike of Shina Stores received the star prize of 5.6 million Naira while Jude Okolozo of Golden Pillars and Odinwamkpa Jude Amachi of Popular Nigeria Limited came first and second runners-up respectively.
Felix Aighobahi, the Sales Director of Euro Global thanked the Partners for their support in making Euro Global a great success story and implored them to replicate and improve on the Maltonic success of the past by making it available to the teeming consumers who deserve to experience a proudly Nigerian malt beverage like no other.
Meanwhile, Maltonic, Nigeria's premium malt drink is sweeping waves of visitors and admirers to the Euro Global Foods and Distilleries' Stand at the ongoing Lagos International Trade Fair. Maltonic which was first introduced into the Nigerian market in 1986 was recently officially relaunched in Lagos on November 4, 2017. This has spurred many parents with their children as well as the younger generation to throng the Euro Global Stand in order to savor the refreshing natural taste of Maltonic.
Other products at the Euro Global Stand include Power Bitters, Sabrina, Golden Choco, Amphora range of wines, Savana range of carbonated soft drinks, Czar Vodka, Czar Ice, Julius Lite, St Almanac, Blue Lagoon, Aqua Euro table water and other high quality, world class products.
Some visitors at the stand revealed that they were extremely excited that Maltonic has made a come-back because 'there is no malt like Maltonic'. Customers inside the stand were seen enjoying its relaxing ambience while moving to the pulsating beats being filtered from speakers. Customers are also enjoying mouth-watering promotion purchase of 'Buy 6 and get one free' attached to the combo pack.
A customer at the stand, Kemi told BrandPower that she has been consuming Euro Global products and so far their products are always good and she is enjoying herself at the stand.
One of the sales representatives at the stand whose name is Alfred Sharon, during an interview with BrandPower revealed that the turnout of people has been fantastic and they are making great sales.
Euro Global has promised to give every customer at the stand full value for their time and money with their array of world-class products.
——————————————————————————————————————-Sponsored Content