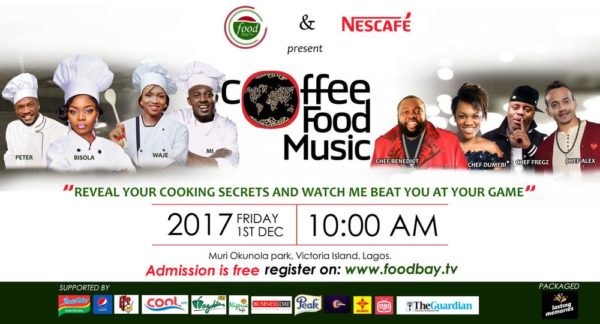 Nestlé's premium instant Coffee Brand "Nescafé" and Nigeria's first indigenous healthy food and lifestyle TV Channel FoodbayTv have teamed up to bring a one-of-a-kind event tagged CoffeeFoodMusic featuring an array of exciting activities and experiences.
Date: Friday, December 1st, 2017.
Time: 10: 00 am.
Venue: Muri Okunola Park, Victoria Island, Lagos.
'Coffee Food Music' is designed to make Lagosians experience an alternate world that is void of the usual hustles and bustles, a day of Soul soothing music by singing Chefs like Chef Fregs, Dumebi and Alex, indulgent healthy mouth watering indigenous dishes prepared by Cooking Musicians like Waje, M.I Abaga, Mr P (Peter of PSquare) and Bisola with refreshing Coffee mocktails & cocktails creations designed to give a full rounded sensual experience to every one. All of these coupled with the opportunity for like-minded people to purposefully connect and network assures a memorable experience no one should miss out on.
The event will feature a fascinating segment, which will have these sought after artists and chefs engage in a battle; assuming the roles of one another to see who is better at their craft – sounds like fun right… It's certain we would relish the enjoyable chaos.
Foodbay TV and Nescafe have since urged audience to come indulge their cravings and live their connections whilst having the ultimate fun experience.
'Coffee Food Music' would have various vendors showcase their special recipes ultimately making the entire experience a memorable one for attendees. Some of the vendors include, Boli & Grill, Sweet Kiwi, Ofada Boy, Sweet Indulgence, Hans and Renee, Brittanys Place and several others.
The event is FREE but you have to register here.
To follow conversations on social media; use #CoffeeFoodMusic
—————————————————————————————————————Sponsored Content