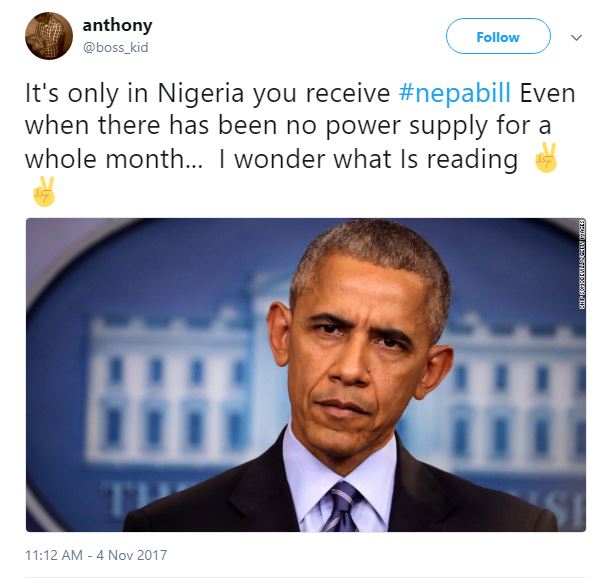 Twitter users are currently trending #NEPABill, where they are narrating their experience with power authority officials.
Before prepaid meters were the days of post paid meters where your power usage bill is brought to your home by officials from NEPA/PHCN (We've refused to move on, so).
From outrageous bills, to bribery and cheating, Twitter users are sharing what happens when it's time to pay your #NEPABill.
See some top tweets below:
#NepaBill How you beg NEPA not to cut your light after 6 months of dodging NEPA bill pic.twitter.com/Sd92DSqHLj

— I Medusa's lover (@MicahCT) November 4, 2017
#NepaBill How a NEPA official feels after cutting your light vs how you feel. pic.twitter.com/omXFoD9nzI

— I Medusa's lover (@MicahCT) November 4, 2017
#NepaBill when a Nepa personnel is trying to explain why you have a monthly bill of 35K whereas you had light twice a week, 4 hrs daily. pic.twitter.com/5sdP1nUm7p

— Uncle Jaaypee (@Sir_Jaay) November 4, 2017
Dats how i went to pay #NepaBill at dia office & i heard one madam shout "They've taken d light, unplug my phone". Abeg who is d "They" ?? pic.twitter.com/dji7BFOJG2

— Victor Benziko (@IkoroVictor) November 4, 2017
me: oga please give me one month i go raise the money for the #NepaBill

official: pic.twitter.com/WYSaf2VAuZ

— telo (@iiamtelo) November 4, 2017
NEPA: U can now get paid to blow whistle on ur neighbours who bypass meters
Me: Dusting my whistle #NepaBill pic.twitter.com/PYiGhIbQgh

— Olayinka Ahmed (@GalacticoHD) November 4, 2017
Nepa: can we see your nepa bill?

Me from the bathroom: I'm bathing, please wait.

*nepa disconnects light*

Me: pic.twitter.com/xcs8fSicox

— mr man (adonai) (@mrmanhere) November 4, 2017
The way NEPA take light whenever the movie is getting interesting will make you start to think if that suspense is part of the Movie script pic.twitter.com/Yyl6b3qVqo

— IFEDAYO (@KingIfedayo) November 3, 2017