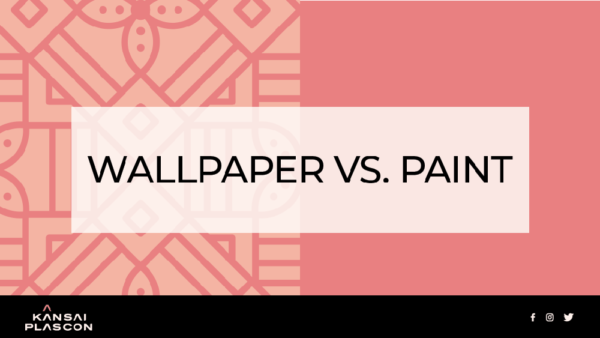 So you've decided you want to revamp your living space and redecorate with a fresh look but don't know where to start? That's the usual home owner's dilemma; choosing between paint, wallpaper or a combination of the two, and with so many options out there it can be difficult to know what is best for your home and what will best reflect your style with the desired effect. Read on for the top points to consider when choosing your wall finish with the pros and cons about each to make an informed decision for your next interior design project.
The walls of your home have the advantage of changing and transforming your space with the help of paint or wallpaper.  A dramatic room can instantly be made soft and airy with the application of light pale paint colour. While a room that feels too big can instantly feel cosy with darker wallpaper with a striking pattern.
In choosing the right wall finish between paint or wallpaper, there are pros, cons, and factors to consider.  Whichever you choose your walls will benefit from the addition of paint or wallpaper.
Cost
Wallpapers come in a variety of types that vary in price depending on the design or material they are made of. However, upfront costs of wallpaper and installation materials can be more expensive than paint. Depending on your budget, durability needs, and application method, finding stylish wallpapers within your budget can be quite the challenge.
Paints, however, tend to have fewer upfront costs for both paint and supplies. The price, however, depends on the type and finish you need and there are plenty of low-cost options for paint if cost is a concern. Although painting can be lower cost upfront, it does need to be touched up over time, especially areas with constant exposure to weather elements or physical interaction.
Selection
Wallpapers come in a dazzling array of patterns and colours, with an incredible selection of beautiful effects like pearlescent finish, glitter, raised inks, suede, gels, beads, foils and metallics, embossed silk textures, and natural grasscloth, just to name a few. They also make an impressive room wall feature, however, they can get boring after a while once the initial appeal is lost.
Paints come in a range of colours that is nearly limitless. Although paints have a limited number of finishes within matte to glossy, it is easy to repaint if you want a new colour or paint over walls with patterns or artistic designs of your choice if you get bored. If you are looking to create a feature wall, there are some great methods and ideas to do so with paint.
Installation
Wallpaper – There are a variety of installation methods today that make hanging wallpaper fairly easy and can be done by you or a professional. From pasting with adhesive to "peel and stick", wallpaper adheres easily and smoothly to walls, hiding many surface imperfections of the walls. This is especially valuable in rooms with damaged walls or older homes.
Paint – Applying paint is straightforward and can move quickly if you have the right tools but only after the walls have been properly prepared. If your walls have any damage or imperfections, they will need to be filled, spackled and sanded before you paint. In addition, special care must be taken when painting to lay down drop cloths to keep your floors and surfaces paint free.
Durabililty
Wallpapers can last up to 5 years and beyond. It is generally assumed that properly hung wallpaper will last almost as long as paint, however, wallpapers can lift at the seams over time and when this happens, you might need to re-apply wallpaper adhesive at those areas or replace the wallpapers entirely if it's beyond fixing. Which may not be a cost-effective, durable way to decorate your walls, especially in high traffic or exposed areas.
Paints usually have a longer lifespan than wallpapers. A painted wall will last averagely 10 years, though, for high traffic areas, you will need to occasionally do touch ups or repaint over time. Most paints are water resistant and so are "washable" to some extent, making them easy to clean and maintain over time.
The wonderful world of wall finishes is vast and customizable. Whether you choose wallpaper or paint, either one will give your home subtle or bold colour and character. For the appeal of both, try paintable wallpaper or stick with paint or wallpaper. The option is yours and that's why home decorating is so exciting!
For a free colour consultation and all your painting needs, visit Kansai Plascon Nigeria at 8a, Adetokunbo Ademola Street, Victoria Island, Lagos or any of our other outlets. Phone: 01 440 8036
Follow us on;
Facebook:  @KansaiPasconNG
Twitter: @KansaiPlasconNG
Instagram: @Kansai_plascon_ng
——————————————————————————————————————–
Sponsored Content