Yaaayyyy! Ruff 'n' Tumble will be Celebrating the Big 20 in 2018- Get 10% off everything in Store & Online from Dec. 5th – 31st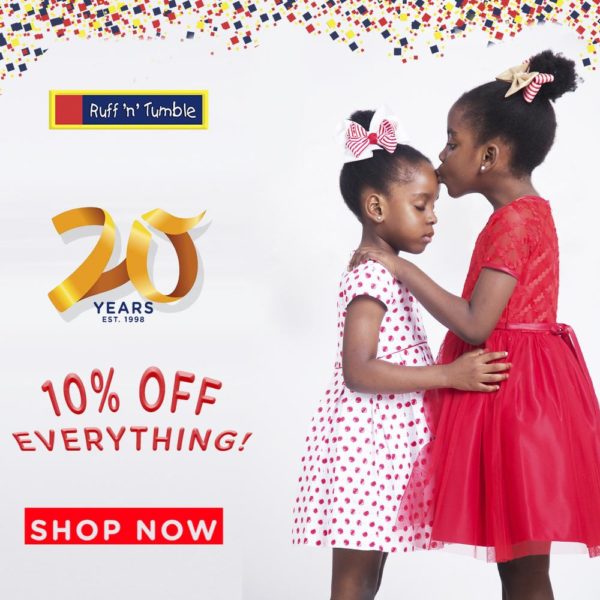 In 1998, when Adenike Ogunlesi decided to make much needed pajamas for her kids, little did she know that she was on a journey to building Nigeria's national and iconic Children's clothing brand- Ruff 'n' Tumble.
As a brand, Ruff n Tumble doesn't just clothe kids but encourages confidence, curiosity and a can-do attitude in children.
Ruff 'n' Tumble's appeal is to the family that believes their children deserve the best, and so they appreciate the value and quality that Ruff 'n' Tumble offers.
"A well-dressed child exudes confidence and confident children become confident leaders in all spheres of life which is exactly what our country needs!" says Adenike Ogunlesi, Founder/Chief Responsibility Officer, Ruff 'n'Tumble.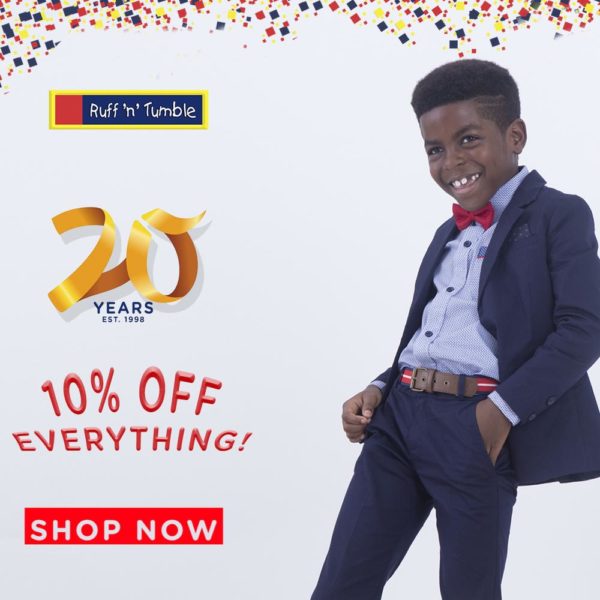 From the Betti-O School of Fashion which empowers through training young people, especially women in fashion design to The 'I Share Cuz I Care' foundation which imbibes in children the values of sharing and giving, Ruff 'n' Tumble always finds ways to give back to the communities.
In 2018, Ruff 'n' Tumble will be 20 and is introducing the #RuffnTumble10at20 celebratory discount which gives buyers 10% off everything they buy in store and online between Tuesday, December 5th and Sunday, December 31st.
"Why should we wait till Christmas 2018 to appreciate our customers? Let the celebration begin now! It's our time to give back as we couldn't have made it here without our numerous customers all over Nigeria and West Africa!" Adenike Ogunlesi enthused.
Ruff 'n' Tumble has changed the way Kids fashion is seen. Dressed in Ruff 'n' Tumble's colorful, on trend outfits, the Nigerian child steps out in style and full of confidence.
"We're a long way from the boot of my car" says Adenike Ogunlesi, "and there is still so much to be done. Our dreams have evolved. We have just begun."
—————————————————————————————————————Sponsored Content