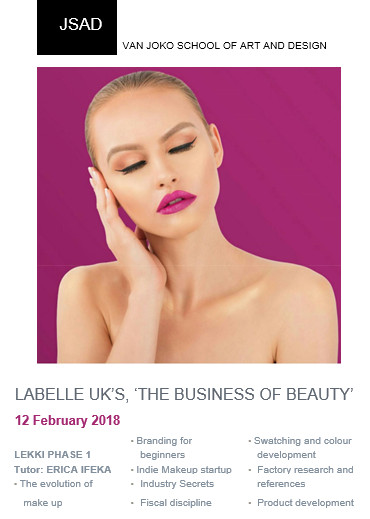 Are you in the beauty industry? Have you always wanted to launch your own makeup line? Are you looking for ways to push your brand out of the Nigerian market place and launch it globally?
This opportunity is for you.
For the first time ever in Nigeria, The Van Joko Art School and Shakara Couture are proud to present a week long makeup business masterclass by the CEO of Labelle Makeup UK.
This course will take you through the process of setting up and monetizing your makeup business. You will be taught how to source for raw materials for the creation of your products, how to find the right factory for you and your particular size of production.
You will be shown industry secrets as well as taken through the lingo for communicating effectively with the beauty industry insiders. The course also includes how to take your brand to the world, getting the word out about your company and opening doors for your brand.
Marketing and brand management as well as DIY PR tips for the new business person will be covered. Business management, managing finances, legal for beauty and many many more pressing issues that have confused will be simplified for you.
There are very limited spaces for this course as it is an intensive course tailored to the needs of each student.
Do NOT miss this chance, there is nothing else like this course.
We can't wait to hear from you.
Date: Monday, February 12th, 2018.
Time: 9:00 am – 4:00 pm.
Venue: Van Joko School of the Arts Lekki.
——————————————————————————————————————-Sponsored Content