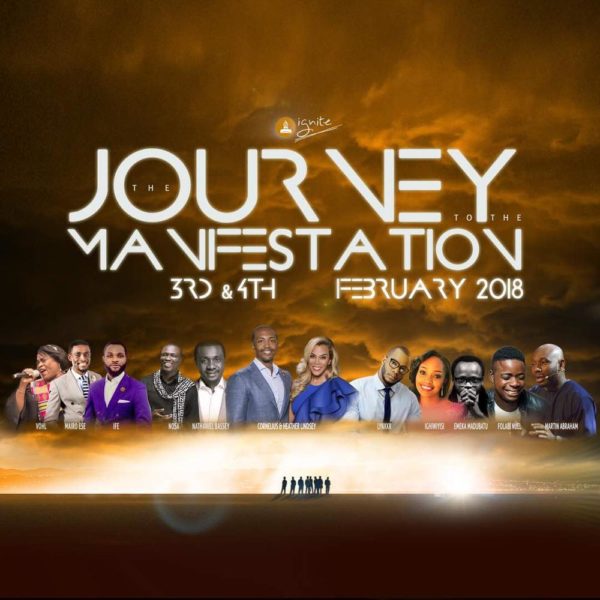 We are less than a month away from Ignite GLA's 2018 youth gathering 'The Journey to the Manifestation'. The countdown is on for this power-packed event and we are so excited Heather & Cornelius Lindsey will be returning to Nigeria to headline the event.
Heather & Cornelius pastor a church called 'The Gathering Oasis' in Atlanta, Georgia and in 2017, they decided to step out in obedience to God by embarking on 'The Revival Tour' by travelling internationally to share the gospel of Jesus Christ and spark a revival in the hearts of God's children. God connected Ignite GLA and The Lindsey's and they came to Nigeria for the first time ever for 'The Revival Tour – The Manifestation'.
Let us play catch up on the Lindsey's as we get ready to receive them at 'The Journey to the Manifestation'.
Heather & Cornelius both released books titled 'Silent Seasons – Trusting God When You Don't Understand' and 'When God's Hand Is On You: Understanding & Walking Out The Call Of God On Your Life'.

Heather hosted her own TV show 'The Heather Lindsey Show' on The Word Network, Heather canceled the show as an act of obedience but you can still catch up on all the episodes on her YouTube channel.

The Lindsey's now have a joint YouTube channel where they recently announced that they are expecting a third child! The gender reveal video is also up on their channel, we won't spoil the surprise for you here.

The Man Cave society, which encourages men to obey God and serve as leaders and The Pinky Promise Movement which promotes purity and obedience to God with your life and body among women continue to grow with thousands of men and women all over the world coming together to honor God. The Pinky Promise 2018 Heart to heart Conference is coming up on June 7 – 10th 2018 in Atlanta, Georgia.
Details for 'The Journey to the Manifestation':
Date: Saturday, February 3rd & Sunday, February 4th, 2018
Time: 1.00 pm & 9.oo am respectively
Venue: Guiding Light Assembly, Layi Ajayi Bembe Road, Parkview Estate Ikoyi, Lagos, Nigeria
The Journey to the Manifestation is going to be amazing as we will have music ministrations by Nathaniel Bassey, Mairo Ese, Nosa, Ighiwiyisi, Emeka Madubatu, Folabi Nuel, Ife and our wonderful resident choir, Voice of His Light. Award-winning artist Lynxxx and HR Specialist, Martin Abraham and other speakers will also be in attendance.
You don't want to miss out on The Manifestation 2018, this event is absolutely free but registration is required. Simply visit http://www.ignitegla.org/events/register/ to register. Also, be sure to follow us on our social media channels for more information: media: Instagram: @ignitegla | Twitter: @ignitegla | Snapchat: @ignitegla | YouTube: Ignite Gla | Facebook: Ignite GLA | Blog: www.ignitegla.org
We can also be contacted at [email protected] or [email protected]
——————————————————————————————————————————————————–
This content has been published for free as part of BellaNaija.com's commitment to youth, education, healthcare and community development as part of our corporate social responsibility programme