#BBNaija – Day 27: Make Me Beautiful, Denim Party Night and More Highlights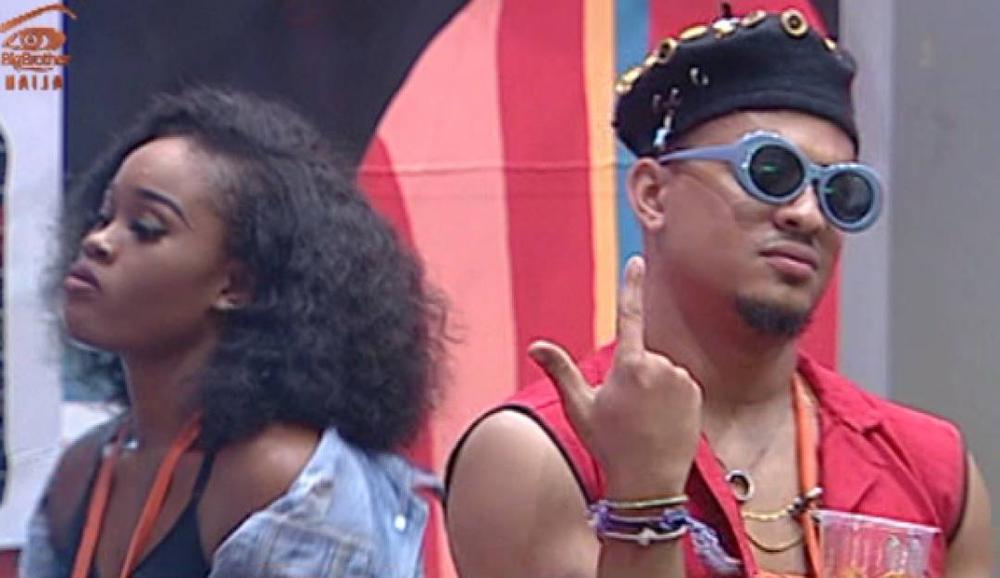 Did you watch day 27 of the Big Brother Naija 3 reality show?
If you missed it, we've got the highlights for you!
..
Not Afraid to Catch Feels
Thanks to the fatal attraction birthed from the fist pairing of the season, we can explicitly explore the theme of love in the Big Brother House. After all, the Housemates are only human and being shut out of the external world for so long, there's bound to be 'feels catching' and attachments.
Better Now Than Never 
Alex has been dodging the 'feels' bullet for a while now and had the guys shying away because of her age and fragility. During one of their conversations, Leo asked her if they should 'kiss' now or do it after the show and she promptly told him that it was better they do it after. Fast forward to last night's loved up scenes. It seems like she finally caught the bug as she sat comfortably on Leo's back covered in a sheet. We might be wrong but it seems like the massage quickly turned into a kiss, the first and most certainly no the last from… Should we say 'Leolex'?
Mina Much?
Nina and Miracle deserve an award for have inaugurated the House with it's very first kiss of the season and as always, their passionate display of affection had many of us drooling and probably digging up our former love interests, just because! They too were locked in love and kisses; with Nina delivering most of the love jabs, probably marking her territory and reminding Miracle where home is and showing him that 'Mina' definitely is better.
Not Shy About It. 
On another avenue, BamBam has never been shy to put her feelings for Teddy A out there for all of us to see and yesterday was no different. She straddled her man, massaging him affectionately. After venting a couple of times because of him being too flirtatious, she has certainly managed to keep his attention locked on her. Anto on the other hand remains pretty neutral and isn't showing much emotion but she and Lolu cuddled up and shared body warmth. Good enough as a starter; there are 58 days left to the race after all.
Cebi at it again
We're pretty sure that just like us, you take a few deep breaths before slicing the 'Cebi' cake. The 'again' love birds also deserve an award, but theirs is for taking us on a roller coaster, then settling while we're still caught up in the curves and declines. Tobi made some deep declarations to Cee-C, assuring her of his feelings but, we can't help but anticipate more curved and harder declines so don't blame us for holding our breath.
Whether strictly game related or not, the kisses, the cuddles and jealousy stunts officiate the couples in the House and as it has been for a minute, we're being served romance dressed in chillingly sweet moments, sprinkled with drama. Will Angel and Ahneeka catch on?
Make Me Beautiful
In the spirit of tonight's party, Biggie decided to throw a beauty Task in the mix for the Housemates.
Two Way Street
The Zaron make –up challenge meant that each pair had only two minutes to complete each other's make-up, they had to work as a team and do it at the same time in order to achieve this. It was hysterical to watch Tobi and Alex clamber and laugh in order to complete successfully. Teddy A and Nina were also loud with their color choices. It was all laughs during the Task and the guys really stepped up to the plate.
Everyone wins
After watching all the Housemates try their best at their dual speed make-overs, Biggie could not decide who the winners were as he said they "all looked beautiful". He then declared that they were all winners of the Task and a reward would follow. As everyone rejoiced they were also told to take a Zaron gift box which obviously set the ladies into a state of euphoria.
It Keeps on Coming
Very shortly after the united win, the glammed up Housemates were then told that there was a surprise for them in the store room. After opening it up they found a plethora of amazing new threads to deck them out for the night ahead. There were shrieks of delight and screams of excitement as all the Housemates were overjoyed at their new clothes. Even Alex, who expressed her dismay at the fact that there were never any shoes that fit her, was happy that Biggie had taken notice and fulfilled her request. The Housemates are not the only thing getting beautified tonight, everyone is doing the most to deck out the party room in all denim everything.
Bring on the night!
Decked out in Denim
With DJ Waxxy on the decks spinning a diverse range of Naija beats, tonight was a festival of fun and full denim fever.
The Look
All the Housemates took the theme to heart and put their own spin on all their looks. It was the guys of the House that really decked themselves out. Tobi, Rico Swavey and Leo were all dressed to kill, dripping in swag. BamBam was kitted out in a full denim dress while others chose to keep it more low key, Alex and Ahneeka both chose a more tom boy style look which worked perfectly for the theme.
Issa Vibe
Dance was the order of the night and dance they did. The usual Queen of the dance floor was out in full force but Ifu Ennada was also on fire tonight. Rico Swavey definitely made himself the centre of attention with his zestful moves. There were the usual couple dance offs, Tobi and Cee-C, Miracle and Nina could be seen dancing together at regular intervals. Angel and Ahneeka however were rather chilled, spending most of the night sitting on the side line. DJ Waxxy was clearly on fire because Tobi had his shirt off towards the end and Teddy A was also making superstar moves throughout the night.
Don't Stop
It has been a good week for the Housemates, they won their Wager and their Task today as well as the Arena Games on Friday so it appears they are really on a roll. They took this winning attitude with them into the House even after the party where the dancing and festivities continued. Everyone was dancing in the mirror and in high spirits. Cee-C could be seen following Tobi around like a puppy when everyone came back into the House too, whatever is she up to now?
Hopefully these good vibrations will flow well into the rest of the night and tomorrow.
What was your favorite moment of the party tonight?
***
Have you been watching? What did you think of the Day 27 activities?