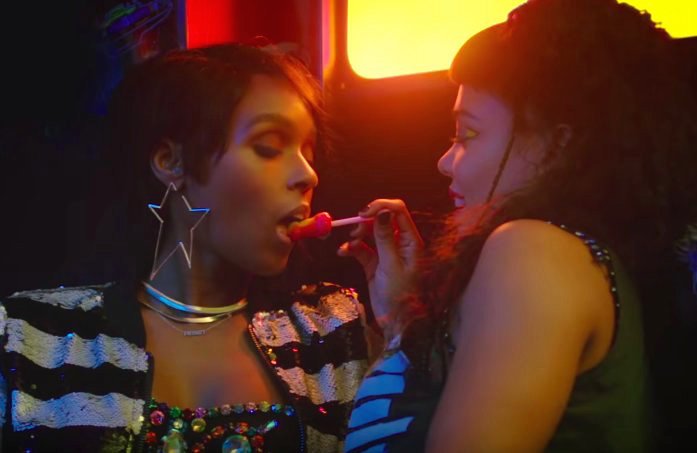 Janelle Monae is back to making music! The singer/actor announced recently that her new album Dirty Computer will be released on the 27th of April 2018.
She has now dropped two incredible music videos titled Make Me Feel & Django Jane.
On Django Jane, she impresses with her fiercely on-point rapping. Make Me Feel however takes all the headlines as it looks like she has finally come in the open about her relationship with fellow actress Tessa Thompson.
Make Me Feel is an epic slice of Prince-inspired funk and R&B which embodies an eye-popping celebration of Bisexuality.
The video features Janelle & Tessa and takes place in a bar where men and women are free to flirt and love whoever they want.
Interestingly enough, a Twitter user @hayejunt predicted Janella & Tessa coming out as lovers last year. Read the thread below:
I am tweeting this now so that in the future it will be proof of my lesbian ESP: tessa thompson and janelle monae are dating

— jaye hunt (@hayejunt) October 8, 2017
my evidence, you ask? glad to oblige

— jaye hunt (@hayejunt) October 8, 2017
1. tessa was in the yoga music video, released in april 2015 (go to 0:59) https://t.co/7V9RgDAdEl

— jaye hunt (@hayejunt) October 8, 2017
2. two months later was the last time janelle publicly answered questions about her sexuality (in a roundabout way)https://t.co/14IA3Rf3sM

— jaye hunt (@hayejunt) October 8, 2017
3. tessa (whose career took off later that year because of creed) has never talked publicly about her sexuality or relationships

— jaye hunt (@hayejunt) October 8, 2017
4. HOWEVER, she did say this following to buzzfeed in july 2016 (https://t.co/Rv1DdBcHaD) pic.twitter.com/FK7aeq5B9G

— jaye hunt (@hayejunt) October 8, 2017
5. anyway, back to their relationship. in december 2015, they went on vacation to mexico together https://t.co/rVYXKTi9zu

— jaye hunt (@hayejunt) October 8, 2017
6. in 2015, tessa starred in creed and janelle started wondaland. december is a great time to celebrate love & professional success

— jaye hunt (@hayejunt) October 8, 2017
7. in november 2015, tessa presented janelle with the LGBT CENTER EQUALITY AWARD?!?!?!!!!!!!?!!#)$!*(#) https://t.co/QPhqH7LHhp

— jaye hunt (@hayejunt) October 8, 2017
8. (the theory takes a bit of a break during 2016 because i think they either went underground or broke up)

— jaye hunt (@hayejunt) October 8, 2017
9. in february 2017 they came BACK WITH A VENGEANCE, starting with this picture pic.twitter.com/PgrtB7EiWo

— jaye hunt (@hayejunt) October 8, 2017
10. in the last few months they've been spending a lot of time together (side theory: janelle only has one jacket) pic.twitter.com/8fXJpLCMRf

— jaye hunt (@hayejunt) October 8, 2017
11. this has coincided with a rise in tessa being coy about her sexuality (see my previous tweet about this issue) https://t.co/AW5lnqCPte

— jaye hunt (@hayejunt) October 8, 2017
12. tessa will be appearing on portlandia this season – a noted career move for women who are starting to date women https://t.co/yN4wCoTqRg

— jaye hunt (@hayejunt) October 8, 2017
13. they are two of my top five biggest celebrity crushes and if prayer works, this will be true

— jaye hunt (@hayejunt) October 8, 2017
i've been following this story for two years. i'm choosing to break it now because i believe they are approaching going public

— jaye hunt (@hayejunt) October 8, 2017
this is where this aligns with my theory that tessa and gina rodriguez are playing a couple in annihilation (coming out feb 2018)

— jaye hunt (@hayejunt) October 8, 2017
when annihilation comes out and tessa is revealed to be playing a lesbian, it will be perfect timing for her to come out

— jaye hunt (@hayejunt) October 8, 2017
AND janelle has new music coming sometime late 2017 or early 2018. IT ALL LINES UP

— jaye hunt (@hayejunt) October 9, 2017
i will continue to update this thread with any more evidence that i discover. thanks for your time

— jaye hunt (@hayejunt) October 9, 2017
Watch the trailer for Dirty Computer below:

Watch the two videos below:
Make Me Feel

Django Jane