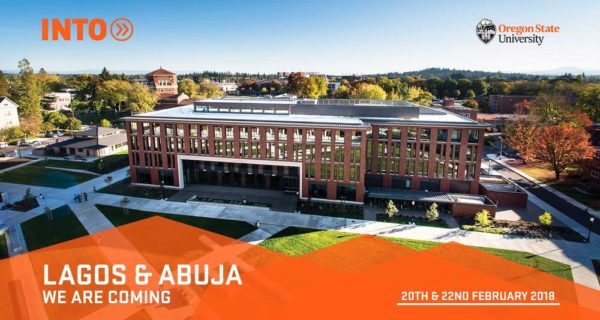 To celebrate its 150th year in 2018/19, Oregon State University is offering 10 special undergraduate Nigerians scholarship discounts for all four years of an undergraduate degree. Students will start the degree in the INTO OSU International Year One Pathway program to assist with a smooth and successful start to their undergraduate career before moving into the Sophomore, Junior and Senior years. The scholarship is for $10,000 per year to a total of $40,000 over the four years of the undergraduate degree. This scholarship celebrates diversity on the OSU campus. This scholarship also celebrates the 10th anniversary of INTO OSU – 10 years of empowering international students to succeed in and contribute to a global community.
The OSU 150 Scholarship is open to residents of Nigeria of any nationality. Students must meet the requirements for the undergraduate program. The first 10 students who meet early entry requirements and who confirm their place for Fall 2018 and Winter 2019 will qualify for these special anniversary scholarship. Scholarship recipients will serve as OSU student's ambassadors. Students need to maintain good academic standing to receive the scholarship each year.
Meet us at the following venues:
Abuja:
Date: Tuesday, February 20th, 2018
Time: 12:00pm – 5:00pm
Venue: Katsina Meeting Room, Transcorp Hilton, Abuja
Mobile: +234 803 860 4616, +234 908 015 9222
Lagos:
Date: Thursday, February 22nd, 2018
Time: 2:00pm – 5:00pm
Venue: Saturn Meeting Room, Four Points By Sheraton, Oniru, Victoria Island, Lagos.
Mobile: +2348033956229, +2349085143555
Click here to attend the event
OSU tuition fee estimate is $30,000, so with our scholarship offering, you get a $10,000 discount.
Why Oregon State University?
A top 1% university in the world.

2 campuses, 11 colleges, 15 experiment stations, 35 Extension offices, 200+ academic programs-COUNTLESS IMPACTS.

100% guaranteed progression for successful pathway students

#4 Best College Town (Forbes, 2017)

Top 20% best-paid graduates in the United States (Payscale, 2017)

#1 Most secure small city in the United States (Farmers Insurance, 2013)

More research funding than any university in Oregon with over 200-degree programme options including Art, Business, Engineering, Law, and Sciences.
Click here to attend the event in your preferred city: Abuja or Lagos.
See you at the event and good luck.
———————————————————————————————————————————————————————————-
Sponsored Content