Taxify Driver accused of Attempted Rape by Dorcas Shola Fapson has been Arrested
Dorcas Shola Fapson has revealed that the Taxify driver who she accused of attempting to rape her has been arrested.
Fapson made the revelation on her Instagram, thanking everyone who supported her through the issue.
Writing on her Instagram, she asked that safety measures be put in place for women in Nigeria to avoid encounters like the one she had. She suggested the installation of dash cams in taxis as a measure.
"We need a country where women are able to report & share their experiences of sexual harassment, assault, rape, molestation, violence etc without fear of being labeled a liar, thief, prostitute, attention seeker," she also wrote, adding that the man has been arrested.
She wrote as the caption:
I remain a Fighter. Not a crier.
I'd like to thank everyone that's supported me, publicly and privately during this difficult time..
We can leave the social media war now & let the law take its rightful course.
See the post below: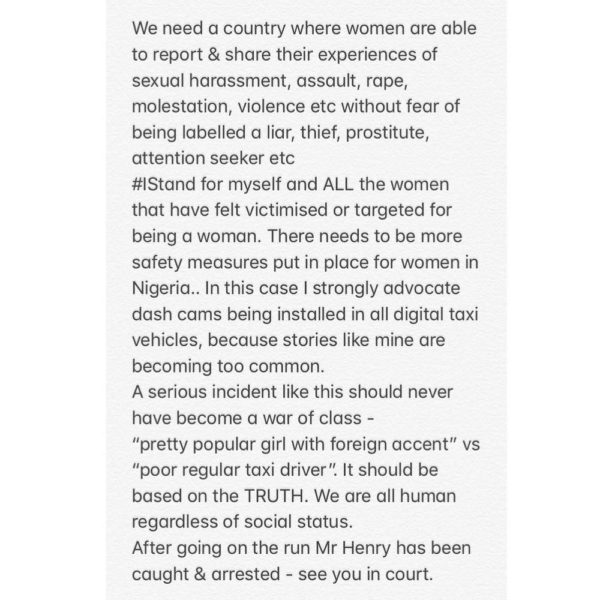 https://www.instagram.com/p/BfaY6_fHFr5/?hl=en&taken-by=ms_dsf