#BBNaija – Day 59: Silence Speaks, The Meat Matter and More Highlights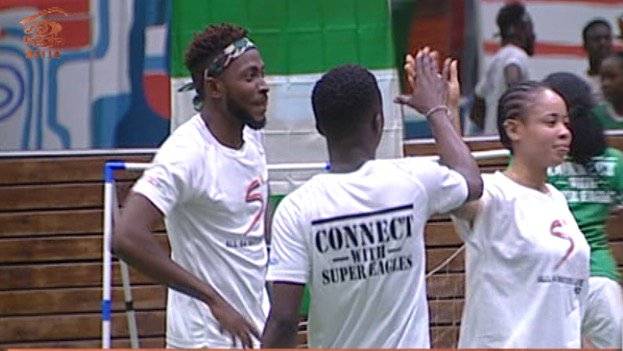 Did you watch day 59 of the Big Brother Naija 3 reality show?
If you missed it, we've got the highlights for you!
..
Silence Speaks
This morning has been full of chatter and smiles, after the workout, everyone hung out in the garden and reflected on the night before which had been quite eventful.
As soon as Housemates were freed from their boxes, they looked really appreciative of seeing each other again. Although Rico Swavey, Alex and Cee-C had been disqualified, it didn't stop them from cheering the rest of the House upon successfully winning a quarter of the Wager.
Immediately on the heels of this, Biggie held Diary Sessions during which Housemates opened up in an unusually candid way. Many actually reported having enjoyed the confinement Task as it had given them the time to think and be by themselves for the first time since entering the House. BamBam and Nina have even reported dreaming beautiful lives from beneath the cardboard boxes.
Yet no one could have foreseen that it was the newly returned Anto who would steal the show with her sudden and unsettling tears of anger and betrayal at Lolu whom she said had led her on. She said she held on from slapping him but would listen and let him know how she felt. Anto also asserted that Lolu had gotten in her way of winning the first time, but that she wouldn't let it happen again.
In another twist, Biggie informed Housemates that the bedrooms would remain bare and that no Housemates were allowed to sleep on the floor. Biggie trusted Housemates could work together to figure out ways to sleep together, before wishing them a good night and indulging them with some booze.
The Skin & Beauty Debate
While the Housemates were all waiting in the garden as Biggie requested, Nina and Khloe got into an interesting debate about hair, skin and beauty. This prompted differing opinions which further solidifies that everyone has their own definition of beauty.
Hairy Scary
Things have been noticeably tense between the ladies in the House lately, with Cee-C and Nina at each other's throats for some time now and the addition of Anto and Khloe just to add good measure, it was refreshing to see two of the ladies engaged in an uplifting conversation. Khloe went to Nina and told her in all seriousness that she needs to wax the hair on her arms and hands as it will make her skin smoother, soft and look less "dirty". Nina counteracted her statement saying that she loves the hair on her hands and arms, she wakes up in the morning and loves to look at them because they are so soft and curly, she also said that she has never had any complaint from a guy about it. Khloe then told Nina she needs to trim her nose hairs and that she has the perfect machine for it, to which the petite Housemate agreed.
What do you think about arm hair on women?
Skin Stuff
Nina is very light skinned, she says her skin is quite sensitive and she used to have pimples, this is why she does not use cream. This absolutely shocked Khloe who could not believe she was not moisturizing her face. Khloe then went on to tell her that there are a range of completely natural products that she could use to keep her skin looking great. Things like coconut oil, turmeric etc, Nina was honest and said she also loves her skin and is scared to use anything that might change the way it is. In a rather nurturing manner, Khloe told her that as you get older you need to start taking care of your skin, you need use things that will keep it looking supple and good, and she even said she would make Nina some of her special cream. Khloe also made sure that Nina knew not to ever bleach her skin.
What do you think about Khloe's advice to Nina?
Beauty Bonds
The conversation held by the two ladies was an exhibition on how we are all so different and we all see beauty in diverse ways. Nina is obviously more natural in her approach while Khloe is more about grooming and making sure she is always looking on top form. There are people in the world that favour each one of these lifestyle options – Which would be your preference?
Stripping. Cross-Dressing & Tears
After a sleepy start to the day, things could not have gotten more fun and filled with excitement than they did through the two SuperSport quizzes. It was a dramatic turn of events that rippled through every emotion from joy and hysteria to tears and anger.
Tantalizing Toracle
Each times the Housemates failed to get their answers right during the quiz, they would have to take on a punishment. These punishments ranged from singing to rapping all the way through to stripping and Miracle and Tobi were happy to oblige. Toracle were on absolute fire, first Miracle stripped down to his underwear and strutted his stuff, then Tobi did a performance whereby he took his shirt off and gave Anto a massage. Later Tobi even went so far as to put on a skirt and bra in jest which really made everyone laugh. The two House besties were definitely the stars of the show this afternoon. It must be all the practice from the strip dice game.
Twerk Queens
While the guys were given strip punishments, the ladies were requested to twerk and to dance. Anto and Khloe obliged as did BamBam and Cee-C but Alex straight out refused. She did perform a few dance moves for the House and did a funny imitation of everyone's dance moves in the House which was super entreating for everyone.
A Tearful Ending
BamBam is obviously feeling very sensitive since her Nomination because as the Task ended she began crying, saying that she had been avoided during the Task. Khloe got involved and said that her tears were not real, after that, literal tears began to flow. However, word on the street is that it was a prank BamBam planned to play on Miracle – Were their some truth in those tears though? Miracle and Khloe then had a huge argument and Khloe told Miracle that he was picking on her, she stormed off visibly upset but after some mediating from Nina, things were slightly rectified.
The Cee-C Situation
Cee-C has become a ghost today, from disappearing for hours this morning to barely engaging in the Task today. She is completely different to the Cee-C we all know. Maybe the combative nature of what has been happening in the House is getting to her or could it be the fact that Tobi is not giving her a lot of attention. Either way something is definitely up.
What was your favourite moment of the Task today?
Super Eagles Legends in the House
After a rather normal morning in the Big Brother House things were flipped sunny side up for the Housemates. What an amazing way to start a Wednesday! First the fun SuperSport quiz Task and then, Football legends Joseph Yobo and Victor Ikpeba were in the Big Brother House.
Former Nigerian National team Captain Joseph Yobo holds the record for the most appearances by a Nigerian player. He was also formerly the Captain of Premier League team Everton and has played several World Cup Games. Joseph is a certified National sports hero.
If you know Nigerian football then the name Victor Ikpeba will be known as one of the pioneer's for both club and country. Paving the way for many players, Victor's performances earned him the African Footballer of the Year award in 1997, the Nigerian football hero played thirty-one international matches, he played at the FIFA World Cups in 1994 and 1998. He is an inspirational figure in African sport.
Both Players were accompanied by SuperSport anchor Chisom Mbonu who acted as the game referee to Anto's greatest delight as assistant referee. Once in position, the Housemates were divided into two teams wearing green and white t-shirts. While the white team was coached by Joseph Yobo, the blue one was mentored by Victor Ikpeba.
After two matches, with a 9-2 score, the green team (Cee-C, Alex, Rico,Teddy A,Khloe) conceded to defeat to the white team (Tobi, Miracle, Lolu, Nina,BamBam) and all happily walked out of the court with their guests to the kitchen for refreshments and nibbles.
The Meat Matter
The football legend guests had barely been ushered out of the House by the Ninja that a bitter fight erupted between Khloe and Teddy A.
While the rest of the House was still reeling from all the good vibes left by the world cup challenge, and just going about clearing the dining table from the empty glasses and plates, Teddy A walked to the kitchen and helped himself with a piece of meat from a pot of meat stew that Khloe had prepared earlier.
I am Going to Beat You
Watching from afar, Khloe didn't hold back and blew up in his face that it was not the first time he picked from other people's food with his bare hands. It made Khloe's blood boil as she gave a deluge of insults to Teddy A. As expected, soon enough, Teddy A couldn't fail to respond and he roared back an unimpressive amount of expletives to Khloe.
I will Give You Hell in the House
Despite very different physiques – Teddy A being buff while Khloe is on the thin range- these two almost came at each other's throats after Khloe stated she was going to beat him, which deeply bruised Teddy A's ego. Had it not been for Alex coming in between, with the intensity of their shouts, no one can say for sure that Teddy A and Khloe wouldn't have brought the walls of the House down.
I will Frustrate You in the House
Thankfully BamBam managed to drag Teddy A away from the kitchen area, although he could still be heard hurling insults from the bedroom vowing to frustrate Khloe's time in the House. Regardless of his self-assured air, he was deeply unnerved as Teddy A sought refuge in the garden where he was chain-smoking the tension away. We cannot count the number of times when food fights erupted in the House over Teddy A's eating other Housemates' meat or scorning others for eating his meat.
Would making the House a vegetarian-only zone help tame tempers?
Tobi, Lolu & Rico Toying Around
The Tobi Move
Riding on the wave of his fourth Head of House title, and with the return of Khloe and Anto, Tobi seemed to have had troubles adjusting to the new oestrogen-filled setup.  With the Using his privilege as Head of House, Tobi chose Khloe to be his co-regent and bedmate in the luxury bedroom, a tribute that certainly flattered Queen Koko. Likewise, Tobi cannot seem to keep his hands to himself whenever Anto is in sight: oddly enough he has lifted her, hugged her and followed in her wake like a bee around honey. For all the soft speaking and whispering into each other's ear that Tobi made with Anto, the lady is iron-willed and he is likely to not win the upper hand.
The Lolu Shift
Tonight he even lifted the legendary Chisom Mbonu, Nigeria's female sports television presenter and BBNaija guest, in his arms and carried her to the elevator. So Tobi seemed to have lost the ability to focus on one person and one person only: Cee-C who has shied away since the gender balance had shifted. If there's anyone who clearly lost her clout it is Cee-C, for not only has Tobi distanced himself so did Lolu when Anto reappeared in the House. Lolu had become as close to a confidante to her, and she clearly lost the support line she had been left with.  Likewise, Lolu has tried to serenade Anto into forgiving him, but she was not having any and the man has been disoriented since.
The Rico Act
On the other hand, with Khloe's return, Rico seem to have found a new female ally in the House, one who is not afraid of bestowing hugs at will to his deepest satisfaction.  As the only scandal-free  Housemate, Rico has managed to sail the perilous waters of the game with ease. But this has come at a price, including to be turned down by all the female Housemates.  Yet Khloe's return has also meant that Alex who had started to twist Rico around her little finger was left without her Leo substitute.  As direct beneficiaries of Anto and Khloe's return, Rico, Tobi and Lolu so far had had a tougher time than they had anticipated. Who will be the first to break down?
***
Have you been watching? What did you think of the Day 59 activities?