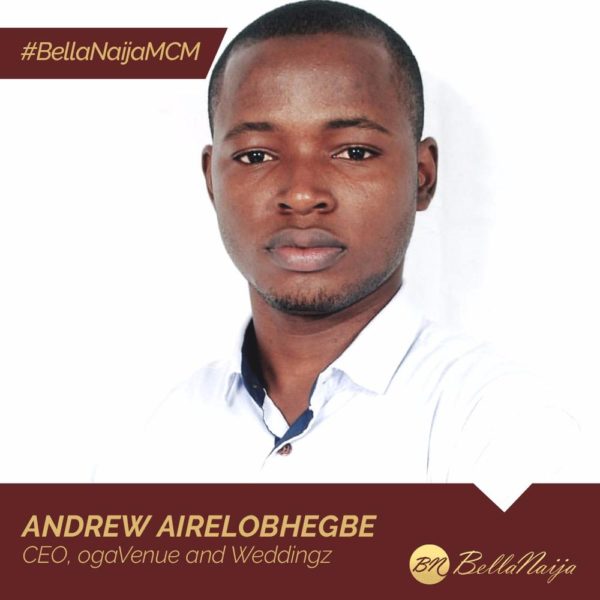 The events industry is one of the fastest growing in Nigeria, thanks to the country's celebratory culture, social media, and the tech industry. To keep industries or businesses growing, we must find ways to innovate – to make work easier, faster, more reliable, and pocket-friendly, and that is what our #BellaNaijaMCM this week Andrew Airelobhegbe has done.
Andrew is the CEO/Chief Product Evangelist of ogaVenue, an online event venue booking portal. Founded in 2014, OgaVenue now has over 6000 event venues, creating an entirely new, customer focused, event venue booking platform.
From the comfort of your couch or desk, you can get information on venues relevant to the event you want to have, the price, real time availability confirmation and 360 degree view as well as making booking online, and paying at the venue. The platform also offers event venues at discounted price, what you probably wouldn't get when you visit the venue in person.
Andrew, a Computer Engineering  graduate from the University of Benin (UNIBEN), started his company in Benin City, before moving to Lagos, from where he applied for funding from Jason Njoku's investment firm Spark. Speaking of Andrew and his business in a 2016 Medium article, Jason said:
Firstly, it was the best intro email I have ever read before. Except I actually didn't read this email. I starred it, a month earlier and forgot about it. Then he sent me the June Update. 78 words and straight to the point.

Thereafter he shared his company's revenue metrics. I didn't believe them. I have seen all things grand or small. I had someone recently tell me they were scaling up from $0 to $98m in revenue in 12 months. But these numbers were too good to be true. So I clicked on the link and went to the site. OgaVenue.com, looked pretty straight forward. Then I tried Livechat. 98% of Livechat I have tried outside of 7am — 7pm in Nigeria is usually inactive. But here, past 1am on a Saturday morning, someone answered.
Andrew, after series of meetings, secured a $45,000 seed investment from Spark, and the company has been scaling ever since. Securing the investment is a testament to Andrew's passion, diligence and understanding of the business model.
Andrew has also launched Weddingz by OgaVenue, a platform that shares wedding inspiration from makeup to outfits and jewelry, answers questions, and also connects users with vendors.
Andrew is a top 10 Young Visionary Fellow in the IndiAfrica exchange programme and a nominee in 2016 The Future Awards Africa (TFAA) Prize for Technology category.