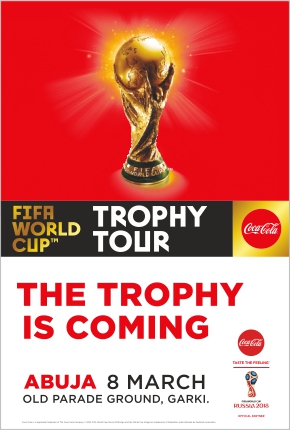 I am guessing that you already have your ticket to go see the FIFA World Cup trophy when it arrives. If you haven't gotten your World Cup Trophy Ticket, then follow Coca-Cola Nigeria on Facebook, Twitter and Instagram, join the conversations online and win a ticket! It's that easy! It's going down in Lagos and Abuja World Cup Trophy style.
So in making sure you are not sitting on the sideline when you go hang out with the trophy, you need to turn up in your A-game fashion. But how do you dress up when you are about to hang out with the world's most precious prize in the sports universe?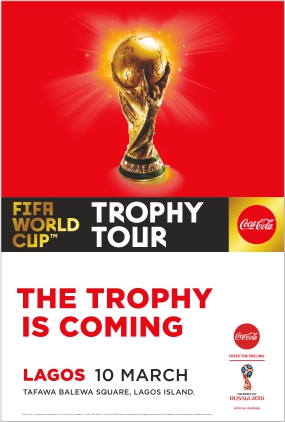 Here are some tips:  
For men, a pair of jeans or wide leg trousers are always trendy. Stand out as you pair up with a nice fitted T-shirt or Cuban collar shirt. A denim jacket, coloured blazer or sports jacket to get the retro sportswear look is sure to get you standing out from the crowd. For foot wares, sneakers can never go wrong.
Ladies, coordinate tops and skirts, workout pants, jeans or leggings with a team spirit. Choose between cropped sweatshirts, sporty shift dresses; easy tops with a sporty edge or just stick with a sophisticated T-shirt dress. Style up with glam-sport day bags. What's on your feet can make a huge difference. Did I mention that a pair of fashion sneakers can never go wrong?
Don't forget to accessorize with fashionable bracelets, baseball caps and a designer glasses. Evolve your look trophy style and make sure your fashion meets function.
———————————————————————————————————————————————————————————–
Sponsored Content