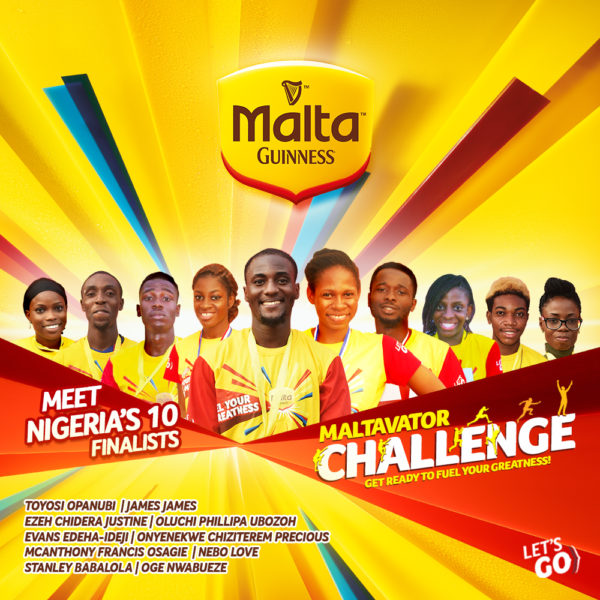 Get ready to be glued to your TV sets as Nigeria's number 1 malt drink, Malta Guinness kicks off the Maltavator Pan-African TV show which will have 40 contestants from Ethiopia, Ghana, Cote d' Ivoire and Nigeria. The best Maltavator will go home with a whopping sum of $20,000 while other contestants will win $400, and other amazing prizes.
To select contestants for the Maltavator TV Show, the Maltavator train visited key cities across Nigeria to audition for participants of the show. On the 27th of January, the Maltavator train was at the University of Benin Sports complex and it was the turn of Enugu on the 3rd of February as the team was at the Polo Shopping Centre for Enugu audition. Lagosians also got a chance to audition on the 17th of February at the National Stadium, Surulere.
Thousands of excited consumers turned up for a chance to represent Nigeria in this new thrilling Maltavator Challenge TV Show. The Malta Guinness team was on ground to fuel contestants to greatness with the goodness of Malta Guinness- packed full of energy giving vitamins B1, B2, B3, B5 and B6.
Meet the final 10 contestants from Nigeria:
Onyenekwe Chiziterem Precious

–

A medical biochemist from Delta State who was shortlisted at the Benin Audition. She brings with her a lovable character, highly spirited and a positive mindset.  Her hobbies include reading, sports, learning, music, traveling, bike riding, swimming, learning foreign languages and trying new things.
Opanubi Toyosi

–

Toyosi is a 26-year-old lawyer from Ogun State, she says she is selfless and loves all things adrenaline pumping, wealth creation, and reading. She was one of the finalists at the Lagos Auditions with a strong positive character ready to represent Nigeria and go for the win.
Ubozoh Oluchi Philipa

–

There are two things that set Oluchi Philipa apart from the other Nigerian contestants- she is considerate and caring. The 21 year old Imo state indigene who auditioned in Benin says she loves singing, dancing, watching movies, reading books, sports and games.
Nebo Love

–

Apart from being a Media Personality, 24-year-old Nebo Love likes travelling, listening to music, football and acting. She also has vast experience in public relations. She brings her fun personality to the show.
Oge Nwabueze

–

As a professional blogger, Oge says she loves writing, braiding, swimming and acting.  The 30-year-old contestant from Delta State says she can adapt easily to any environment.
Stanley Babalola

–

Babalola is one of the youngest contestants being just 19 years old. He is a student from Ogun state. He brings his passion and drive to the show. Babalola's hobbies are acting, swimming, modelling, drawing and meeting new people.
Ezeh Chidera Justine

–

Chidera Justine is a 21-year-old student from Enugu state. He is entertaining and enjoys music and travelling.

McAnthony Francis Osagie– Francis Osagie is an undergraduate from the University of Benin. He brings his undivided focus to the show. He loves to read and sing.

Evans Edeha Ideji

–

Evans is a 25-year-old actor and filmmaker who auditioned in Lagos showing resilience and a can-do spirit to emerge as one of the finalists. He says he is a positivist who loves travelling, reading, cycling and swimming.
James James

–

Also one of the youngest contestants, 19 year old James is a student from Imo State who loves swimming, football and dancing. He brings his lovable personality to the show.

Contestants from Ethiopia, Ghana and Cote D'Ivoire are billed to arrive in March to join the Nigerian Contestants for the TV show. To be up to date with details from the Maltavator Challenge TV show, follow @maltaguinnessng on Twitter and Instagram and Like the Malta Guinness page on Facebook. Make sure to follow the show and support your favorite contestants.
—————————————————————————————————————————————————————————
Sponsored Content