#BBNaija – Day 80: Digging out the Hatchet, Cee-C bags a Strike & More Highlights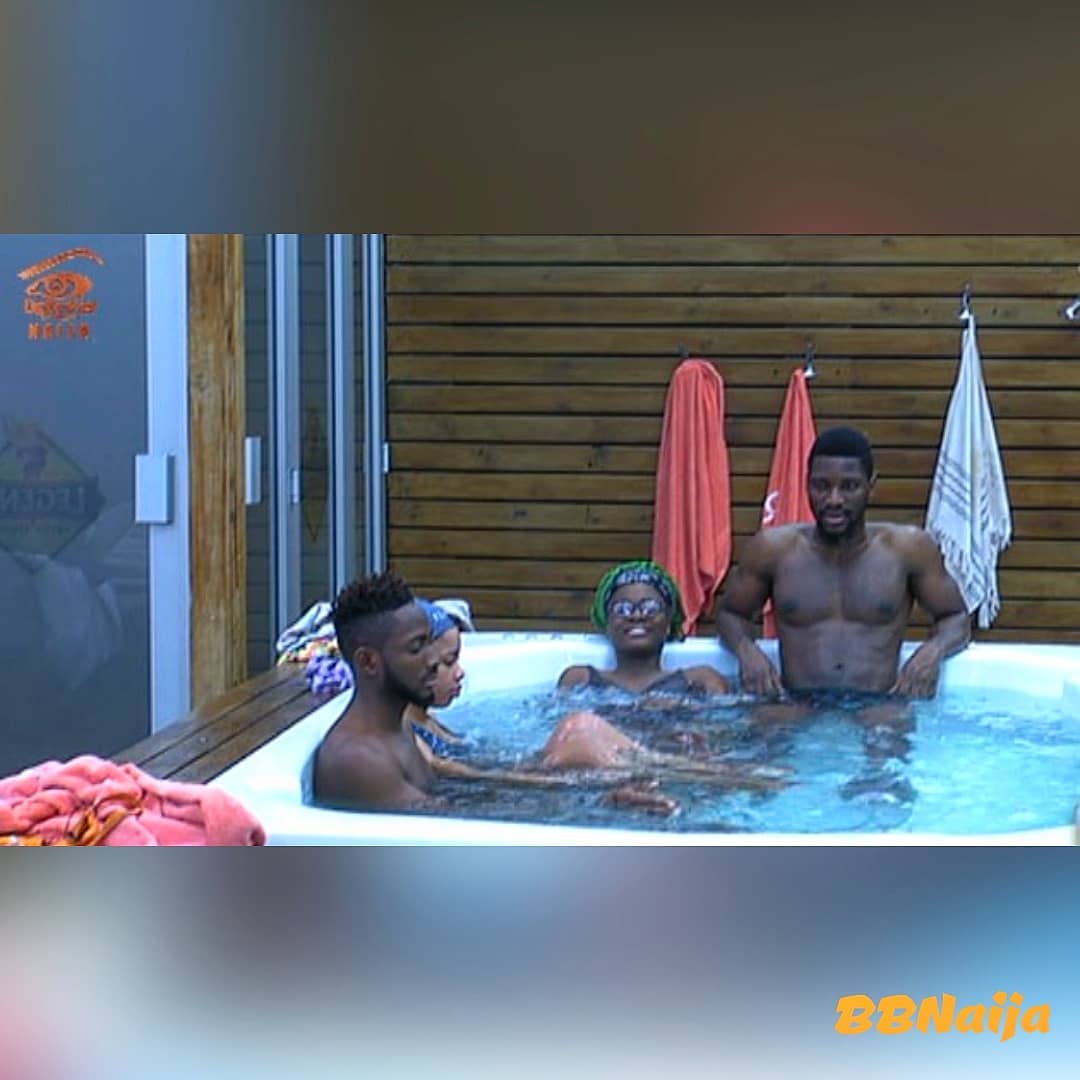 Did you watch day 80 of the Big Brother Naija 3 reality show?
If you missed it, we've got the highlights for you!
..
Digging out the Hatchet
Alex' apology gave the idea that she and Cee-C had finally buried the hatchet and were headed down new paths, one free of grudges and malicious comments but it seems like  we were misled because another round of 'she said, then I said' exploded and had the duo going in circles.
Cee-C hadn't been responsive during Alex's 'bearing my heart' and continued reserving the loaf of bread, serving only crumbs by talking about how she was over trying to prove herself to people who could care less. Crumbs because during her post-task conversation with Alex, a couple of slices were thrown and a lot was revealed.
The conversation was a back and forth that left even us a bit distorted to say the least. Cee-C clearly wanted to know why Alex thinks so lowly of her to even conclude that she was bothered but her friendship with she felt nothing but pity for. Alex on the other hand explained that it wasn't hearsay that see-say. Her general behaviour having suggested that she was nauseated by the fact.
Despite Alex' admirable calm and Cee-C having toned it down, the two were clearly tickled off by the relationship made during the conversation; with Cee-C completely disputing an emotional affiliation to Tobi and Alex disapproving of comments made by Khloe, Lolu and BamBam.
If we had to butter this bread in its entirety, butter vendors would refuse our patronage because despite the conversation having ended smoothly, there are still threads to be pulled. We'll just leave it here.
Cee-C insults Tobi
The House came to a complete standstill this morning when an angry Cee-C stomped around the House, firing off expletives at Tobi. The two, who gave us the first coupling of the Big Brother Wahala season, are not on speaking terms as a result of what can only be referred to as a long and complicated feud.
Tobi, who was in the bedroom with Miracle and Alex getting Task-ready when Cee-C's rant started, was shocked into silence at the sudden verbal onslaught that had come almost out of nowhere. Cee-C glided past him and called him everything from a useless, miserable fool, to "a man who can't stand on his own", for gossiping about her, as well as forming relationships with every female in the House, a reference to his close relationships with Anto and Alex. As expected, the House fell silent as Cee-C continued with her salvos.
It seemed Tobi would get a bit of respite however, when Cee-C stormed out of the room. When Tobi attempted to familiarize himself with the Task Brief in the lounge, Cee-C walked over for Round 2.  When Alex tried to defend Tobi, Cee-C told her to stay out of it because it was none of her business – and she did just that.
A cool, calm and collected Tobi sat back and encouraged her to let it all out – and with those words, the floodgates were thrown wide open;
Tell me about your likeness that is supposed to shake me. When you become a man, come and we can talk. Shut up and stop gossiping. Respect yourself. When we go outside, you will cry, idiot. You are proud to have all these girlfriends, f***boy. Your bitterness is obvious. You didn't want me to be Head Of House. I told you I cried for you and you believed? Stupid boy.
When Cee-C finally walked away, a smile plastered on her face, Nina walked over to talk to Tobi about what had just transpired. When she suggested he defend himself by responding, Tobi politely declined and asserted Cee-C needed to deal with her anger. Cee-C then made her return and kicked off another round of insults, prompting Tobi to tell her "You love me".
Earlier while Cee-C was perusing over the Task Brief, Tobi walked over and attempted to give it the once over too. Cee-C didn't take kindly to his actions and snapped at him. When Tobi told the rest of the gang about it, Cee-C saw red. Could this be what kicked this fight off?
The Happiest Day in the House
After the daily grueling workout followed by a dip in the Jacuzzi, Housemates readied up for another day under Head of House Cee-C. As she read Biggie's instructions to the House, all eyes and ears were on her as her peers tried to decipher the new Task. Cee-C had called Nina, Alex, Tobi and Miracle to the lounge and picked the two different groups – herself, Alex and Miracle on one side and Nina with Tobi on another.
Smile for Us
Biggie's instructions were very simple, as all that was required from each Housemate was to smile at all times throughout the day. Given that forced smiles are not a natural human feature, Biggie's Task implied that pleasantness and humor would have to fill the House for the million-dollar smiles to flash around. Yet Cee-C had barely read the instructions that she launched into a torrent of expletives on Tobi, who kept his calm through it all.
The Teeth Drama
The two groups had also been Tasked to act up different scenarios promoting the benefits of toothbrushes and toothpastes and put together short dramatic performances in order to win a cash prize and dental products. As much as Housemates attempted to start working on their presentations, Cee-C kept interrupting the peace, as she kept going back and forth between the dining table where Alex and Miracle were working to the lounge where Tobi and Nina were brainstorming, to keep pouring more fire on Tobi.
Teeth Grinding
With the ₦45 Million pot within reach, one wonders if Housemates are not at risk of losing the Task, given the tension that has most likely kept smiles under wraps. How do you think this will all end up?
The Tactical Twosome
Calculated Moves
Since her short-lived Head of House tenure earlier this week, Nina seem to have grown increasingly conscious that her every move would decide of her fate at the upcoming. Likewise, it seems that Miracle has been walking on eggshells as he eyes the ₦45 Million Prize. Both have been very careful to not engage in idle chat and – God forbid – get caught in any hairy situation.
No Sticking Mud
As much as one may throw enough mud for it to eventually stick, Miracle has deliberately avoided finding himself in any sticky circumstances. He has been known to impart nuggets of wisdom to temper volatile situations, yet he stayed away from the racket that Cee-C brought upon the House. As if taking a clue from Miracle, while Nina did not peep a word during the hour-long attack that a still Tobi endured, her eyes were nonetheless filled with compassion for him. Nina has also cut Alex' rants short and even attempted to build bridges with Cee-C.
A Lonely Road to Victory
With all this, and given there is only one ₦45 Million Prize, Housemates have undeniably become aware of the lonely road they'd have to walk to victory.  As such, it has come as no surprise that they are spending more time isolated from the tribe, to regroup and leapfrog to the Finale.
Cee-C bags a Strike
The WW3 worthy rage-race Cee-C went on clearly had no winner because despite having blown off a lot of steam, her very miscalculated move earned her a strike instead of a gold medal, proving once again that finishing first isn't necessarily always a win.
While the Task preps were enough a distraction to keep the tension at bay, Cee-C seemed fixed on ruffing a few more feathers, probably trying to earn a 'have fun while you're at it' card. After having been told off by Miracle who clearly didn't appreciate her inconvenience, she made her way to the hammock, where Alex and Tobi sat. Despite the fact that the duo had practically deemed her invisible, she still tried to press more buttons but that yielded no reactions.
Just as the Housemates thought the dust had settled and no fruit were bore by the Cee-C and Tobi incident, Biggie summoned the bunch to the lounge and after laying a couple of clap backs regarding the Closeup preps; his attention swerved to Cee-C.
A recording of the incident was played back for the entire House to witness for the second time and judging by their reactions, both Tobi and Cee-C were lost in a wave of embarrassment and clearly wanted to make it all stop. Biggie made it clear that Cee-C blatantly provocative behaviour was not allowed and as such, earned herself a strike and a stern warning to desist from such going forward.
There underlying issues clearly go far beyond the verbal spurts witnessed today and as such, the cracked walls will definitely be extending outside the House. Whether they'll finally cement and paint over them with peace or live and let live, only time can tell.
***
Have you been watching? What did you think of the Day 80 activities?