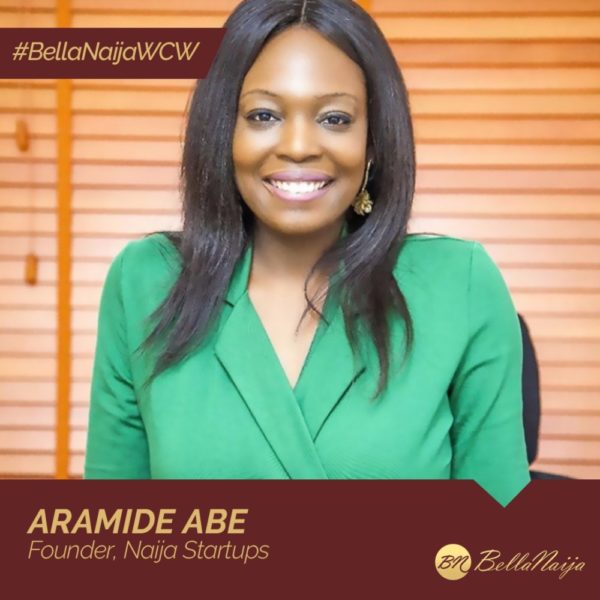 The Africa Rising narrative cannot be shared without the stories of startups, especially small and medium scale business who are providing solutions to various problems people in the continent are facing, as well as serving as a source of income to millions.
Do business anywhere and at any point in history requires relevant skills, and in the 21st century, the importance of digital skills cannot be over emphasized. Our #BellaNaijaWCW this week Aramide Abe started a business Naija Startups that is solving this problem.
Naija Startups is a community that provide value-added services to businesses as well as support: from access to investors, shared services and other training.
What started as a business directory that was launched on Instagram, soon grew to an online community providing relevant resources especially in the area of digital marketing and strategy through workshops, webinars and its newsletters to its over 50,000 members (85% of which are within the millennial age bracket).
How did this happen? Aramide wanted to address the information gap for consumers in search of relevant solution providers, but what she found made her stumble into what she's doing now. She discovered that lack of skill in digital and social media marketing, and how entrepreneurs in Nigeria and Africa are not leveraging on the growing internet penetration, as well as increased user activity on various social networks. She decided to solve this, and the model with which Naija Startups operates today was born.
In her quest to facilitate growth of small business in Nigeria and Africa at large, Naija Startups has collaborated with global giants Google and Facebook to deliver digital marketing training to millions of entrepreneurs in Africa.
Aramide brought her experience in technology, marketing and strategy to the fore when she started her business and this has helped grow the platform to what it is now in a little over three years.
The Naija Startups Instagram page provides not just relevant resources and information, but is also an inspiration hub for startup founders and entrepreneurs with daily tips and tricks, as well as inspirational quotes.
Aramide has a degree in Computer Science from the University of Nottingham, an MBA from INSEAD and a certificate from the Kellogg School of Management with a focus on marketing and strategy.