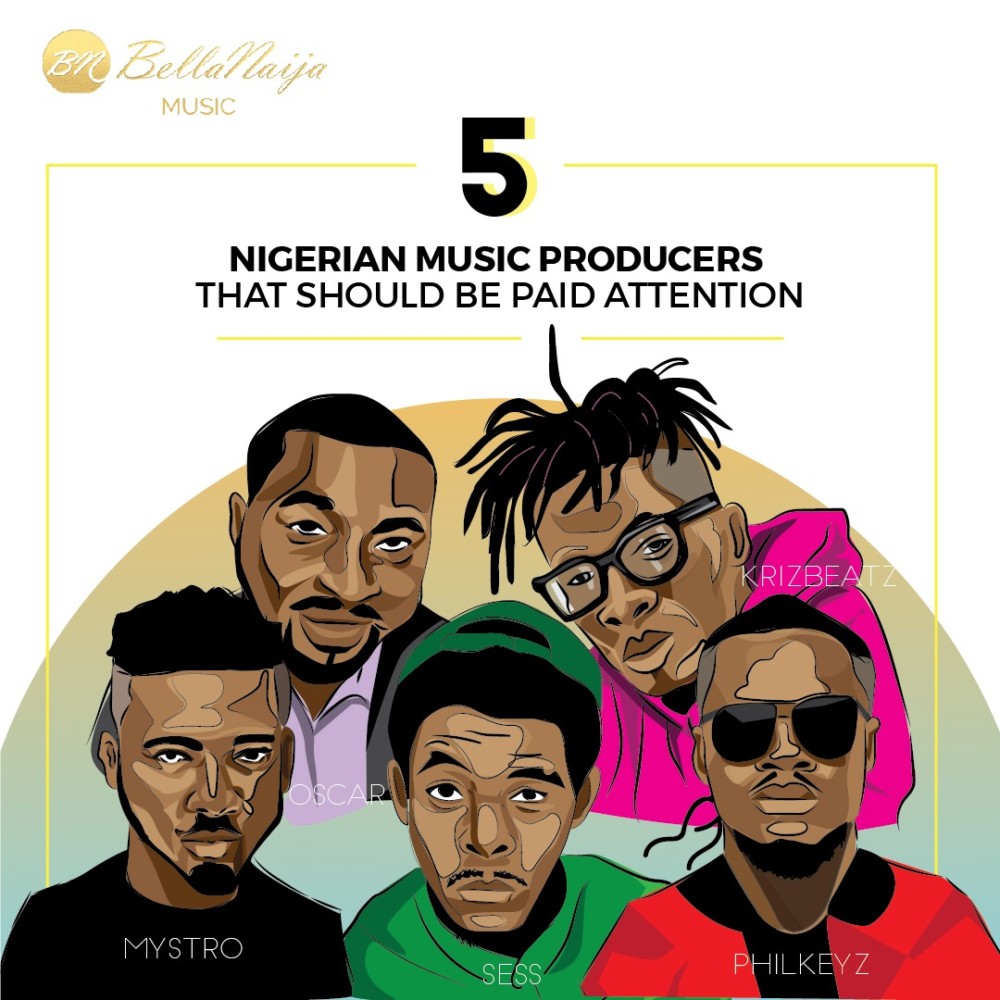 Music producers are among the most unappreciated music professionals on the African continent. Except for a select few who command deserved reverence for their contribution to the music culture, a ton of others are battling varying degrees of under-appreciation of their art while some others have simply thrown in the towel in the struggle for recognition.
It is often the case for fans, while taking pleasure in listening to music, to develop love and adoration for the singer; showing less interest in the work put into the arrangement of the song's background sound. This causes pain for music producers who should be getting more than just random shutouts, cliché studio praises and handouts as credit for their work.
There are quite a few producers who have been aptly accorded respect for their brilliance but there are many others who are working two times more than the credit they get. Here is a list of 5 Nigerian music producers whose works deserve more attention from you:
Sess
Sess isn't the most popular music person and even the small class size of fans who recognize him, think of him as Falz' sidekick, but the cool-headed producer has done enough to be cheered every time a Falz song is being played. Like No ID was to JAY-Z's 4:44 album, Sess 'technically' manned the production duties of Falz' two albums which received rave reviews from fans and critics alike, even in the area of sound arrangement and instrumentation which Sess handled.
Another interesting contribution of The Problem Kid to the music culture is his effort in helping an artiste like Terry Apala stand out as a genre phenom. 'Apala-Trap' music is in existence today because a producer like Sess contributed to bringing to life, Terry Apala's unusual idea. Sess seems to relish challenges and that's the reason for his consistency with hip-hop, even at a time when a lot of his colleagues are busy with pop sounds. Sess produces some of the dopest hip-hop beats around here and he deserves more recognition than he is accorded.
Krizbeatz
Only a fraction of Nigeria's music listening population know the name "KrizBeatz" and even when you mention Pana, the first gist you're more likely to hear is, "oh that Tekno's song." Some people would even go as far as suggesting that the song was self-produced whereas Krizbeatz is actually the brain behind the production.
The producer who wears dreadlocks, made the continent's biggest music invention of the period between late 2016 to 2017.  Some of the very first samples of Afro-Dance Music which was popularly called pon pon sound, originated from his studio, including Runtown's For Life. The sound became the in-thing on the continent even without a proper definition, which he attempted to do with the release of his album titled ADM.
Oscar
Nigerians love songs like Joromi and Smile For Me. Songs like that have endeared Simi to many who have found spaces in their hearts for the songstress and her music but if she was allowed to come with one more, there's a good chance she'd pick her producer and partner in music composition, Oscar.
While Simi does the singing, Oscar makes the sound and together they create some of the best mood-altering music around here. The producer whose identity is another form of art on its own, has produced a lot of Simi and Praiz' songs, he produced majority of the constituent song on the Simisola album (save for two tracks), which many love for its rich sound and have touted it as a contender for album of the year. No doubt, the quiet producer deserves more credit.
Philkeyz
Perhaps the most underrated of the bunch. Philkeyz is one producer who has been quietly building his Rome. He has shown little interest in the surrounding happenings in the industry. His works are usually simple and yet delightful like that of Kiss Daniel's No Do, which brought a feeling of nostalgia to fans who noticed the sampling of the soundtrack of one of the popular TV shows of the 90s, titled Tales By Moonlight. It is fair to say Philkeyz has a penchant for using "forgotten" African sound templates and he makes them sound like imported sounds from a foreign place.
Despite Philkeyz' great repertoire, his popularity amongst Nigerian music lovers is not commensurate. It is so bad that Nigerians confuse his name for sensational guitarist, Fiokee. That Philkeyz is underrated in Nigeria is a big surprise, considering how he is cheered in other African countries like Liberia and Congo. The producer who prefers to let his work do the talking, has some of the records that has caused millions of Nigerian music lovers to share a common dance. Philkeyz should be getting more spotlight than he sees currently. Perhaps fans would start to appreciate him better once the highly raved about Kiss Daniel, Wizkid collaboration is out in public.
Mystro
Considering the quality of his work, Mystro should be placed among music professionals who are treated specially, especially because of how delicate their talent is. In other climes, he would have been much more recognised and his works would have been better appreciated. No wonder a foreign brand saw the beauty in his craft and chose to invest in it.
The multi-skilled music man has previously shown flashes of his brilliance on songs like Issa Vibe featuring Davido and Teni's Fargin, however the complete manifestation of his talent as a producer, was experienced on his album titled Sugar which housed a song titled Ife" which did not only get the blessing of Simi's love inspired singing, but also the purity of his own words as he sang about love. If only Nigerian music lovers paid more attention to things like sound arrangement and balance of rhythm, Mystro would be wearing a badge of maestros, at this time.
---
This review is solely the opinion of the contributor and does not reflect BellaNaija's views in any way.