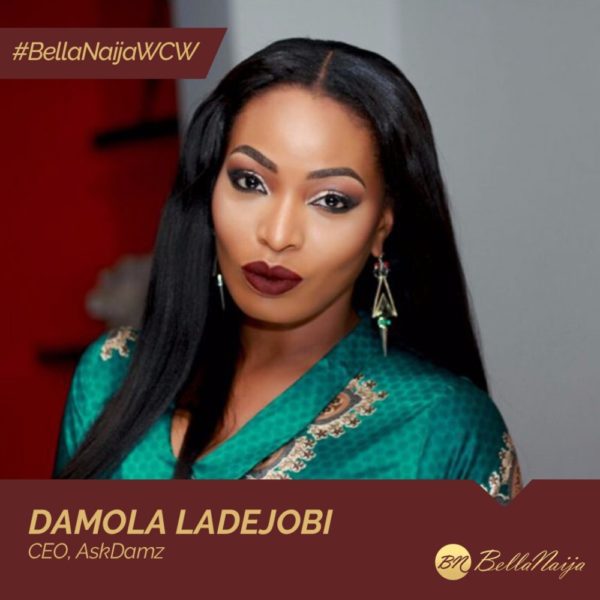 Our #BellaNaijaWCW this week Damola "Damz" Ladejobi of AskDamz, is a weight management, health and fitness consultant who started her business on the heels of a personal struggle with overweight.
It all started when she suffered an acute G E R D (Gastroesophogeal Reflux Disease), a digestive disorder that affects the lower esophageal sphincter (LES), the ring of muscle between the esophagus and stomach, making the stomach's content back up into the esophagus.
Following the 3 endoscopies, doctors advised Damz to lose weight as they could not figure out the cause of her ailment. After several unsuccessful attempts at weight loss through fad diets, Damz decided to do a lot of reading which opened her eyes to the potency of healthy eating. She began practicing this and portion control, and in 10 months, she had achieved her target of getting to 70kg from 105kg.
Today, Damz is helping people achieve their weight loss and fitness goals with her AskDamz platform. The company says it helps people "build a healthy lifestyle" because "a healthy lifestyle is key to achieving your weight/body goals."
AskDamz prides itself in being able to give its clients "access to information, tips and tricks on building a healthier lifestyle" and it does this by, among others, publishing nutrition tips as well as relevant health information regularly on its blog.
Damz has a Law degree from the University of Exeter, a BL from the Nigerian Law School, and a Diploma certificate in Nutrition. Damz has built a business, from her personal challenge, committed to helping people overcome their weight challenges and promote healthy living, and we applaud her for that.