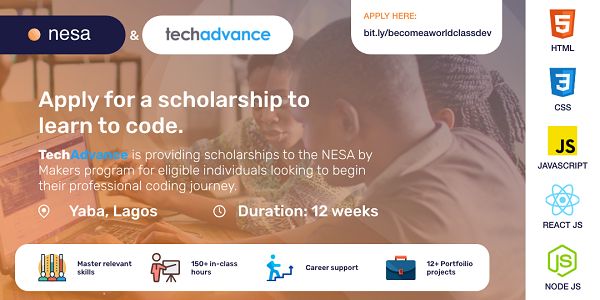 While youth unemployment in Nigeria is 45.65% and most industries are laying off workers, the tech industry in Nigeria has a different problem, it is struggling to find skilled employees to fill vacancies. Technology companies are reporting extreme difficulties recruiting talent with relevant technical skills.

Numerous countries have more than $10 billion (cumulatively) in unclaimed tech wages also due to this lack of talent to fill roles. Software engineering skills, particularly in web and app development, are consistently in high demand. For skilled tech professionals, the world is their proverbial oyster.
According to a recent survey by Techpoint.ng, the average salary for software developers in Nigeria is ₦275,980/month. The good news is that with focus and dedication, anyone can become an employable software developer after a few months of intensive training.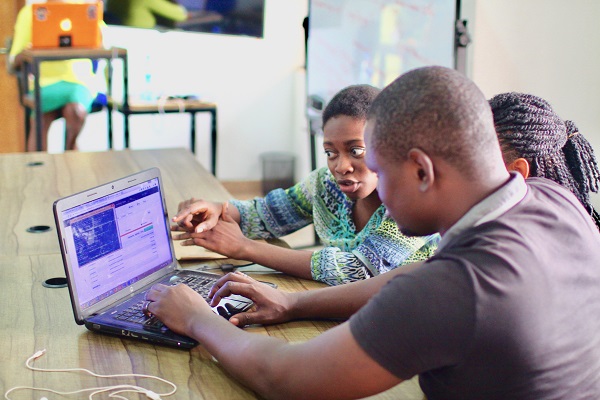 The New Economy Skills Accelerator, NESA by Makers is banking on this to equip young Nigerians with the skills that enable them to participate in today's digital economy. In partnership with TechAdvance, they're providing FULL scholarships to eligible applicants to attend NESA by Makers' software engineering course (worth ₦250,000) in Lagos.
The scholarship will serve as a platform for the 10 selected applicants to accelerate their software development expertise tuition-free and fulfil their aspirations of becoming world-class developers. TechAdvance is a payment application development company with a strategic focus in developing and deploying niche payment companies to serve the needs of large public and private sector organisations in Nigeria.
According to Edmund Olotu, CEO, TechAdvance, "NESA's efforts at empowering and contributing to the future of software development, data science and entrepreneurial business leadership is one that resonates with our human capital vision at TechAdvance. We are very proud to align with the platform's course and look forward to working with them to produce a new crop of talent in Nigeria's Tech space".
So far, NESA has graduated over 15 software engineers who've gone on to work at companies like 3 Wise Pixels, Sankore Investments, VFD Group, and Northcourt RE.
Program benefits include:
Learning relevant software development skills (HTML5, CSS3, JavaScript, PHP, MySQL, ReactJS, and NodeJS).

Understanding core concepts in computer programing and product development using industry standard tools.
Opportunity to build 12+ unique personal projects and work on real-life projects throughout the program.
Internship placement with NESA hiring partners upon successful program completion.
Access to a pool of mentors around the world.
Mode
The program curriculum is designed to be super-intense and will require full-time commitment from participants as well as a strong desire to push themselves above and beyond.
Participants will be required to complete over 100 exercises, assignments and projects each month of the 3-month program duration. By the end of the program, participants will have built and deployed their own applications to the web, and gained a fundamental appreciation for the world of technology and how it impacts our daily lives.
Eligibility
Applicants must have completed NYSC and be resident in Lagos or willing to relocate to Lagos for the duration of the program. Classes start on May 14th, 2018 at the NESA by Makers campus in Yaba, Lagos.

How to Apply
To apply, click here. 
Application deadline: May 3rd, 2018

Scholarship recipients will be announced/notified on May 7, 2018.

Call/Whatsapp +234 9834843983 for more information.
———————————————————————————————————————————————————————-

This content has been 
published for
free
 as part of BellaNaija.com's commitment to youth, education, healthcare and community development as part of our corporate social responsibility programme.