Happy Children's Day! AXA Mansard to host the 2nd edition of the Annual Children's Finance Fair | Saturday, May 26th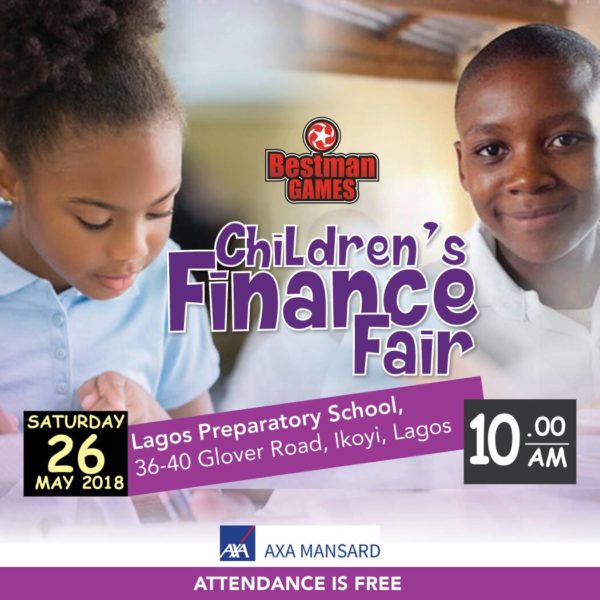 In commemoration of the annual Children's Day celebration in Nigeria, AXA Mansard Insurance Plc, a member of the AXA Group and global leader in insurance and asset management has partnered with Money Matters with Nimi Akinkugbe to host the 2nd edition of the Annual Children's Finance Fair.
Date: Saturday, May 26th, 2018.
Time:
Venue: Lagos Prep School, Glover Road, Ikoyi.
The event, which is strictly for children under the age of 17, their parents, teachers and guardians.
The Children's Finance Fair will feature discussions on a host of issues related to children and money matters, including the following: Teaching children about money, Children's savings products, Identifying and developing children's talents, Investments for Children, Funding children's education, Educational Insurance, Life Insurance, Mutual Funds and Trust Funds.
The participants will also have a meet and greet session with representatives of the AXA Mansard Plc who will give them first-hand information on some of the best children's banking and savings products. There will also be an exciting Monopoly Tournament with lots of great prizes!
Speaking about the fair, the Group Head, Strategy, Planning and Marketing, AXA Mansard Group, Mr. Kola Oni noted that, the brand is delighted to associate with children to commemorate the 2018 Children's Day. Findings show that discovered that many adults make devastating financial decisions that they could have avoided, if they had been introduced to the basic concepts of money early in life.
"As a socially responsible brand, we celebrate the Nigerian children and we see the collaboration with Nimi Akinkugbe as an opportunity to educate both the children and parents on the various ways they can plan for their finances. Our team will also be on ground to help attend to the various questions that might be bothering the participants," he said.
According to Oni, "Planning the future should not be something to procrastinate because it is never too early to start educating the young ones about investment, savings, pensions and insurance."
In her response on the collaboration, Nimi Akinkugbe, Convener and Wealth Management consultant said "Financial literacy is not in the school curriculum but it is an important part of human life. Therefore, this event is a means of equipping the next generation about this aspect of living. Teaching children good money habits can help insulate them from making grievous financial mistakes. She employed other brands to emulate AXA Mansard in raising a generation that understands money matters."
—————————————————————————————————————————————-Sponsored Content