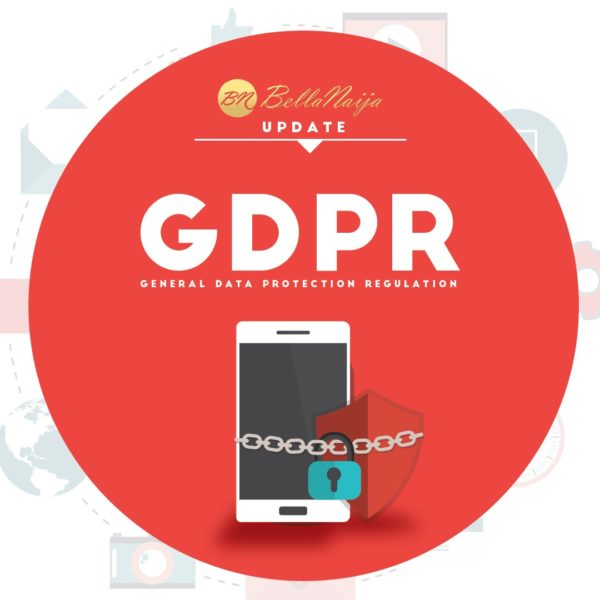 Hello BellaNaijarians,
A new data protection policy was commissioned by the European Parliament and Council called the GDPR (General Data Protection Regulations) and you have probably seen a lot of information concerning this policy set to take effect from the 25th of May, 2018.
However, for those who haven't heard of this, GDPR is a privacy law meant to protect your personal data and information. It is to ensure your information is not collected and used without your permission.
At BellaNaija, your privacy is of the utmost importance to us and that is why we have taken steps to protect your data and made our website GDPR law compliant .
Here are some of the updates we have made:
BellaNaija's Privacy Policy: We've always had a privacy policy in place. However, we have updated it and it is accessible to all. This policy explains how your data is collected, protected and used within BellaNaija. Our privacy policy is easy to understand and reformatted with active links to serve you better. Click here to read our policy.
Cookies: A pop-up bar will be placed on the platform which alerts you of our use of cookies to enhance your user experience.
Improved Clarity and Transparency: One of BellaNaija's company policy is transparency and we have taken extra steps to ensure that our privacy policy and Terms of Use are clear, transparent and understandable by all of our readers. Click here is read our Terms of Use Policy.
Removal of Content: If you have a valid case for removal of content, kindly email

[email protected]

with the Subject Line: Removal – Be sure to include relevant details, supporting documentation and also the links to the posts in question.
Email Subscription: If you subscribe to our BN Feed Newsletter, we hope you are enjoying the service. If you do decide to unsubscribe, simply scroll to the bottom of the email and click the unsubscribe button. See a screenshot below: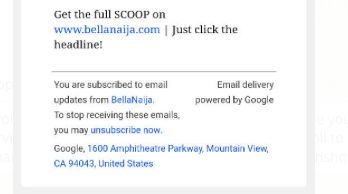 By continuing to visit www.bellanaija.com | www.bellanaijastyle.com and all our affiliated social media platforms on or after 25th May 2018 you acknowledge our updated Privacy Policy and agree to the terms of how BellaNaija processes your data.
We hope this makes your use of BellaNaija's platform easier and more secure.
Thank you.